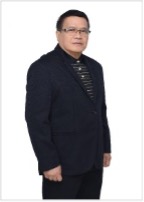 Salvador Benjamin D. Vista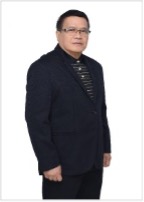 Salvador Benjamin D. Vistais not just any true-blue Sillimanian. He is also someone who practically grew up inside the beautiful Silliman campus since he and his siblings, Eugene and Sue, grew up in their family's home that's just a stone's throw away from the university gymnasium. The eldest son of prominent Silliman professors Salvador Vista and Isabel Dimaya-Vista, Boyben seemed to have been predestined to study in the same university from basic to higher education and then find gainful employment in the environment he knew best.
True enough, after graduating with a Bachelor of Science degree in Medical Technology, cum laude, he started to establish himself in Silliman, taking dual roles as college instructor at the Department of Biology and as a research assistant at the Department of Research, Extension, and Development Division.  However, he altered the course of his life when he decided to become a medical doctor.
He enrolled at the West Visayas State University College of Medicine, where he proved himself a competent medical student. In fact, he was awarded Most Outstanding Medical Graduate by the Professional Regulation Commission. His internship stint at Riverside Medical Center in Bacolod revealed an adeptness in many medical departments: not only did he bag the Most Outstanding Intern of the Year award, he also earned the titles Best Intern in Internal Medicine and Best Intern in Obstetrics and Gynecology. This foreshadowed a promising career in the medical field.
He could have chosen any area of specialization, but he picked one that he is passionate about. When he first started his residency at the University of the Philippines-Philippine General Hospital (UP-PGH), he chose Neurology but later on switched to Adult Psychiatry. Dr. Anslemo Tronco, a colleague at the UP-PGH noted, "What was Neurology's loss is Psychiatry's gain." Indeed, what a gain it is for Psychiatry, especially that Ben has devoted himself to furthering his knowledge and skills in the discipline.
What is inspiring about Boyben is his willingness to share his expertise. He has served as a consultant in many programs run by the World Health Organization and the Department of Health (DOH). He was instrumental in the development of Client Flow I, the original algorithm used by the national government in dealing with clients suffering from many levels of addiction. He then led the team to develop Client Flow II, a revision of the algorithm in assessing and managing drug dependence, which has been recognized by the DOH and adopted as a core content by the Dangerous Drugs Board. Cognizant of the role of the community, Ben has partnered with government and non-government organizations in creating the curriculum for the implementation of Community-Based Drug Rehabilitation Program in the Philippines.
Currently, Boyben is an educator, a medical director, a scholar, a staunch advocate for mental health, and a family man. As an associate professor of the University of the Philippines College of Medicine, he is beloved by his students and respected by his colleagues. As a medical director of The One Algon Place Foundation, Inc., he manages a mental health and drug rehabilitation facility and behavioral resource center that operates on a social fee. As a scholar, he is considered an authority in the field of Addiction Science, for he has published numerous articles on training programs for physicians and rehabilitation practitioners in medical peer-reviewed journals.
As an advocate of mental health, he continues to conceptualize and implement training programs, accrediting physicians and rehabilitation workers in drug rehabilitation and treatment. More importantly, he continues to offer his expertise on many projects that aim to fight against substance abuse. However, even with his many professional and social engagements, Boyben devotes time to family. He and his wife, Celeste, have raised two daughters, Selena Monique and Santina Maxine, and they lavish their affection on their grandson, Lucas Alexander.