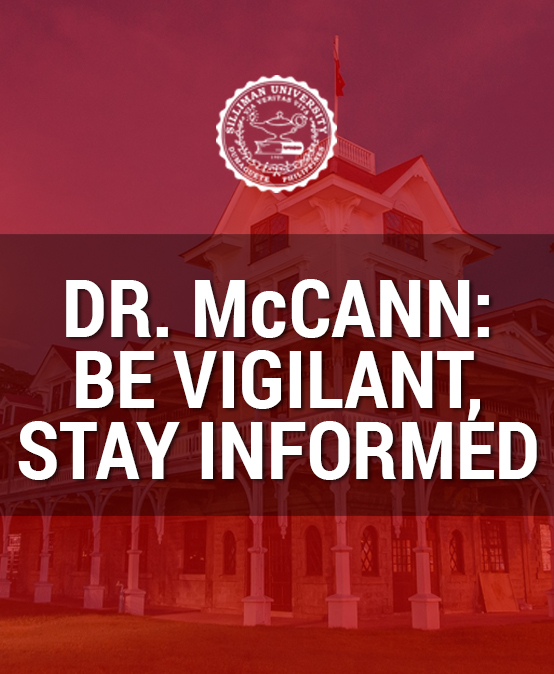 Dr. McCann: Be vigilant, stay informed 
Silliman University (SU) joins the call in urging the community to be vigilant amid the first confirmed 2019 Novel Coronavirus Acute Respiratory Disease (2019-nCoV ARD) case in the Philippines, noting that the 38-year-old woman has visited Dumaguete City.
Based on the latest bulletin from Health Secretary Francisco Duque III confirmed that the Chinese female patient, now under hospital care due to the virus, is recuperating at San Lazarus Hospital in Manila.
Dr. Betty Cernol-McCann, SU president, said the best thing to do for now is be cautious and be updated on the latest bulletins issued by the DOH to be guided on what to do.
The SU President, however, disclosed that University officials have been meeting to finalize a contingency plan after the "World Health Organization (WHO) declares the new coronavirus outbreak a Public Health Emergency of International Concern."
As part of the University's precautionary measures, Dr. McCann explained that all university employees and campus residents are required to wear their University Ids to identify those who are entitled to enter the campus based on a memorandum dated January 24, 2020.
"All campus tours will not be allowed until further notice. Only individuals with official business or appointments in University offices will be allowed entry provided they have not travelled to any of the places confirmed to have been affected by the Wuhan coronavirus. Those who have been to such places in the last thirty (30) days will not be allowed entry," the memo said.
Dr. McCann further explained that "visitors who have not been to any of the places confirmed to have been affected by the coronavirus must first be referred to the Public Assistance and Security Office (PASO) for documentation.
She added that all offices and campus residents are to submit a list of names of expected visitors to the PASO. The list must include their complete names, purpose of visit, and their place(s) of origin and travel for the past thirty (30) days.
Lastly, the SU president urges University employees and students who manifest cold or flu-like symptoms to immediately see their doctor or the University Clinic.