Note: Texts in black bold letters are clickable links.
The Online Enrollment service is available in the MySilliman website. Follow these steps:
Using a computer connected to the internet, open your browser(Mozilla Firefox, Google Chrome) and type in https://my.su.edu.ph/mysilliman/login.php in the address bar.
Type in your login name in the login name field.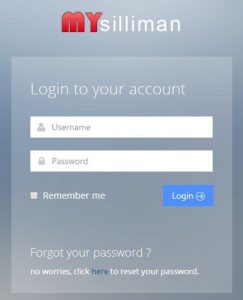 The login name for students is their Student Id number.
Ex. 13-1-12345.
Type your password in the password field.
Click the login button to continue.
If you can't login, your login name or password may be incorrect
(You may email [email protected] if you forgot your password or [email protected] for other concerns.  Scholars should email the Scholarship and Student Aid Division ([email protected]) or Office of the Registrar and Admissions ([email protected]) or Divinity School ([email protected]) first so these departments can inform the Business and Finance of the amount of scholarship.).
---
Once logged in, click the "Enrollment" tile.