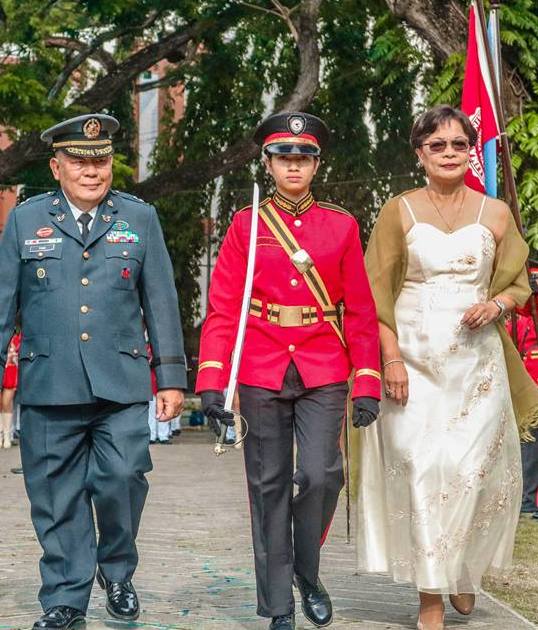 New Silliman University president to champion environment, whole-person education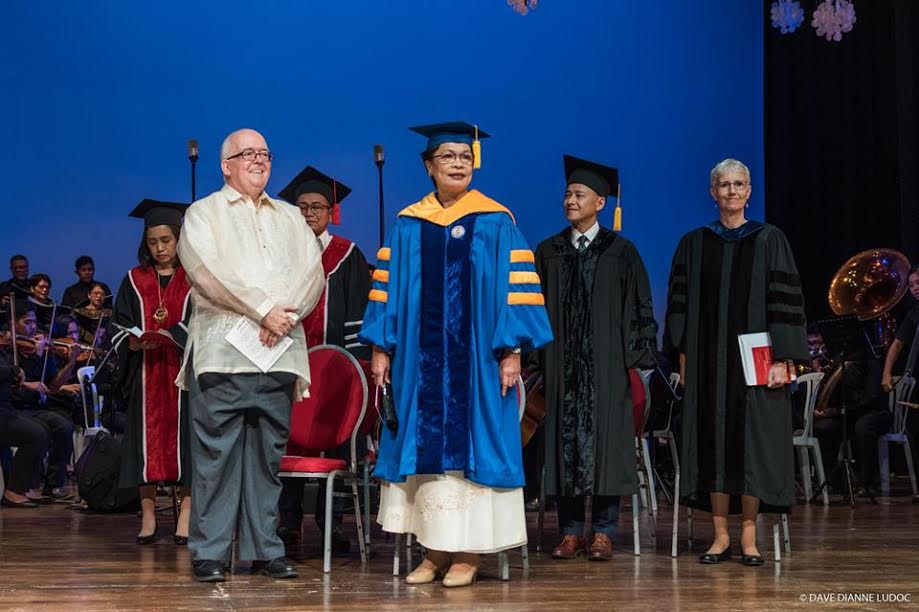 Silliman University's thirteenth president envisions to reenergize its role in society by "positioning itself as a champion for environment… and promoting whole-person education."
Silliman University (SU) held investiture rites for Dr. Betty Cernol-McCann, the first woman to become president of this venerable educational institution in Dumaguete City. In solemn morning ceremonies she took the oath of office administered by CHEDRO VII Regional Director Freddie T. Bernal and received the presidential medallion from Silliman Board of Trustees Chair Ricardo A. Balbido, Jr. She also received pledges of support from the Silliman Board of Trustees, faculty, staff, student government, alumni organizations, as well as long-standing partners such as the Association of Christian Universities and Colleges in Asia (ACUCA), the United Board of Christian Higher Education in Asia (UBCHEA), and the Commission on Higher Education Region VII.
A registered psychologist and certified specialist in social psychology, Dr. McCann comes after a series of twelve men presidents of this Dumaguete-based university. The new president said she was in awe of the fact that before her, three Americans and nine Filipinos had served as presidents of Silliman for all of 117 years.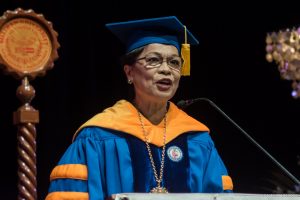 To champion the cause of the environment, Dr. McCann explained, Silliman should respond to the challenges of ending poverty and helping the planet survive. The university, she said, should use its time in the pursuit of environmental goals, integrate environmental education in specific programs such as in engineering, health, and others, and promote environmental integrity on the planet through such projects as zero waste management.
She defined whole-person education as "education for total human development." It is promoting multidisciplinarity or the convergence of knowledge from various disciplines; inclusiveness, particularly cultural inclusion of everyone who enters Silliman; and ultimately, a wider sense of social responsibility in everyone who has had a Silliman education.
This process, she said, calls for the breaking down of the educational silos built around the three pillars of education: teaching, research, and community service. "The questions to answer now are: How can research enrich teaching and community service? How can community service enrich research? How can teaching enrich both research and service?"
Retooling and reskilling of faculty and staff are required for these tasks, as well as transparency across all levels and servant leadership. "Leadership is service beyond measure." Hence the three Ps that she considers critical to the attainment of her vision: people, programs, and partners.
Before she was selected president of Silliman University, Dr. McCann was vice president for programs of the United Board for Christian Higher Education in Asia (UBCHEA), a New York-based not-for-profit organization with offices in Hong Kong. She is no stranger to Silliman, having served the university in various capacities for 21 years prior to joining UBCHEA. In fact from 1992 to 1994, she served as acting president of the university.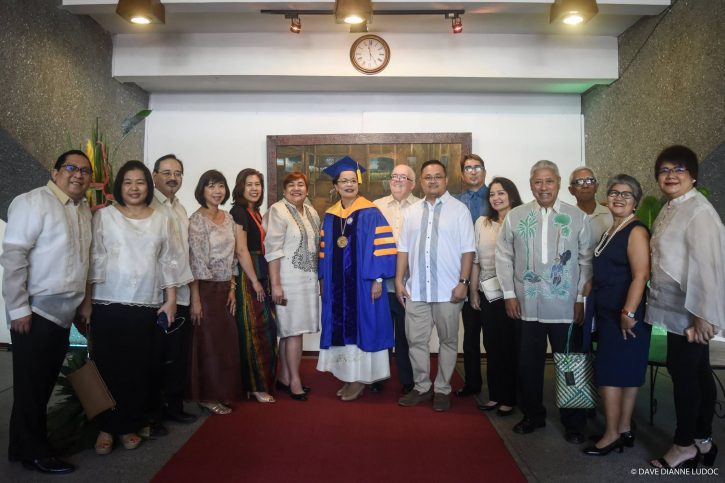 Silliman University is one of the two best schools in the Visayas and is one of six Philippine universities in the QS World University Rankings list of top 400 schools in Asia. It has been granted Full Autonomous Status by the Commission on Higher Education (CHED) and CHED's Center of Excellence (COE) for Medical and Allied Services and Teacher Education as well as its Center of Development (COD) for Biology, Marine Science, and Medical Technology. The Federation of Accrediting Agencies in the Philippines (FAAP) has granted Silliman University an Institutional Accreditation, the highest educational accreditation that can be granted to a university in the country.
The university also has the highest number of programs accredited by the Philippine Association of Accredited Schools, Colleges, and Universities (PAASCU) and Accreditation Association of Christian Schools, Colleges and Universities – Accrediting Council, Inc. (ACSCU-ACI), 20 of them in Level IV. It has 19 academic units that offer a total of 147 programs ranging from agriculture to visual and performing arts.