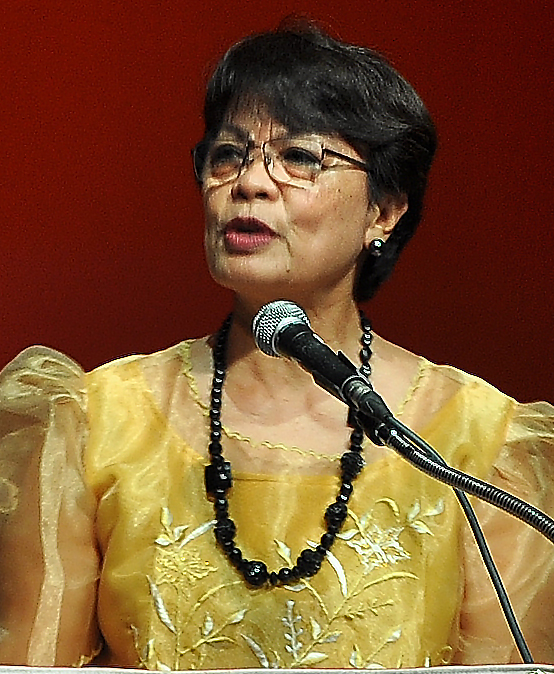 President's Message during the All-University Convocation
19 November 2018 – 10am, 2pm | Claire Isabel McGill Luce Auditorium
The University is our Home. All the students who are here, all faculty and staff serving here in various capacities, all administrators who work here – – we all spend a significant amount of time in this our Home.
As our Home, this is where we learn, where we play, where we pray, where we get creative and artsy, where we help one another and those in the community.
Christian commitment is inspired by a vision of the earth as our common home. Because we are gifted to bear in ourselves the image and likeness of God, our stewardship means first of all the cultivation of intelligence.  Education consistent with Christian commitment means pursuing the learning that will enable us to understand our common home, its capacities and its constraints, so that we can respond more effectively, not only to our own needs, but also to the needs of all our fellow creatures.  In light of what we now know about the impact of human activity in exacerbating the interrelated threats of ecological disaster, rising poverty, and the health crisis, we must re-examine our values and institutional practices, our teaching methods and curricula, to determine whether in fact we are effective in responding to the vision we profess as a Christian University.
The image and likeness of God animating each of us, first of all, demands that education be not about indoctrination—or other strategies designed to enforce compliance with previously established traditions.  Education, responsive to the image and likeness of God in us, is about pursuing the truth wherever it may lead, and cultivating the courage to act upon the truth, however much it may run contrary to conventions and usual practices. What we ought to be learning as well from this new intelligence is that we can no longer address our stewardship obligations in piecemeal fashion.
Developing the intelligence required of us to carry out our stewardship responsibilities means embracing an ecological awareness as a habit of mind and heart. Were such an awareness become to us as natural as breathing, we would have no difficulty in identifying what needs to be done to keep our Home safe, habitable and pollution-free. We would know that our pro-environmental behavior has to include all other creations and creatures around us, under the sea, up in the air or those that share the ground we are in. We can start our attention perhaps, with the coral reefs and all the fish who live among them, as well as the sea turtles, and all our watery "brothers and sisters" now put at risk because of the pandemic of plastic pollution, that is, starting with straws and single use plastic bags—as well as the birds of the air, and the animals who, like us, make their way roaming the earth.  We would know that stewardship includes all of these, and we would make a priority of focusing our educational effort on how to cultivate a world in which they, too, can flourish.
What, then, can we do to become good stewards in this university?
Just last Saturday, November 17, the Board of Trustees adopted what the university-wide committee presented as Silliman University's Environmental Principles, Policies and Guidelines.
Silliman University champions the environment by adhering to the following Principles:
Our calling as stewards of God's creation commit us to the prevention of environmental pollution, the conservation and enhancement of our natural resources, and sustainability.
In keeping with our perspective of total human development for the well-being of society and environment, our environmental commitment permeates all aspects of the Sillimanian experience (classroom, Church, culture, athletic court, and community).
Students entering Silliman should leave the university with a deeper commitment to sustainability and with the competence to protect our environment wherever their lives may take them.
Silliman University as an institution shows the way by being a model of a sustainable campus, demonstrating the principles of Zero Waste, the waste management hierarchy, energy conservation and renewable energy utilization, biodiversity conservation, and a reduced carbon footprint.
Silliman University's commitment is reflected in our internal management processes (administration, operations, planning, and infrastructure development).
Silliman University strives to meet and, where practicable, exceed our environmental obligations under the law.
We believe that everyone is a stakeholder and has a role to play in sustainability, thus our environmental commitment engages the whole Silliman community, the city we live in, and beyond.
Silliman University's commitment to the environment encompasses nine component activities, namely:
Teaching: Environmental sustainability and stewardship integrated into the curriculum and the educational experience of all students, and in knowledge sharing among staff and faculty
Research: Research on environmental issues and solutions within and among multiple disciplines, and knowledge transfer
Service: Environmental restoration and preservation incorporated in service learning, volunteerism, and other efforts in the service of the community
Worship and Fellowship: Reflection, discernment, and recommitment to the Christian vocation of responsible stewardship of God's creation
Culture and Sports: Changes in lifestyle towards a small ecological footprint promoted through sports, arts and the humanities, and forms of cultural expression
Outreach: Information sharing, collaboration, and partnerships on environmental protection with other educational institutions, civil society organizations, government, businesses, international organizations, and the community as a whole
Planning and Development: Waste minimization, green building design and construction, renewable energy use and low utility consumption, material resource efficiency, water conservation, reduced environmental impact, eco-friendly mobility and transportation options, enhanced biodiversity, and preservation of green spaces, considered in planning and budgeting
Administration: Monitoring and periodic evaluation of performance indicators, and continuous improvement of the university's environmental performance
Operations: Internal practices aligned with the principles of environmental sustainability.
Based on these general principles, policies have been formulated specific to five areas:
waste prevention and waste management
green procurement
food and food waste – as elucidated earlier by our Food Services Manager
events and festivals, and
greening of the campus.
From policies, implementation guidelines and best practices were drafted for use in 10 University operations:
buildings and grounds,
academic departments,
administrative and support service units,
student affairs,
student government,
student and faculty housing and residences,
food services,
College of Agriculture,
elementary and high school departments, and
information and dissemination.
Our environmental policy framework was made possible by the participation of a number of representatives from various units and the guidance of Prof. Dr. Jorge Emmanuel, our visiting scientist and Adjunct Professor.
You will realize then that –  Zero Waste Management = 100% University Engagement
We will publish the Environmental Principles, Policies and Guidelines in our university website. I request faculty, staff and students to familiarize themselves with the new Environmental Principles, Policies and Guidelines. Our immediate focus will be on policies and guidelines to minimize our plastic waste. Please send any questions or suggestions to the Waste Management Committee coordinated by my office.
To be environmental stewards, we will practice proper waste management. Effective immediately, we will be composting all our biodegradable wastes and maximize the reuse and recycling of all our recyclable waste. For this to happen, we will copy our College of Agriculture. Henceforth, all trash cans will be labeled, and faculty, staff and students will be asked to segregate waste accordingly. Please cooperate with the Waste Management Committee and volunteers who will visit each building to label bins and provide instructions on segregation. During a study last semester, the committee found that only 17% of over 800 waste bins were properly segregated. Let's aim to improve our segregation this semester.
Through media campaign and information-education-communication strategies, we will intensify our drive against one-use plastics and prohibit bringing to campus containers and wrappers that contribute heavily to waste pollution.
In the days ahead we will share with you all coordinated ways and strategies that will advance our environmental goals.
A Christian commitment to education for stewardship demands embracing an ecological awareness that requires more than accumulating information, and advancing sound policies, however important these may be.  A change of heart is what is required of us, for this awareness to become as natural as breathing.  But, one would hope, this is an insight that has always inspired new learning in Christian colleges and universities. Education is change for better – in our thinking, in the way we do things, in the way we relate to each other – self-driven, self-directed. Only in this way can we champion the cause for the environment. Silliman is our Home. Let us keep our home in order for us and for the generations of Sillimanians to come. Our immediate environment, our home.