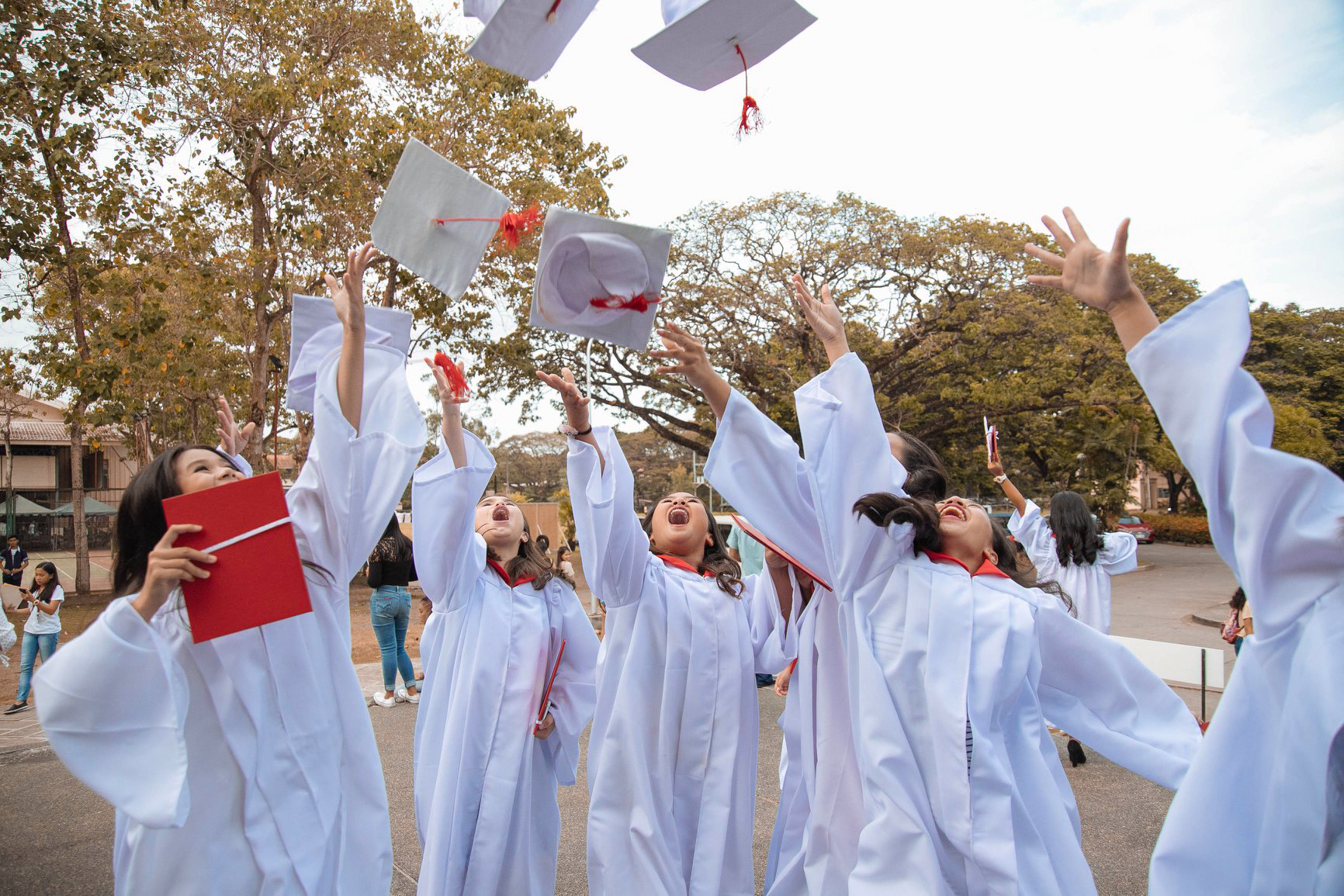 SU Elementary School names 174 candidates for graduation, honors, awardees
Dr. Betty Cernol-McCann, Silliman University (SU) president, congratulates the 174 candidates for graduation as publicized by the SU Elementary School (SUES) for the SY 2019-2020.
Dr. Betty Cernol-McCann, wishes them well in their next learning adventures despite the lack of formal graduation exercises that are supposed to happen on March 25, 2020 but were canceled because of the COVID-19 outbreak.
SUES Principal Dubhe F. Estallo, in her congratulatory message to the candidates, said: "Albeit we could not hold formal ceremonies to mark this milestone in your student life, we celebrate with you and your family. We hope that you have learned all that you can in your six years with us. More importantly, we hope we have instilled in you values that will help get you through Junior High School and even through life."
Estallo also emphasized in her congratulatory message the importance of respect, obedience, and perseverance amid the current health crisis, which are values that were part of the completers' learnings in SUES.
"Young as you may be, there is something you can do to be part of the solution to the COVID-19 pandemic: respect persons in authority, obey rules set forth by government and health officials and persevere in your faith. This is one performance task you should not fail at. While you're at it, spend more time helping and loving your family and the people around you," said Estallo.
Congratulations to the candidates for graduation of SUES:
Benjamin Jose B. Abalos
Sean O. Abalos
Castalia Crystelle M. Abangan
Stacey G. Abela
Alexis B. Abestano
Zoe V. Ablong
Beatrice Kaye R. Abringe
Mnemosyne Nike S. Abubakar
Jason Godwin V. Acosta
Luz Arianna T. Alcala
Princess Jewel Mee L. Aligato
Earnest Hope S. Ancheta
Chrishane Angelou G. Andaya
Lourd Christopher Q. Anque
Rafael Iñigo I. Apepe
Alyanna Dominique F. Aragones
Michael C. Araula
Kurt Caleigh Arbas
Cyrie Lewis Arnaiz
Trisha Kate N. Asugas
Lois Nadine B. Baco
Lance P. Badon
Lorenz J. Badon
Stephen Mel Demitri Q. Badon
Breinndel V. Bael
Troy Alexis G. Balderas
Ethan Andre Balfinos
Jubert Alfred G. Balos
Daphne Dream G. Baro
Angel Mark M. Barro
Endika Ieon E. Bautista
Ysabel Angela R. Becerial
Beatriz L. Belarmino
Rei Hanle Belarmino
Synde M. Berbosidad
Ethan C. Besario
Shane Jaxine Mae J. Bokingkito
Ronald Gabriel S. Bongon
Sylthia Aaron C. Borling
Quan Fei Aishielle G. Buscato
Trey Felipe Osbourne Q. Bustillo
Antonin Josh I. Cabangal
Liander A. Cabebe
Raizen Dawn W. Cabije
 Sean Wright Philip A. Cabuhay
Isabel Mari M. Cadayday
Jewel Kaye S. Cadiente
Johann Matthew B. Calingacion
Miean Jirah T. Caluscusan
Sofia Jae A. Caraig
Lourdes Isabel Chee
Daphne Jay C. Cornelia
Samantha Lynn G. Coselman
Dieneken Zwayne G. Costanilla
Hayesha Mae Raven T. Cuartel
Anton Jude A. Culi
Chrystelle Cayle M. Cunanan
Andriy Julien A. Dabucol
Cheska Elisse F. Dayao
Andrea Louisse D. De Jesus
Alainamay Therese N. de Vera
Stepahnie Cielo A. Dela Cruz
Crisanto G. Diamante
Ayanna M. Diamond
David Briel G. Diano
Dakila Sam C. Dicen
Lhuiz Emille Dicen
Francine Lee A. Diputado
Victor Rockefeller Gates L. Dullano
Zabina Murielle Gador Dumalag
Yvaine Raphaelle V. Dupio
Hailee Maeghan C. Dy
Jounah Rigel M. Ege
Mar Jose Jesus L. Enopia
Zuleikha Q. Erames
Davin L. Erickson
Roan Eren Gail D. Escarilla
Johannes M. Fabillar
Zachary S. Famorcan
Nathan T. Fitzgerald
Angel G. Flores
Karla Concepcion A. Fontelo
Jesu Ed Marl D. Fortin
Pono Noel M. Fuentes
Marion Pio A. Gamo
Krystel Candice T. Garbo
Elijah Daniel A. Garlito
Clara L. Giganan
Isabella Luciana Q. Hidalgo
Anna B. Hiltbrand
Li Wei Hsu
Corielle Anne A. Hutchens
Johann Miguel S. Imbo
 Benedict Serafin T. Keoppel
Jan Ethan M. Kho
Yuuki I. Kitamura
Antonio Andrei B. Kitane
Ebony Ernestina A. Kuster
Shaun Eldrick B. Lachica
Maria Kassandra P. Laxina
Mac Arthur G. Leyva
Garnett Glen G. Lowe, Jr.
Qorbin Gabriel B. Lucero
Dacey Gil S. Lumen
Niel Anthony I. Macahusay
Timothy Jay A. Mariano
Terenz Dior B. Martalla
Jyx Rafael P. Mira
Jad Hezron T. Mutya
Franz Lezak T. Napoles
Mark Gabriel R. Neo
 Marika Jen A. Nillas
Rafaelle Feliz F. Nolan
Granduff Antonio S. Oller
Rian Wilson Z. Ong
Sean Andrei C. Opelario
Ameisha Mira J. Opleda
Carlos D. Ortiz
Benedict John Francis A. Ozoa
Jacob P. Pabayos
Amber Kellace Patrimonio
Joem Dane E. Patrocinio
Ria Pauline R. Pesase
Andre' Gabriel B. Picardal
Chris Nathan B. Pinili
Raiza Jullianne E. Quisil
Shanessa V. Ragpa
Richelle Felise C. Ramas
Amber R. Ramas-Uypitching
Kailey Athena D. Ramos
Jordine Paulina M. Raymond
Jaime Antonio Real
Alyhana G. Renacia
Spencer R. Renacia
Alexandra Xania L. Riego
Nariel Cyrus P. Rizada
Carlo Jay A. Roca
Mariel Angelika Grace B. Rodriguez
Dawn Queenie P. Rubio
Carl Luiz T. Saavedra
Rhianna Dane D. Sabate
Czarniel Ace P. Sardan
Cesar Dionisio A. Sedillo III
Pristine Ysabelle G. Sedon
Alessandra C. Senit
Matthew Alexander J. Shi
Nicholas Alfredo F. Singco
Chloe R. Solamillo
Andrew Mark G. Solon
Matthew Mark G. Solon
Darius Kriztoff C. Sonjaco
Kent M. Suasin, Jr.
Shaun Isaac A. Sun
Naina Dominique D. Tagle
Keisha Lace R. Tayko
Kent Brian C. Teorima
Jett M. Teves
Joachim Andres G. Teves
Irish B. Tindoc
Kacie Gabrielle M. Tionko
Eñigo Emmanuel A. Torreda
Ma. Cristiphanie E. Tuballa
Drake Constantine D. Tubio
Anaiah Angela J. Tunguia
Annika M. Valente
Gian Reil T. Villaflores
Gliere S. Villaflores
Caline Q. Villapando
Jemichylla P. Villareal
Bianca Teresa P. Villegas
Ann Mae O. Yang
Doniel Isaac D. Yee
Ayesha Faye U. Yhan
Zinuo Zhuang
Academic Awards

WITH HIGH HONORS
Ethan Andre Balfiños
Synde M. Berbosidad
Johann Matthew B. Calingacion
Sofia Jae A. Caraig
Francine Lee A. Diputado
Mar Jose Jesus L. Enopia
Zuleikha Q. Erames
Zachary S. Famorcan
Karla Concepcion A. Fontelo

WITH HONORS
Hayesha Mae Raven T. Cuartel
Stephanie Cielo A. Dela Cruz
Roan Eren Gail D. Escarilla
Kailey Athena D. Ramos
Ma. Cristiphanie E. Tuballa
Anne Mae O. Yang
Special Awards 
Highest in Academic Performance Award
Johann Matthew B. Calingacion
Mar Jose Jesus L. Enopia
Karla Concepcion A. Fontelo
English Excellence Award
Sofia Jae A. Caraig
Filipino Excellence Award
Hayesha Mae Raven T. Cuartel
Math Excellence Award
Karla Concepcion A. Fontelo
Araling Panlipunan Merit Award
Andrea Louisse D. De Jesus
Science Merit Award
Marika Jen A. Nillas
Highest in Co-Curricular / Extra Curricular Award
Sofia Jae A. Caraig
Dean's Medal
Karla Concepcion A. Fontelo
Highest in Deportment Award
Johann Matthew B. Calingacion
Visual Artist of the Year Award
Shane Jaxine Mae J. Bokingkito
Young Journalist of the Year Award
Sofia Jae A. Caraig
Outstanding Athlete of the Year Award
Kacie Gabrielle M. Tionko
Outstanding Scouts
Sct. Benjamin Jose B. Abalos
Sct. Sean O. Abalos
Sct. Jason Godwin V. Acosta
Sct. Terenz Dior B. Martalla
Sct. Sean Andrei C. Opelario
SUES Service Award
Chris Nathan B. Pinili
Carl Luiz T. Saavedra
International Competitive Assessment for Schools
1) Sofia Jae A. Caraig, Credit Award for English
2) Zachary S. Famorcan, Merit Award for English
National Schools Press Conference
Sofia Jae A. Caraig, 1st Place, Science and Technology Writing
National Children's Leadership Assembly and Talent Fair
Johann Matthew B. Calingacion, Champion, Interpretative Reading
Sofia Jae A. Caraig, Champion, Essay Writing
Hayesha Mae Raven T. Cuartel, 3rd Place, Madamdaming Pagbasa
Francine Lee A. Diputado, 5th Place, Pagsulat ng Sanaysay
Mar Jose Jesus L. Enopia, Champion, Project Making
Zachary S. Famorcan, 2nd Place, Spelling
Karla Concepcion A. Fontelo, Champion, Extemporaneous Speaking
Naina Dominique D. Tagle, Champion, Project Making & 3rd Place, Poetry Writing
Anne Mae O. Yang, 2nd Place, Recitation