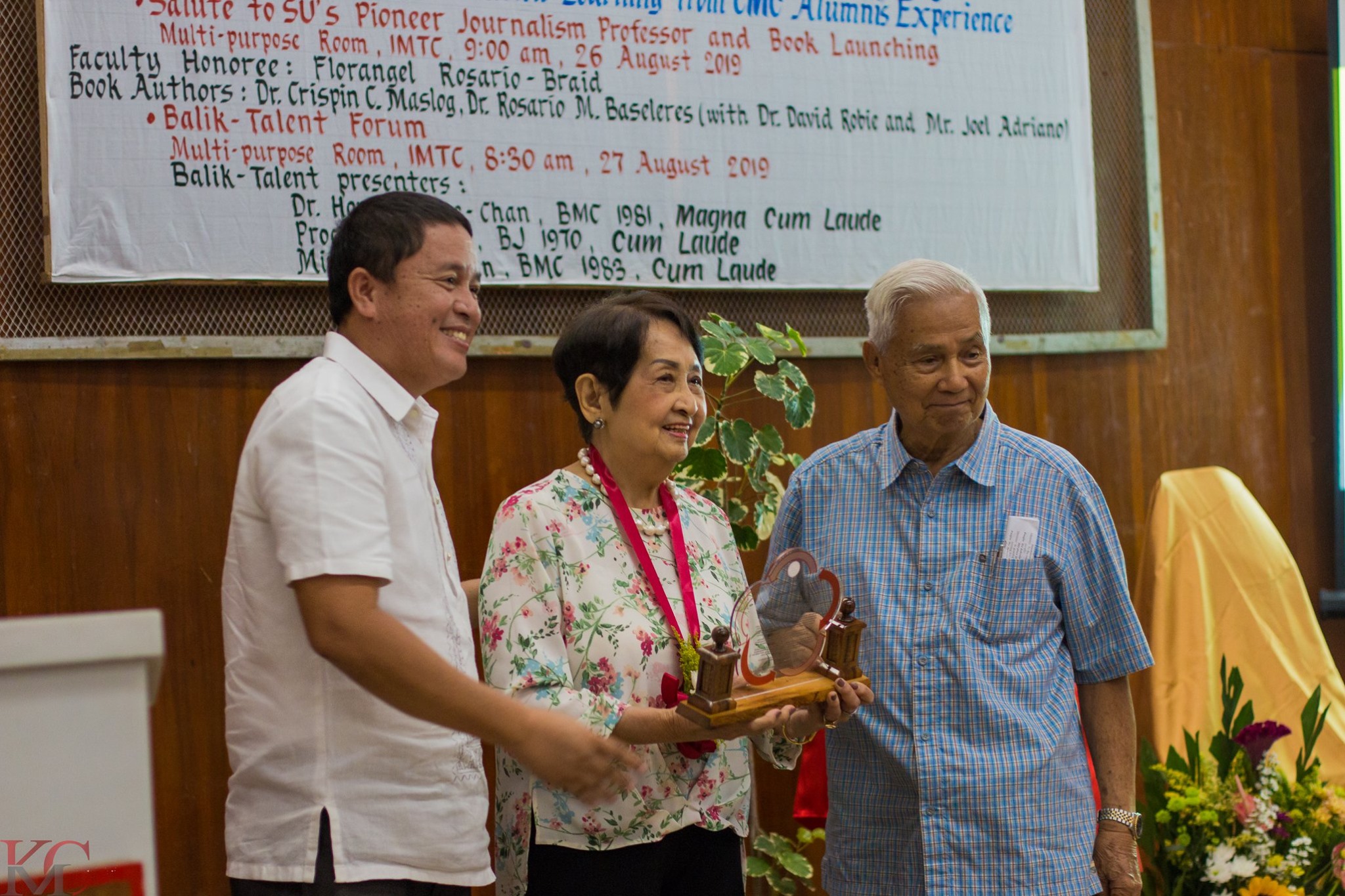 SU honors educator, Constitutionalist, and columnist
The College of Mass Communication (CMC) of Silliman University recognized Dr. Florangel Rosario-Braid, member of the 1986 Constitutional Commission, president emeritus of the Asian Institute of the Asian Institute of Journalism and Communication (AIJC), and columnist of the Manila Bulletin, as one of its pioneering journalism professors.
A plaque of recognition was awarded to the esteemed communication educator, researcher, and writer during morning rites held August 26, highlighting the CMC Alumni and Faculty Homecoming in celebration of Silliman's 118th Founders Day. Dr. Angel C. Alcala, SU board of trustees vice chair, and Dr. Earl Jude L. Cleope, vice president for academic affairs, presented the award to the honoree.
Rosario-Braid, former chair of the Philippine Social Science Council (PSSC) and council member of two Paris-based UNESCO organizations – the International Programme for the Development of Communication (IPDC) and the Information for All Programme (IFAP) – was cited for her "early contributions to Silliman as a pioneering member of the faculty of the then SU School of Journalism and Communication (1966-67) and thereafter, for her excellence and leadership in communication research, education, policy development, peace advocacy, and international cooperation."
The citation for further stated that "Through her life and works as an engaged citizen, intellectual, educator, and advocate for freedom and democracy, she has taught many generations of students, including those at Silliman University, the meaning of excellence, love of country, and courage, which would serve as an inspiration for this and more generations of students to come."
In the same event, CMC also launched two books authored by two of its former heads: Never Again! (To Martial Law) by Dr. Crispin Maslog and Dr. Rosario Maxino-Baseleres and Guide to Writing on the Environment and Climate Change by Dr. Crispin Maslog, Dr. David Robie, and Joel Adriano.
Moreover, CMC held its Balik-Talent Forum on August 27. Aimed at broadening CMC students' understanding of career opportunities in communication, this year's Balik-Talent session featured presentations by CMC honor graduates who told of their experiences and discussed opportunities in the different communication areas where they built their careers: Dr. Hope Antone-Chan, Director for Faculty Development Programs of the Hong Kong-based United Board for Christian Higher Education in Asia (UBCHEA); Proculo Maslog, MA, retired Dean of the College of Communication of Pilgrim Christian College; Ms. Minerva Newman, Head of Manila Bulletin-Cebu News Team and Correspondents Coordinator, MB-Visayas.
(Photos from the infomedia team of the Kapunungan sa Mga Mass Communicators)