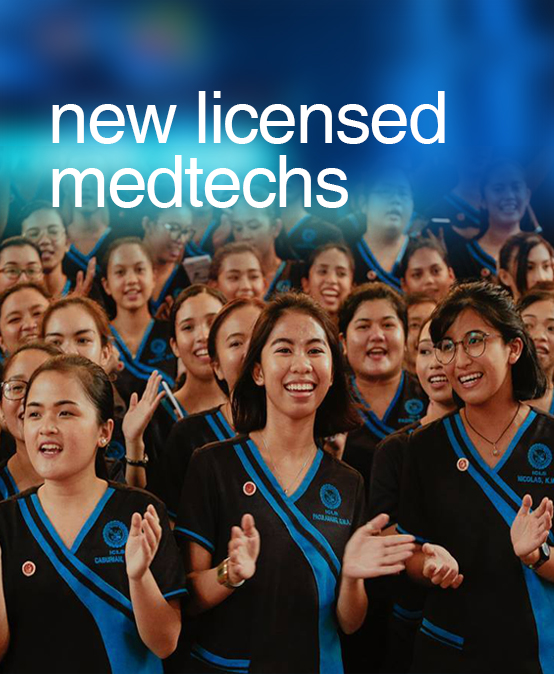 145 graduates pass board exam for medical technologists
Silliman's Institute of Clinical and Laboratory Sciences (ICLS) has produced 145 new registered medical technoligsts after they passed the licensure examination administered by the Professional Regulation Commission (PRC) last September.
The Silliman graduates are among this year's 4,718 passers of the board exam nation-wide. Their passing rate of 90.06% is higher than the national passing rate of 77.72%.
Silliman University congratulates the following new medical technologists:
ABA, MAICA MARIE RAMIREZ
ABRASADO, MAYBELLE DAGUNAN
ALABATA, SWEET JANE STA ANA
ALBERTO, SHELDON GIMENO
ALCANTARA, MADELINE RAMIREZ
ALMAGRO, NICOLE CHANTAL MENDEZ
AMPIL, MARK JOSEPH LINGCONG
ANDOS, NEIL FRANZ MANGINSAY
ANIÑON, ANDRE JOSHUA TUBAC
ANTIQUE, ALNE DEAN OLARTE
ARANAS, ALLISTER KIER ALALONG
ARNAIZ, MARIA BELEN TORRINO
BADON, J-JIREH ENARIO
BALBON, DANIEL ELIJAH KIM DIONES
BALDEBRIN, CHLOE SAMILLE BAYLON
BALDEBRIN, MARQUE NICOLE MERECIDO
BANGALANDO, MARYJUNE BULAHAN
BARTOLOME, JUSTIN MIZPAH LIMPOT
BATERNA, JOLVITA FRANCES GARA
BAUTISTA, JUREEN GUMANDAO
BAYTION, PAULA CECILIA BARRERA
BOCANEGRA, HANNAH FRANCES TEJERO
BORROMEO, CARISSA CELEDIO
BRIONES, CYBELLE KATE PAREJA
BUCOG, ARZIL JHEAN CAERMARE
BUTRON, GLENN LAGANG
CADIZ, CRISHA BELLE FERRER
CAHILO, AVE MARIE ASALDO
CALUMBA, REGINALD CRISJON BUCOL
CALUMPANG, TRACEY FAITH GUIMONG
CALUMPANG, WYATT MARI MORENO
CALUSCUSAN, JAIR KEES ZAMORA
CANLAS, KYLE MARTIN SANTOS
CARILLO, JOANNE THERESE ABUEG
CASIANO, JESSICA LOUISE ANDOG
CASTOR, NOVAN BORJA
CATADA, QUEEN FRANZELLE MARIE RENDOQUE
CEÑO, RHIMART TACLOBAN
CINCO, JOSHUA FREDERICK ANTONIO ALBITO
CLIANO, NIKKA ANGELA MANDAL
CO, KYRA ELAINE GAYAPA
CUBELO, JOSE JOSHUA ARAGONES
DACLAN, CRISTINE GRACE TRAISO
DAGOMO, NIKKO REGIS
DE GRACIA, EPHRAIM JEIEL TORRES
DESUACIDO, LISA MAE ADANTE
DOMINADO, JULIA ELIZABETH
DU, ANIETHELIA MIRA
DUTERTE, ROUILYN ABE
EGOS, ABIGAIL REYES
ELUM, SHENIE MAE CAMINGAY
ELUMBA, KERRIN GIULIA ALCANTARA
EMPERADO, REGINE MAE MELANCIO
ESTACION, MAIKA JUNE OMADLAO
ESTORNINO, CHESSA BALIQUIG
EULLARAN, ANA MARIA ANGELICA NAVARRO
EULLARAN, ANA MARIA BEATRIZ NAVARRO
FAUSTO, ARIEL JASMINE
FERNANDEZ, MARIA ALOHA CIELO
FLORENDO, KRISTINA CARMELA CABAHUG
FLORES, JEWEL DARLENE MAGAY
FRANCISCO, GILENE GRACE MIZPAH ROXAS
GADIANA, PIA PAULINE MAYANG
GALLO, JIEVAN JOY BENEDICTO
GANUB, GERCYL JOY SANDOVAL
GARCIA, JEREMY JACOB BORROMEO
GENTUYA, NICOLE THERESE GARUPA
GERALDE, JYRAH CAMILLE AGAYAN
GORDONCILLO, MEZZIAH ARA MOLLENIDO
IBAÑEZ, ALNA SHELMA FRANCO
ICALINA, MARTHA ROSE CHAVEZ
JAIM, SHANEA DANIELLE ESGUERRA
JALISAN, ALYSSA TISBE BABOR
JALUAG, DINAH JEM GUARTICO
JERUSALEM, TANYA MARIELLE TOLENTINO
JUANILLO, WHISPER GALLARDO
JUMADLA, PHOEBE LOISE
JUSTALERO, ANNA ISABELLA TORRES
KUSHIDA, CAROL DIAMOND AMANTILLO
LACUESTA, ALEXANDER PHILLIP ELONA
LAGUNAY, CAROLUZZI YAP
LERASAN, RON RODETH BADILLA
LIGO, PIA HADASSAH QUILNET
LISONDRA, FRANCIS DWAYNE NIERVA
LUCERO, YLLORAH LEIGH ADRIENNE TAN
LUMANLAN, ZEAN MARCO AGUIPO
LUMAYAG, NEIL JOHN DIPUTADO
MACABENTA, IAN JAY ALATIIT
MACIAS, JANY LOU MACAJELOS
MADRIGAL, MARJORIE MERCADO
MALAYANG, FLORIJIE MEAGAN TOLBO
MALBUYO, DIVINE GLORY PAREDES
MIGALLEN, HONEY LOU DANAG
MIGRIÑO, SCARLET OPAY
MONJE, JO ANNETTE TORELA
MONTEJO, CARLOS III OLHON
MOSQUEDA, ISABELLA HELENE MALAHAY
NAONG, RIYAH DEARLY CERNAL
OJALES, FLOURIE MAE OTADOY
ORELLANA, KEA JOY MARIÑO
PACAÑA, IRIS LORRAINE USARAGA
PACATANG, JASMINE JUMAWAN
PADERANGA, ERALD MUTIA
PAJANTOY, MEL GIBSON MANAGAT
PALENCIA, KAREN JOY CERDAÑA
PANIZALES, LEAH DINGAL
PAPILLERAS, AIRA KARISSE GAYO
PARAO, JOXEL VERDOQUILLO
PAREDES, SHEENE IMM UY
PASCO, CASTEEN JO DUHAYLUNGSOD
PATAG, KATE VALERIE SUMOBAY
PELLEJO, LANCE JUDE SANDRINE CORCIEGA
PIS-AN, TANIA MARIE DAGOY
POLINAR, MARY DECETTE JANE BUDIONGAN
PONCE DE LEON, CARMEN VICTORIA
REDULLA, PAUL JERWEN BETONIO
REGENCIA, DARRA MONIQUE DAGONDON
RENDOQUE, MONIQUE ROSALDEZ
ROA, RINA ELYN GO
SALCEDO, FRANCHEZKA LOUISE SENADOR
SALVADOR, JEANNE MURIEL GALVEZ
SAME, JYACINTH MARIE ELLOREG
SIBALA, NASTASHA ROAN BORROMEO
SO, RYSHYL MARGARET CARNALNA
SOPOCADO, EDGARDO GASTEL
TAGSIP, FABELLE TORRES
TANATE, KENT OWEN TOGONON
TEJEROS, SIEGFRED JUAYAN
TEVES, KATRINA LOPEZ
TIANGSON, TRICIA ANNE DIGNOS
TINGSON, MA LUISA ANGELA
TORO, HONEY ROCHELLE ANN REAL
TORREDA, CHRISTIA MAE ANTEQUISA
TORRES, CHARLES JOHN MC INTIRE
TUBASES, JOANNA JOYCE EBUAN
VASAYLAJE, BLESS JAI ENOPIA
VELEZ, JEF FROILAN PILEO
VENDIOLA, JAN ALBRIENE PALOMAR
VILLAHERMOSA, CAMILLE FAYE RAGAY
VILLAMOR, SHARMAINE BULABON
VILLAVICENCIO, MARIANNE IZABELLE BUSTALIÑO
VILLEGAS, JOHN PAUL ERBITO
VINCOY, HANNAH SARITA
VINCOY, RHEMA MUÑEZ
ZAMORA, CATHERINE JOYCE CALDERON