1st Year Fine Arts Major Wins Victorias Milling Art Contest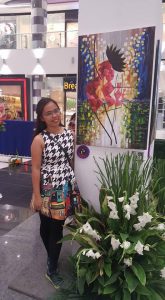 First year Fine Arts student, Ledzeepee Ace Taboada, won first place in the 5th Victorias Milling Company (VMC) Art Contest held last September 22 at the SM Atrium in Bacolod City.
This year's theme was "Victory", chosen in preparation for the coming centennial of VMC. Taboada's Kadag-an Festival inspired painting won against 24 other finalists from the elementary to the tertiary level. Her painting portrayed victory not just as a simple achievement, but as a powerful emotion.
"Victory is not merely achievement or the awards, but it is also the feeling. If you don't feel happy or do not have anyone to share the victory with, it would not feel like it at all," she said.
Taboada won P30,000 in cash prize, a trophy and a certificate, and a computer set for the University.
VMC Foundation annually holds an art-making contest that gathers aspiring young artists in Negros Island. This year's contest drew the biggest number of entries from 268 students. The entries were judged by award winning contemporary artist Jose Louis Singson, multi-disciplinary artist Sam Penaso, creative director Cristina Manahan, production designer Toym Imao, internationally acclaimed painter Jason Montinola, and decorator and conservator Liliane Manahan.
Other entries from the Fine Arts Department were by Heun Helena Yang and Einstein Maulad. They were accompanied by Fine Arts faculty member, Mr. Peter James Fantinalgo.