10 fellows to 2019 Silliman University National Writers Workshop Named
Silliman University, together with the National Commission for the Culture and the Arts, presents the 58th edition of the Silliman University National Writers Workshop on April 29 to May 10 at the Rose Lamb Sobrepeña Writers Village in Camp Look-out, Valencia, Negros Oriental and the SU Campus.
Ten writers from all over the Philippines have been accepted as workshop fellows. They are the following:
Poetry
Arielle Abrigo of Antipolo City
Alsteine Diapana of Cebu City
Balak
Jefferson Del Rosario of Danao City
Dave Pregoner of Lapu-Lapu City
Fiction
Kaisa Aquino of Quezon City
Catherina Dario of Muntinlupa City
Samuel Evardone of Metro Manila
Creative Nonfiction
Donna Patricia Manio of Imus City, Cavite
Riddick Recoter of Metro Manila
Maria Gliceria Valdez of Davao City
Tara Eunice de Leon and Jhudiel Brigid Plando will join them as special fellows for fiction and nonfiction respectively.
Two applicants have also been invited as special workshop mentees: Alter Hofileña of Misamis Occidental and Geormie Yanoc of Mabinay, Negros Oriental.
The panel of writers/critics for this year includes Director-in-Residence Anthony Tan, resident writers Cesar Ruiz Aquino and Ian Rosales Casocot, as well as regular panelists Alfred Yuson and Marjorie Evasco. They will be joined by guest panelists Rica Bolipata-Santos, Simeon Dumdum Jr., Susan Lara, Grace Monte de Ramos, and National Artist for Literature Resil Mojares.
Beginning last year, the Workshop has been accepting manuscripts for Balak (poetry in Binisaya) with corresponding English translation. The inclusion of Balak has further enriched workshop discussion regarding the craft of poetry rendered in different languages and the cultural nuances that underpin such expression.
Founded in 1962 by S.E.A. Write Awardee Edilberto K. Tiempo and National Artist Edith L. Tiempo, the workshop is the oldest creative writing workshop of its kind in Asia. It was recently given the Tanging Parangal in the Gawad CCP Para sa Sining by the Cultural Center of the Philippines. The Silliman University National Writers Workshop continues the legacy of the Tiempos in giving value to literature and creative writing in the Philippines.
For more information about forthcoming events during the workshop, e-mail Workshop Coordinator Lady Flor Partosa at [email protected] or call the Department of English and Literature at (035) 422-6002 loc. 350. (Edilberto and Edith Tiempo Creative Writing Center)
---
Call for Manuscripts to the 58TH Silliman University National Writers Workshop
The Silliman University National Writers Workshop is now accepting applications for the 58th Silliman University National Writers Workshop to be held from May 6 to May 17, 2019 at the Silliman University Rose Lamb Sobrepeña Writers Village and the Silliman University campus.
This Writers Workshop is offering ten fellowships to promising writers in the Philippines who want to have a chance to hone their craft and refine their style. Fellows will be provided housing, a modest stipend, and a subsidy to partially defray costs of their transportation.
To be considered, applicants should submit manuscripts on or before December 3, 2018. (Extension to the deadline will not be made.) All manuscripts should comply with the instructions stated below. (Failure to do so will automatically eliminate their entries).
Applicants for Fiction and Creative Nonfiction fellowships should submit three to four (3-4) entries. Applicants for Poetry fellowships should submit a suite of seven to ten (7-10) poems. Applicants for Drama fellowships should submit at least one (1) One-Act Play. Each fiction, creative nonfiction, or drama manuscript should not be more than 20 pages, double spaced. We encourage you to stay well below the 20 pages. Aside from manuscripts in Poetry, Fiction, Creative Nonfiction, and Drama that should be written in English, the Workshop will also be accepting manuscripts for Balak (poetry in Binisaya). Applicants should submit a suite of seven to 10 (7-10) Balak entries with their English translations.
Manuscripts should be submitted in five (5) hard copies. They should be computerized in MS Word, double-spaced, on 8.5 x 11 inches bond paper, with approximately one-inch margin on all sides. Please indicate the category (FICTION, CREATIVE NONFICTION, POETRY, ONE-ACT DRAMA, or BALAK) immediately under the title. The page number must be typed consecutively (e.g., 1 of 30, 2 of 30, and so on) at the center of the bottom margin of each page. The font should be Book Antiqua or Palatino, and the font size should be 12.
The applicant's real name and address must appear only in the official application form and the certification of originality of works, and must not appear on the manuscripts. Manuscripts should be accompanied by the official application form, a notarized certification of originality of works, and at least one letter of recommendation from a literature professor or an established writer. All requirements must be complete at the time of submission.
Send all applications or requests for information to the Department of English and Literature, attention Assistant Professor Lady Flor Partosa, Workshop Coordinator, 1/F Katipunan Hall, Silliman University, 6200 Dumaguete City. For inquiries, email us at [email protected] or call 035-422-6002 loc. 350.
---
Poet, Mentor, and SU Alumnus Anthony Tan is new Silliman Workshop Director
Anthony L. Tan has been appointed Director-in-Residence for the 58th Silliman University National Writers Workshop by Silliman University President Dr. Betty C. McCann upon the recommendation of the Advisory Board of the Edilberto and Edith Tiempo Creative Writing Center through its coordinator, Lady Flor Partosa.
Born and raised in Siasi, Sulu, Tony got his M.A. in Creative Writing and Ph.D. in English from Silliman University. As a student, he was editor of the 1976 issue of the University's literary folio the Sands and Coral and fellow to the Silliman University National Writers Workshop in 1973. For more than a decade, he was a faculty member of the English Department and a regular member of the panel of critics at the Silliman National Summer Writers Workshop, where he sat with his mentors Edilberto and Edith Tiempo.
He went back to Mindanao in 1984 as faculty and later Department Chairperson at MSU-Iligan Institute of Technology, where he stayed until his retirement in 2013. His poems, essays, and stories have gained national and international recognition, with his works appearing in various magazines and journals, including the Manoa (the literary journal of the Univeristy of Hawaii) and the Atlanta Review (the prestigious poetry magazine in the United States) as well in various anthologies such as a Habit of Shores (edited by Gemino Abad) and In Time Passing (edited by Leoncio Deriada). Author of two poetry collections The Badjao Cemetery and Other Poems and Poems for Muddas, Tony is recipient of various awards such as the Don Carlos Palanca Memorial Awards for Literature.
As alumnus of Silliman, he has given back to his alma mater by serving the SU National Writers Workshop as panelist multiple times, becoming editor-in-chief of the special literary issue of the Silliman Journal in 2013, as well as giving lectures and facilitating workshops as Visiting Lecturer. This time, Anthony Tan returns once again to the campus by the sea as Director-in-Residence for the 2018 Silliman University National Writers Workshop, which is scheduled May 6-17, 2019.
---
Fellows of the 56th Silliman University Writers Workshop present Chapbook Collection
"Germane" is how the 10 fellows of the 2017 SU National Writers Workshop call their Batch and is the title of their chapbook collection. George, Jam, Hezron, Vincen, Tiff, Catherine, Arlene, Tanya, Miggy and Jake share poems and prose that capture what to them are germane to their Workshop experience.
Since 2008, the Workshop has encouraged fellows to come up with a literary folio, an anthology of works pursued as projects during the Workshop or inspired during their stay in Dumaguete and Valencia.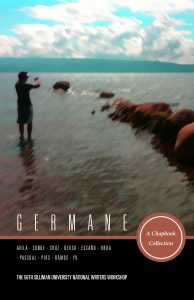 (Click image to view)