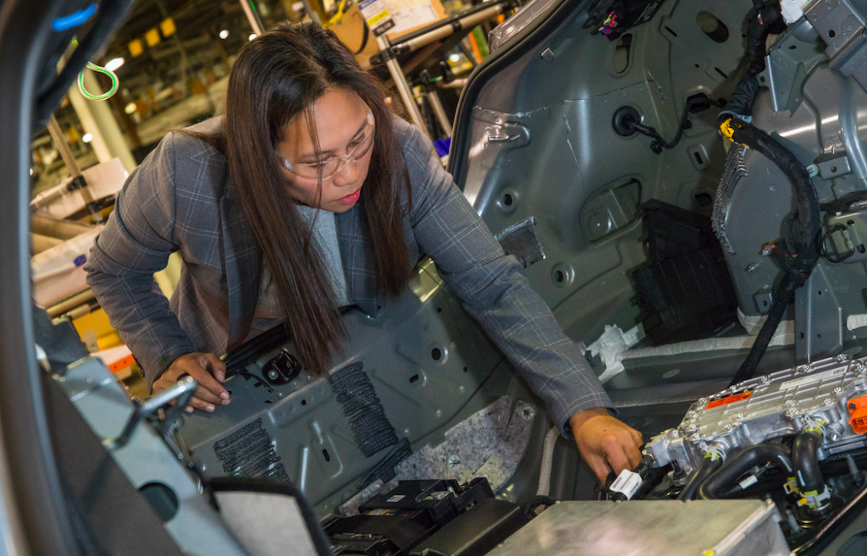 Alumni Update November 2 – 8, 2020
SILLIMAN ENGINEERING ALUMNA BEHIND HUMMER EV SPIN-OFF
The High Mobility Multipurpose Wheeled Vehicle (HMMWV), better known as the Iconic Humvee and made famous by the American military during the Gulf War in the 1990s, is coming out a new series of Hummer light utility truck models for civilian use.  Silliman Electrical Engineering alumna Djoana C.  Geopano Wheeler is in the team of engineers and designers who are hard at work at General Motors headquarters in Detroit, Michigan, putting together what it calls the world's first EV super truck.
A total re-engineering of a classic gas-guzzling mammoth into an all-electric four-wheel-drive super truck is in the making. But the power and intimidating looks of the fossil fuel-powered Hummer will remain. This monster truck will be fitted with three zero-emissions electric motors working together to generate up to 1,000 horsepower and enough torque to launch a multi-ton truck from 0 to 100 kph in three unbelievable seconds. This truck would be capable of doing a "crab walk," meaning it can do a side step or diagonal maneuver. This year, when this vehicle rolls out of the assembly lines, it will be branded as the 2022 GMC Hummer EV.
Previously, Wheeler was among the wiring design team for the Chevrolet Volt Gen 1 and Gen 2, Cadillac ELR, Cadillac XTS, and Cadillac CT6. She has been with GM for almost six years and has also been the lead engineer in its quality, reliability, and durability departments. Still, her career in automotive engineering spans two decades, as she has had the opportunity to work for a supplier dealing with other Japanese original equipment manufacturers (OEMs).
Wheeler, in an interview with Inquirer Mobility, shares, "I had always been fascinated with engineering since I was little. Ever since I was a kid, I had always been envisioned myself becoming one. I remembered an instance when my grandma broke a Christmas light bulb, but I fixed it, and that was my proud moment."
During her college days at Silliman University, Wheeler was used to a male-dominated atmosphere. "Math-intensive fields have a gender disparity and dominion—it's all about men; however, my academic life was normal. There were about four of us women in a class of 50 electrical engineering students. The BSEE and BSME courses were the least favorite engineering courses for women. Lately, however, there has been a lot of interest from women in these engineering fields, and that's because most companies are promoting diversity and equality," observed Wheeler.
Wheeler was fortunate to be offered a job with Lear Corp, an automotive engineering company based in Cebu, Philippines, a month before graduation. This job helped paved the way for a career in the United States. Early in her career, Wheeler had the opportunity to be assigned in Japan, where she worked for five years. She then migrated to the United States in 2008.
Wheeler has expressed her satisfaction and happiness at her workplace and has never been in a situation where gender was an issue. She points out her joy in working for a company with diversity, equality, and inclusion in all aspects and adds that the CEO is a woman at General Motors.
Wheeler believes that she won't be the last Filipino woman engineer to make a mark in the United States. "My career experience in the Philippines is what paved my profession here. We are lucky that automotive companies are expanding their businesses globally, which are helping young Filipinos achieve their dreams."
Wheeler earned her Bachelor of Science degree in Electrical Engineering at Silliman University in 2000.
(With reports from Inquirer Mobility by Tessa Salazar)