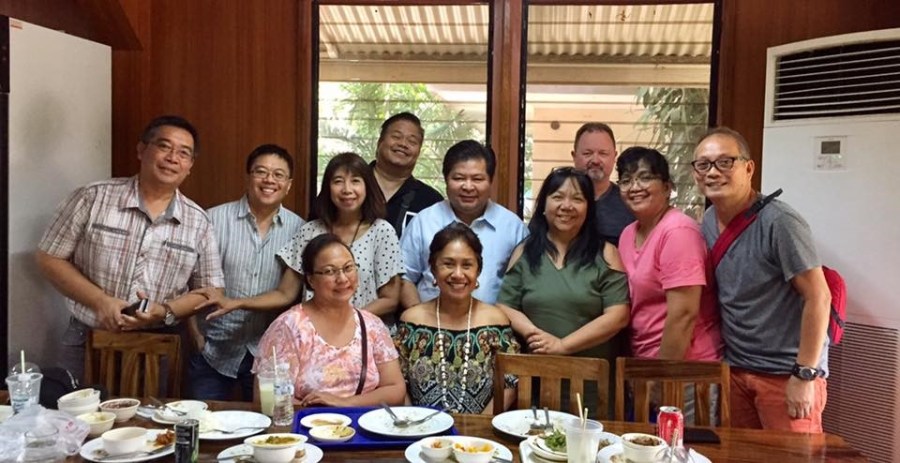 Alumni Updates June 26 – July 2, 2017
A group of Mass Com alumni coming from different batches of the 70s and 80s visited the campus June 28-30, 2017. The group was headed by Ling Marapao-Brian, Susan Palad, Angela Calimbas-Dimalanta and Andy Bais. An informal "meet and greet" at the Silliman Cafeteria with Silliman Trustee and Dumaguete City Mayor Felipe Antonio B. Remollo was a delight to the group. Among the highlights of the reunion was a visit to the Guy Hall, the former home of the then School of Communication, now the College of Mass Communication. The College of Mass Communication is now located at the Emilio T. Yap Hall located above the Instructional and Media Technology Center. The group also visited the different tourist spots in Dumaguete and Negros Oriental.

Mass Com reunioning group with Dumaguete City Mayor Felipe Antonio B. Remollo (second row, standing fourth from left)
The Silliman Alumni Association, Inc. (SAAI) is reminding all alumni chapters here and abroad to submit their nominations for the 2018 Outstanding Sillimanian Awards (OSA) on or before October 15, 2017. You may download the nomination forms from the SAAI website http://saai.org.ph/saai2/outstanding-sillimanian-awards-2/. For more information, you may contact the SAAI office at +63 35 4226002 local 291 or at [email protected].