Alumni Updates (September 4-10)
The "SUHS Viva 77 Express" float of the Silliman University High School Class of 1977 was awarded Best Float during Silliman University's 116th Founders Day Parada Sillimaniana last August 28, 2017. The Best Float Trophy was presented during the Alumni and Community Fellowship Night's Tipon Dumaguete, evening of August 28, 2017. SUHS Class of 1977 celebrated their 40th year of togetherness in various reunion activities from August 25-29, 2017. Batch 77 boasts of two mayors in their batch, namely Dumaguete City Mayor Felipe Antonio B. Remollo, also a member of the Silliman University Board of Trustees, and Ipil, Zamboanga Sibugay Mayor Anamel Olegario.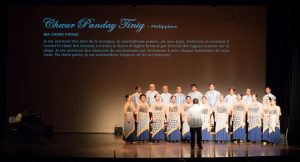 Canada-based alumnus Paul R. Imperial and the award-winning Panday Tinig Choral Ensemble, of which Mr. Imperial is musical director, will be performing on October 15, 2017 at the Oscar Peterson Hall, Concordia University, Montreal, Quebec. Panday Tinig has been chosen as a partner of the City of Montreal in celebrating its 375th anniversary year of the city by performing during the "Mabuhay Montreal" celebration. At the same time, the Ensemble will be raising scholarship funds for deserving Silliman students in the College of Performing and Visual Arts and the Chemistry Department. Mr. Imperial graduated from Silliman University High School in 1954 and earned his Bachelor of Science in Chemistry in 1959. Mr. Imperial, one of the pillars of the Montreal Alumni Chapter, is inviting Canada-based alumni to come and see Panday Tinig's performance.
The Panday Tinig Choral Ensemble is a not-for-profit charitable organization whose mission is to share and promote the musical heritage of the Philippines. Based in Montreal, the choir was established in 1985. The Choral Ensemble has presented concerts in Montreal's Pollack Hall, McGill University, Oscar Peterson Hall, Concordia University, and Place des Arts. The Ensemble has also performed in Ottawa, Toronto, Washington, and in New York, at the Weil Recital Hall at Carnegie Hall.
Panday Tinig has been actively involved in raising funds through musical benefits to aid victims of disasters such as the Mount Pinatubo volcanic eruption, the Saguenay-Lac St. Jean flood, South Asia, the mudslide in Leyte, and the Sendong and Ondoy floods in the Philippines.
In 2000, Panday Tinig was recognized as the Most Outstanding Filipino Organization in Canada, by the Bb. Pilipinas organization, Toronto, Ontario, Canada. While in 2004, the Ensemble received the BANAAG Presidential Award, at Malacañang Palace, Manila, Philippines.
————————————————–
September 7, 2017
Dear Fellow Alumni and Friends:
The 116th Founders Day celebration has now come to a close, but we continue to celebrate God's faithfulness to Silliman University. The week-long celebration attended by alumni here and abroad, affirms Silliman's ministry of faith and of core values instilled in us through the years.
Your presence, enthusiasm and participation in the different activities during Founders Day contributed to a truly meaningful and enjoyable celebration. It is only committed alumni like you with compassionate hearts for Silliman on whom we can count.
We invite you to update your alumni records by filling out the Alumni Database Update Form through this link http://archive.su.edu.ph/page/282-alumni-database-upda.
Thank you so much for your contribution of time, you are indeed a blessing to us.
Warmest regards,
Ruben N. Bokingo
Director