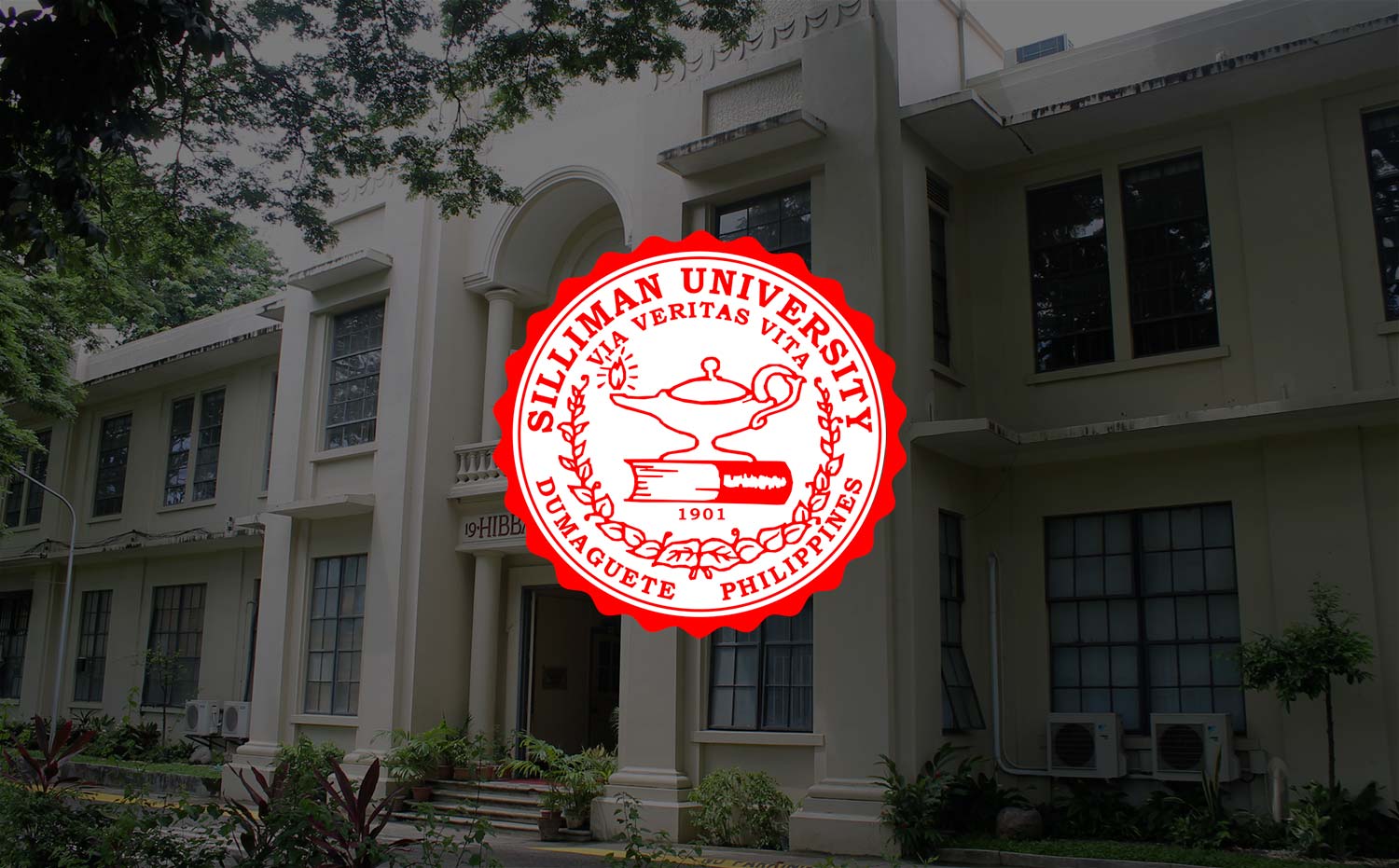 Alumni Updates (September 11-17)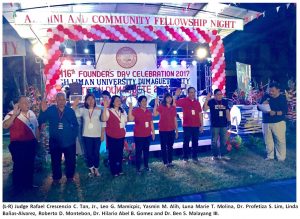 Silliman President Dr. Ben S. Malayang III inducted the newly elected officers of the Silliman Alumni Association, Inc. (SAAI) during the Alumni and Community Fellowship Night's Tipon Dumaguete,  held evening of August 28, 2017 at the West Quadrangle.
The newly elected SAAI officers are: Dr. Hilario Abel B. Gomez (president), Roberto D. Montebon (vice president), Judge Rafael Crescencio C. Tan, Jr. (executive secretary), Dr. Profetiza S. Lim (treasurer) and Linda Bañas-Alvarez (public relations officer). The Members of the Board of Directors are: Edilberto I. Dames, Emma Ray A. Panaguiton and Luna Marie T. Molina, representing Luzong; Roberto D. Montebon, Atty. Mikhail Lee L. Maxino and Leo G. Mamicpic, representing Eastern Visayas; J'Roel del Rosario, Nanette Liberal-Abuan and Jennylind O. Cordero, representing Western Visayas; Dr. Hilario Abel B. Gomez, Dr. Beulah R. Torres and Linda Bañas-Alvarez, representing Mindanao; and Dr. Profetiza S. Lim, Judge Rafael Crescencio C. Tan, Jr. and Yasmin M. Alih, representing alumni-at-large.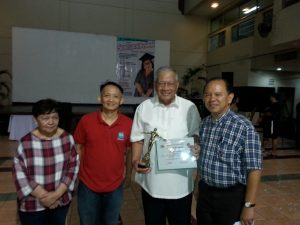 Outstanding Sillimanian Dr. Leslie E. Bauzon was recently awarded the University of the Philippines Oblation Plaque of Recognition in appreciation of his being the Founding President of the Social Sciences and Philosophy Research Foundation, Inc. (SSPSRFI) and his many years of dedicated service, devotion, and commitment to the Foundation. He received the award in celebration of SSPRSRFI's 30th Anniversary, held September 9, 2017 at the Bahay ng Alumni, University of the Philippines, Diliman, Quezon City.
Dr. Bauzon served as the first Dean of the UP College of Social Sciences and Philosophy (UP CSSP) from 1982 to 1989. In 1987, he founded SSPSRFI, the funding arm of the UP CSSP. SSPSRFI has grown into a multi-million entity that provides financial assistance to UP CSSP faculty in research, conferences, and academic pursuits.
Dr. Bauzon graduated AB History from Silliman University in 1964 and was named Outstanding Sillimanian in the field of Education in 1989. He is one of the pillars of the Silliman University Awesome Class of 1964 which recently celebrated their 53rd Anniversary during Silliman University's 116th Founders Day last August 20 to 28, 2017.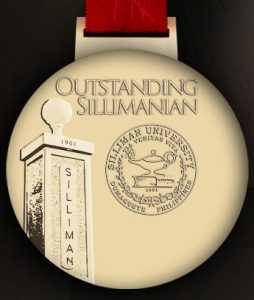 The Silliman Alumni Association, Inc. (SAAI), through its Executive Secretary, Judge Rafael Crescencio C. Tan Jr., reminds all alumni chapter presidents of the October 15, 2017 deadline for the submission of nominees for the 2018 Outstanding Sillimanian Awards. The nomination forms may be downloaded from the SAAI website http://www.saai.org.ph/saai2. Please submit duly filled out nomination forms with supporting documents to: The Executive Secretary, Silliman Alumni Association, Inc., Silliman University, Dumaguete City 6200.