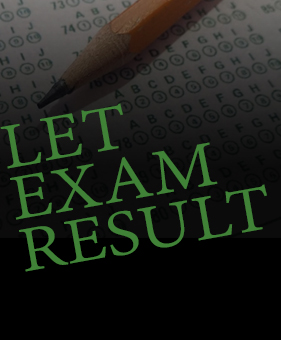 COE, COPVA grads pass LET exam
Graduates of the College of Education (COE) and College of Performing and Visual Arts (COPVA) passed the Professional Regulation Commission (PRC) September 2018 Licensure Examination for Teachers. PRC released the results last December 7. COE and COPVA submitted the names of their respective graduates who passed the said exam:
Bachelor of Secondary Education 
Acab, Ma. Cassandra
Ansiman, Vernalyn B.
Ausejo, Mary Queen G.
Balais, Krissa R.
Baldomar, Era Mae Hansel Babe V.
Beamish, Jasmine Q.
Briones, Cris S.
Bumagat, Rica Rose A.
Cadeliña Conch A.
Calusin, Seth Jay M.
Casuloc-An, Caryl A.
Catacutan, Laysander S.
Cayetano, Karl Angelo M.
Cuerpo, Xavier Bertril N.
Delgado, Gofer P.
Gantalao, Kathleen L.
Generoso, Mary Louise Lane A.
Gom-Os, Mimarie Joy M.
Laxina, Kenzo Lindy G.
Lazaga, Ruby Jane D.
Laranjo, Lorie Mae P.
Mabanag, Marcky
Macahig, Michael
Magtolis, Tiffany E.
Nepomuceno, Anthony B.
Notarte, Diana Christine A.
Onganon, Josefa B.
Ortega, Lory M.
Otodera, Alyssa Dawn V.
Palarpalar, Junelle M.
Palomar, Jubanie D.
Pancho, Steaven E.
Providencia, Cynthia Z.
Rambuyon, Kaalam Dominique C.
Rivera, Cristy Lyn K.
Rubio, John Edgar C.
Salin, May Raquelle V.
Tano, Charisse Fitzi A.
Tebio, Gemmella M.
Uy, Andrei S.
Villaflores, Jeff Wincott F.
Villocino, Mary Angelica A.
Ybarsabal, Reshel B.
Bachelor of Elementary Education
Agustino, Jezielme P.
Baldomero, Starla R.
Cadusale, Abigail Grace G.
Chavez, Rhea Jane
Dataro, Rochelle B.
Eso, Fiel Harvey S.
Forrosuelo, Teozah Mara H.
Francisco, Zemeeka C.
Kitane, Mary Catherine C.
Llera, Jaymica V.
Montecino, Dorothy S.
Olaguer, Genevieve M.
Pono, Althea C.
Sayre, Shara Cristelle C.
Sia, Jhonnalyn Mae T.
Soriano, Mary Genen B.
Umbac, Rycel May C.
Zerna, Lyndel R.
Bachelor of Music, Major in Music Education
Amil, Daniel L.
Cabrera, Beverly Mae N.
Campos, Himaya V.
Fausto, Myance Fran S.
Jarabe, Nathaniel S.
Kapirig, Keziah Zyra A.
Rallos, Chianne Paula A.
Ratificar, Dhesmary Jane R.
Roa, Jamie Kay V.
Sumile, Anne Femae S.
Tuayon, Alain Rae S.
Bachelor of Music, Major in Voice
Enero, Melody G.
Bachelor of Science in Psychology
March 2018 LET Passers
Partosa, Ana Mae T.
Ramirez, Phoebe Ann A.
Santilla, Racel Jane M.