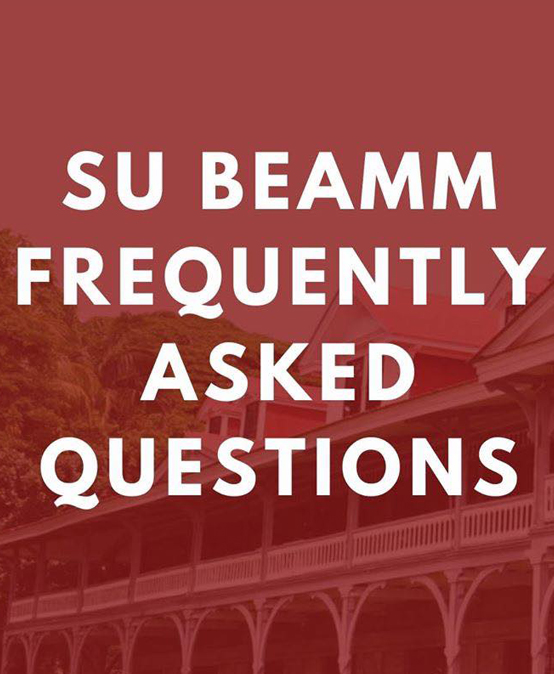 SU-BEAMM Frequently Asked Questions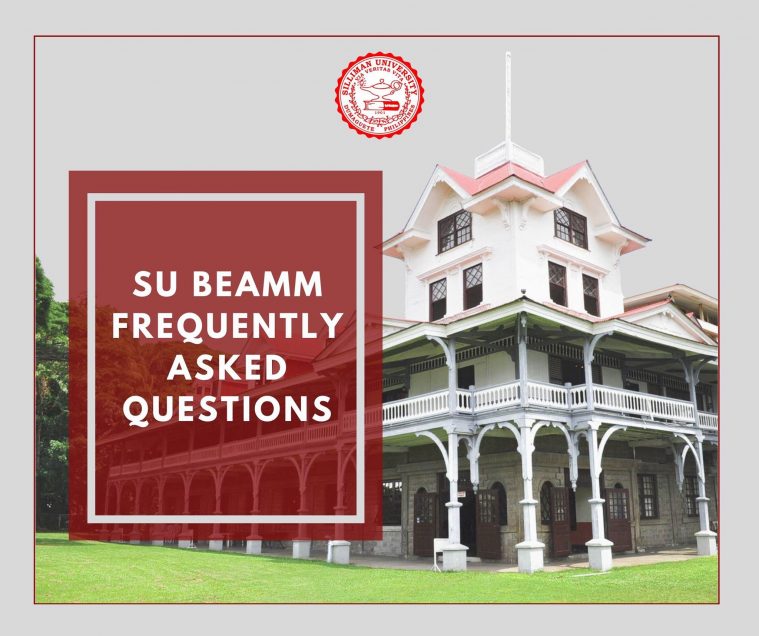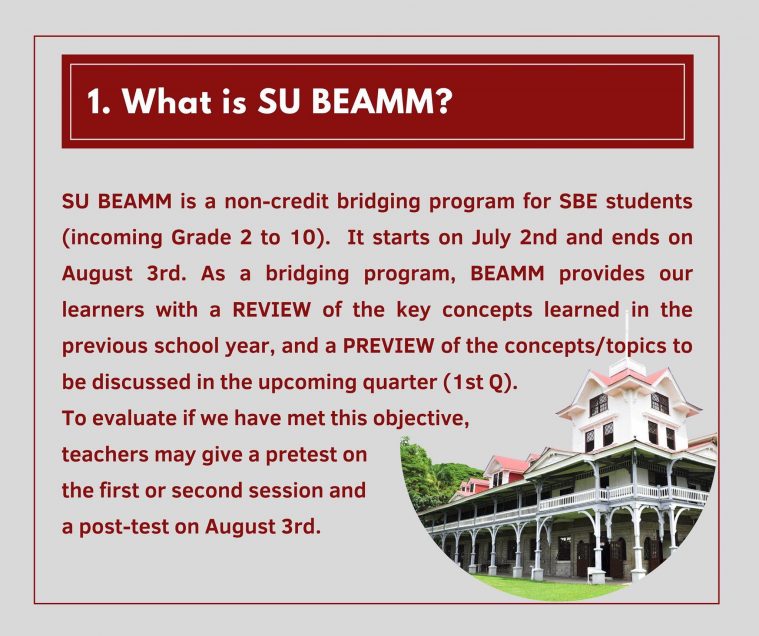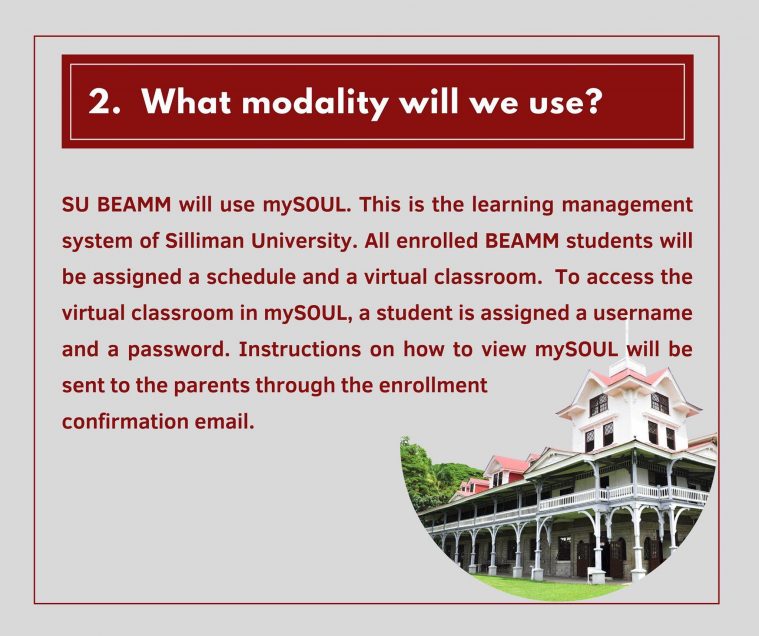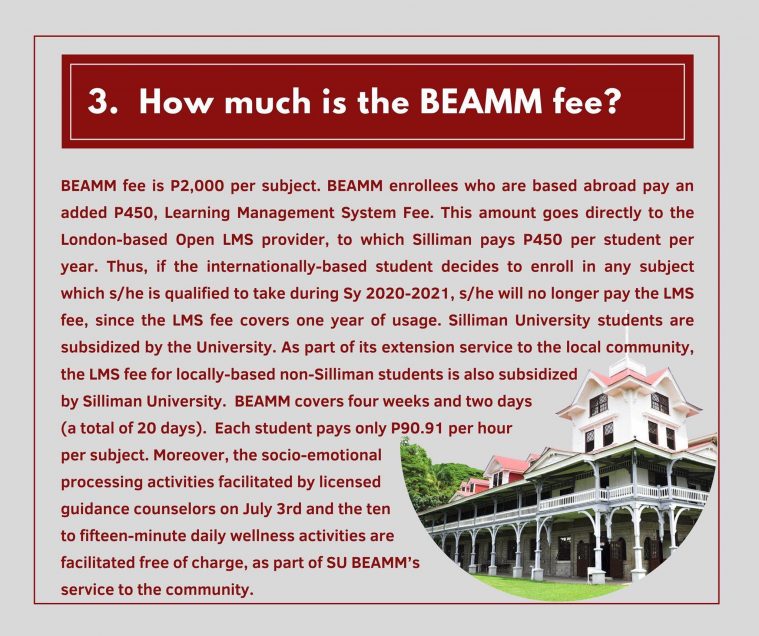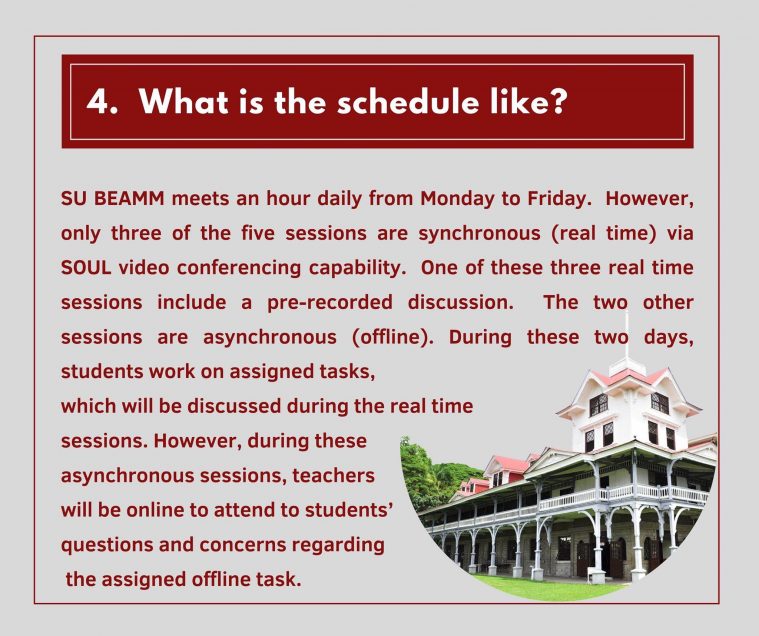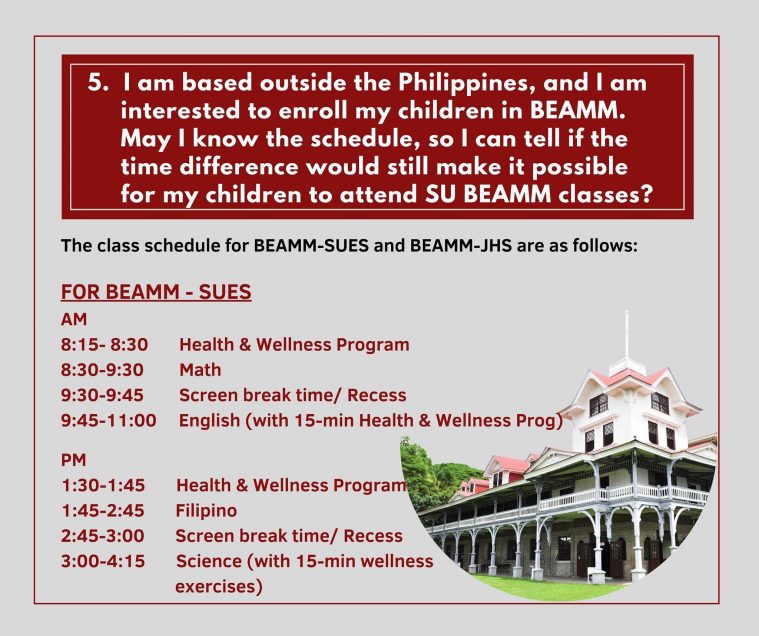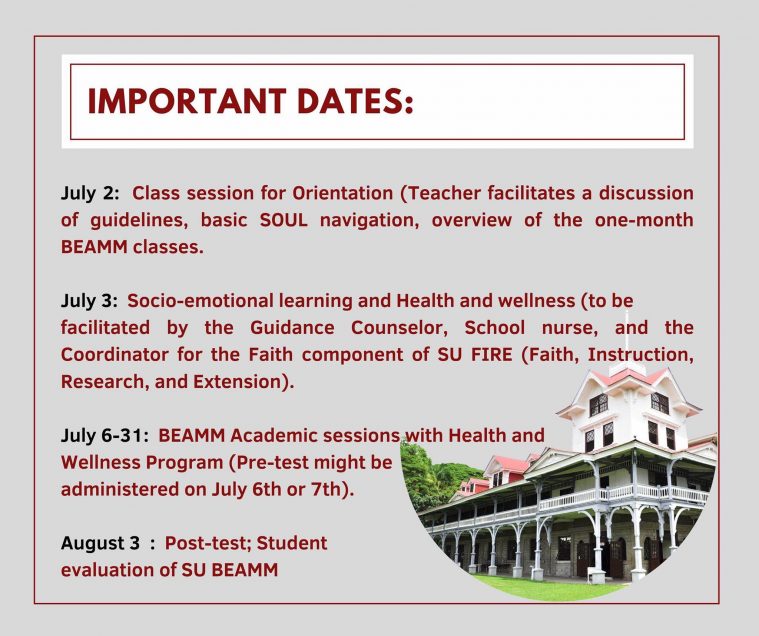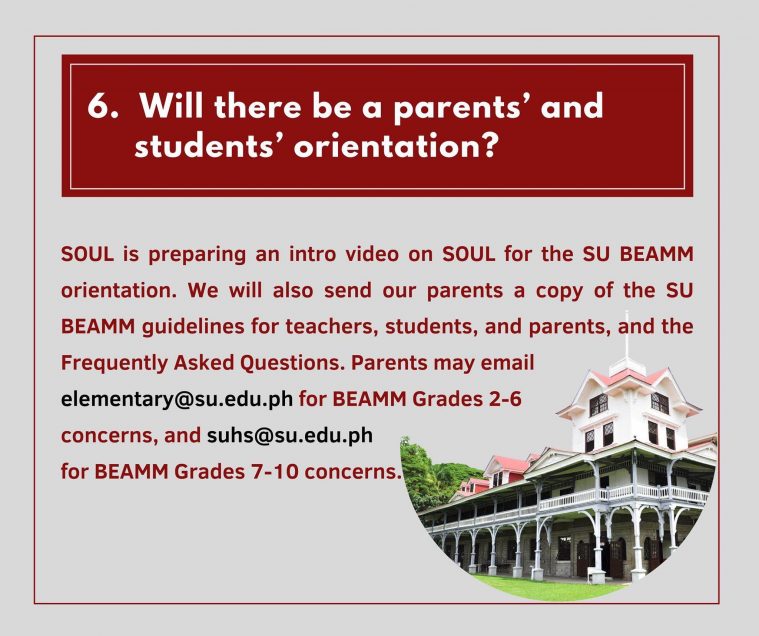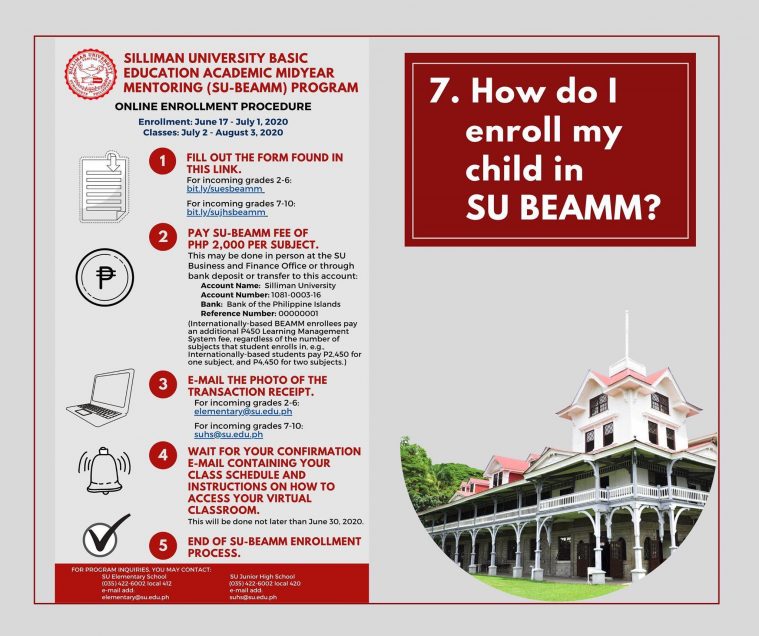 What is SU BEAMM? 
SU BEAMM is a non-credit bridging program for SBE students (incoming Grade 2 to 10).  It starts on July 2nd and ends on August 3rd. As a bridging program, BEAMM provides our learners with a REVIEW of key concepts learned in the previous school year, and a PREVIEW of the concepts/topics to be discussed in the upcoming quarter. To evaluate if we have met this objective, teachers may give a pretest on the first or second session and a post-test on August 3rd.
What modality will we use?
SU BEAMM will use mySOUL. This is the learning management system of Silliman University. All enrolled BEAMM students will be assigned a schedule and a virtual classroom.  To access the virtual classroom in mySOUL, a student is assigned a username and a password. Instructions on how to view mySOUL will be sent to the parents through the enrollment confirmation email.
How much is the BEAMM fee?
BEAMM fee is P2,000 per subject. BEAMM enrollees who are based abroad pay an added P450, Learning Management System Fee.  This amount goes directly to the London-based Open LMS provider, to which Silliman pays P450 per student per year.  Thus, if the internationally-based student decides to enroll in any subject which s/he is qualified to take during SY 2020-2021, she will no longer pay the LMS fee, since the fee covers one year of usage. Silliman University students are subsidized by the University.  As part of its extension service to the local community, the LMS fee for locally-based non-Silliman students is also subsidized by Silliman University.  BEAMM covers four weeks and two days (a total of 22 days).  Each student pays only P90. 91 per hour per subject. Moreover, the socio-emotional processing activities facilitated by licensed guidance counselors on July 3rd and the ten to fifteen-minute daily wellness activities are facilitated free of charge, as part of SU BEAMM's service to the community.
What is the schedule like?
SU BEAMM meets an hour daily from Monday to Friday.  However, only three of the five sessions are synchronous (real time) via mySOUL video conferencing capability.  One of these three real time sessions include a pre-recorded discussion.  The two other sessions are asynchronous (offline).  During these two days, students work on assigned tasks, which will be discussed during the real time sessions.  However, during these asynchronous sessions, teachers will be online to attend to students' questions and concerns regarding the assigned offline task.
IMPORTANT DATES:
July 2:  Class session for Orientation (Teacher facilitates a discussion of guidelines, basic mySOUL navigation, overview of the one-month BEAMM classes.
July 3:  Socio-emotional learning and Health and wellness (to be facilitated by the Guidance Counselor, School nurse, and the Coordinator for the Faith component of SU FIRE (Faith, Instruction, Research, and Extension).
JULY 6-31:  BEAMM Academic sessions with Health and Wellness Program (Pre-test might be administered on July 6th or 7th).
August 3  :  Post-test; Student evaluation of SU BEAMM
I am based outside the Philippines, and I interested to enroll my children in BEAMM. May I know the schedule, so I can tell if the time difference would still make it possible for my children to attend SU BEAMM classes?
The class schedule for BEAMM-SUES and BEAMM-JHS are as follows:
FOR BEAMM – SUES and JHS
AM
8:15 – 8:30   Health & Wellness Program
8:30 – 9:30   Math
9:30-9:45     Screen break time/ Recess
9:45-11:00   English (with 15-min Health and Wellness Prog)
PM
1:30 – 1:45  Health & Wellness Program
1:45 – 2:45  FILIPINO
2:45-   3:00  Screen break time/ Recess
3:00 – 4:15- Science (with 15-min wellness exercises)
Will there be a parents' and students' orientation?
SOUL is preparing a mySOUL intro video to orient parents and students about the platform. We will also send our parents a copy of the SU BEAMM guidelines for teachers, students, and parents, and the Frequently Asked Questions. Parents may email [email protected] for BEAMM Grades 2-6 concerns, and [email protected] for BEAMM Grades 7-10 concerns.
---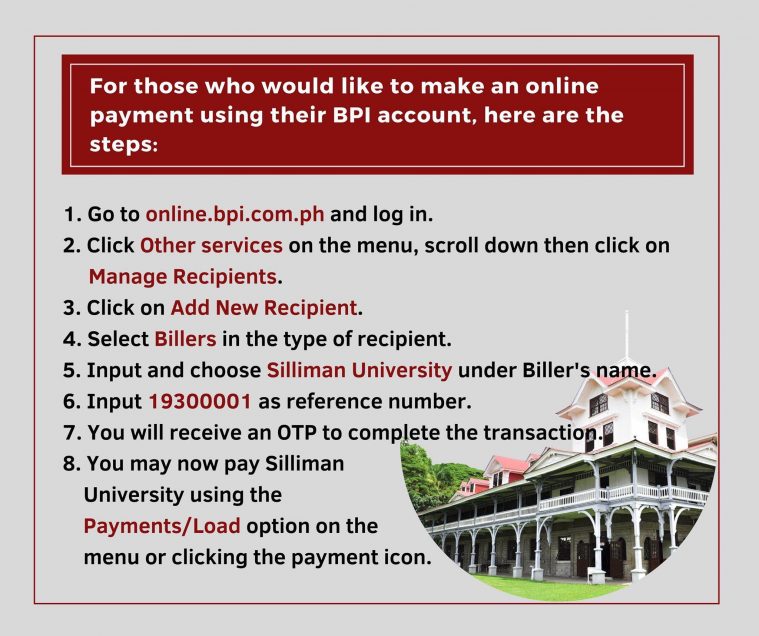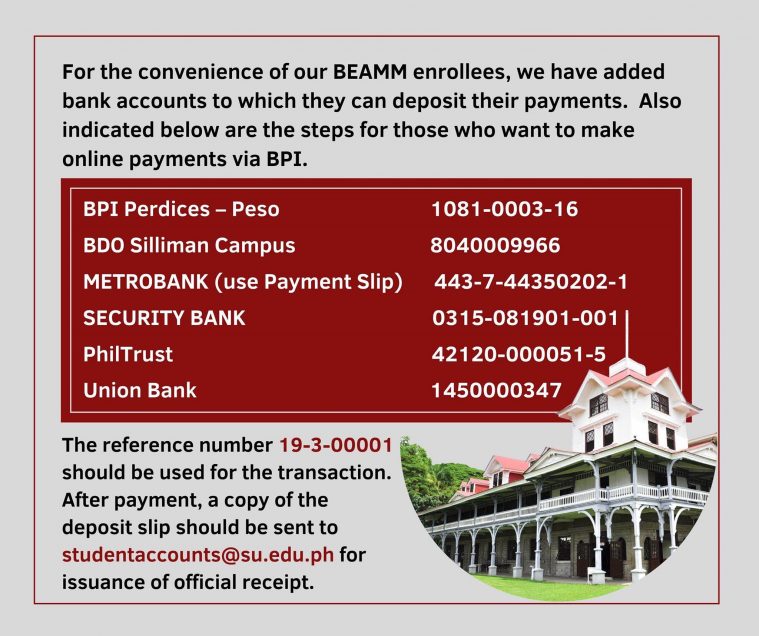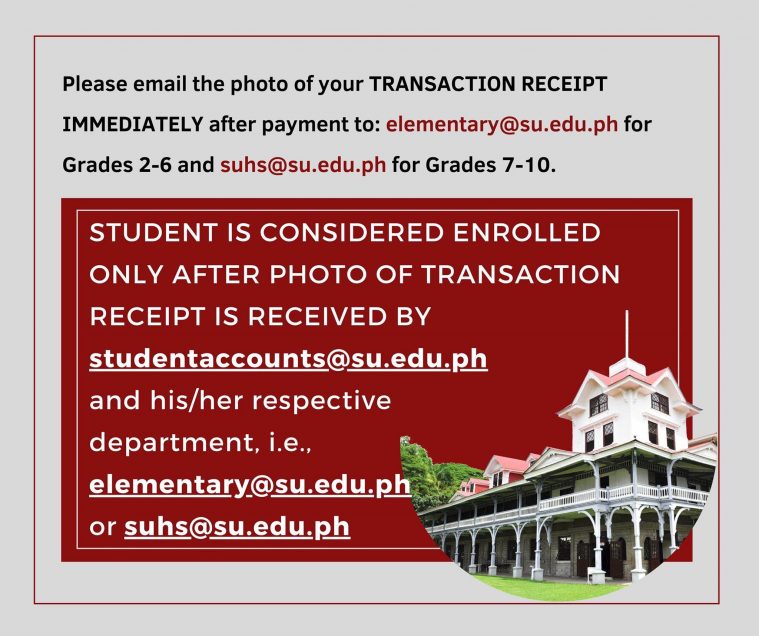 For the convenience of our BEAMM enrollees, we have added more bank accounts. Also indicated below are the steps for those who want to make online payments via BPI.
BPI Perdices – Peso 1081-0003-16
BDO Silliman Campus – 8040009966
Metrobank (use Payment Slip) – 443-7-44350202-1
Security Bank – 0315-081901-001
PhilTrust Bank – 42120-000051-5
Union Bank – 1450000347
The reference number 19-3-00001 should be used for the transaction. After payment, a copy of the deposit slip should be sent to [email protected] for issuance of official receipt. For those who would like to make an online payment using their BPI account, here are the steps:
Go to online.bpi.com.ph and log in.
Click Other services on the menu, scroll down then click on Manage Recipients.
Click on Add New Recipient.
Select Billers in the type of recipient.
Input and choose Silliman University under Biller's name.
Input 19300001 as reference number.
You will receive an OTP to complete the transaction.
You may now pay Silliman University using the Payments/Load option on the menu or clicking the payment icon.