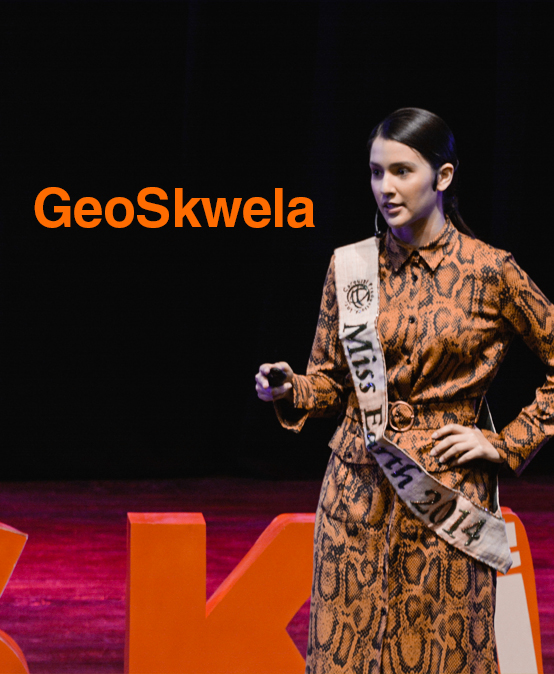 Students urged to 'fight for their future' amid climate crisis
"If you believe that your future is worth fighting for, then you should fight for it," environmental scientist Dr. Jorge Emmanuel told students during his talk on climate change as part of the "GeoSkwela: Exhibit & Talks on Sustainable Living and Renewable Energy" organized by Silliman University (SU) and the Energy Development Corporation (EDC), June 24 at the Claire Isabel McGill Luce Auditorium.
Attended by students from SU, Foundation University and St. Paul University Dumaguete, the event gathered five environmental advocates who talked about various environment-related topics: Rhyn Anthony Esolana, co-founder of student-led marine conservation workshop Project Balod, on "How I Learned to Love the Seas"; Miguel de Vera, EDC Strategic Initiatives, Legal, Regulatory Office head, on "Energizing the Future of Work"; Dr. Emmanuel, renowned environmental scientist and adjunct professor at SU, on "Global Climate Change: An Existential Threat"; and Jamie Herrell, Miss Earth 2014, on "Helping Mother Earth: A Continuous Journey."
Student-led programs
Esolana, a BS Foreign Affairs student in SU, encouraged his fellow students to be advocates of environmental conservation because the environment affects food security, healthcare, tourism and livelihood.
"[We] do what we do not just for tomorrow, but primarily, it's for us now. We have to take care of [ourselves] now," said Esolana.
He also encouraged students to participate in and join programs, projects and other initiatives advocating for environmental conservation as a way to help the environment, citing student-led projects in Dumaguete City which students join and support, such as Esolana's Project Balod.
"Make your advocacy a part of your lifestyle. If you advocate for the environment, then live [a] life that is pro-environment," said Esolana.
Geothermal energy
Meanwhile, de Vera emphasized how shifting to renewable energy is "one of the concrete steps countries can take to reduce carbon (dioxide) emissions."
Coal-fired power plants, said de Vera, contribute to the rising levels of carbon dioxide in the atmosphere, which causes climate change. However, most of the world today is still powered by coal because it is cheap, he added.
"The more we burn fossil fuels like coal, the faster we destroy the atmosphere…The average coal-fired power plant emits about one ton of carbon dioxide for every megawatt hour, equivalent to greenhouse gas emissions from 2,200 miles driven by an average car," said de Vera.
Among different types of renewable energy, de Vera said geothermal energy is considered the "holy grail" because it can "supply uninterrupted power, day or night, rain or shine, all year round" when managed properly.
De Vera also said the Philippines can completely source geothermal energy locally, unlike coal, which the country imports.
Existential threat
On the other hand, Dr. Emmanuel enumerated the threats to human existence, namely: massive loss of biodiversity, plastic waste pollution and global climate change.
Emmanuel cited findings suggesting that the extinction rate of species today is "between 100-1,000 times higher" since human existence, which will consequently be threatened with the loss of biodiversity and mass extinction.
Emmanuel also urged the audience to "take responsibility for our plastic waste," since massive amounts of plastic waste have contaminated the world's oceans.
"(By 2050), if we have not made any changes, (we will be producing) about 3.4 billion tons of waste every year, and that waste has to go somewhere. Here in Dumaguete, it goes to the open dumpsite in (Barangay) Candau-ay…whenever it rains, [waste is pushed] out into the Banica River, which eventually goes into our oceans," he said.
Microplastics have also been found in a large percentage of seafood caught in Southern Negros, based on Emmanuel's study with colleagues from Negros Oriental State University.
"We are now eating plastics when we eat our seafood," said Emmanuel, who added that ingested microplastics can attract toxins in the human body.
Moreover, Emmanuel explained that climate change as an existential threat includes extreme weather conditions and rising sea levels caused by global warming.
He said Filipinos must be prepared for climate change because the Philippines is one of the countries most vulnerable to its effects.
"We need to help our communities to do assessments of our vulnerabilities and do disaster [planning]… make our cities more resilient…plant more trees…protect our coastal areas…but we also have a responsibility to try to minimize the amount of greenhouse gasses we put up and how can we mitigate the magnitude and the conditions because of climate change," emphasized Emmanuel.
Rethink
As the last speaker, Herrell shared her experience collaborating with environmental programs and groups as the Miss Earth 2014 and the idea behind her advocacy project, the Think Twice campaign.
Herrell said her campaign aims to teach kids how to find environment-friendly alternatives in their daily lives and encourage proper waste management.
"Trash, plastic, rubber, styrofoam…are technically not the enemy…because it wasn't here on Earth to begin with. We made it, so the problem is not the trash. The problem is us, the makers of the trash and the irresponsible actions that we've been doing to get rid of the trash," she said.
Herrell also cited Global Alliance for Incinerator Alternatives' study which reported last March that Filipinos living in six cities across the country disposed 60 million sachets a year. She then called for plastic product consumers, producers and the government to collaborate in finding solutions.
As for students, Herrell said they can help by refusing single-use plastic.
"The lesser you use trash, whether it's one plastic bag [or] one sachet, you lessen the 60 billion sachets…and that makes a big impact," said Herrell.