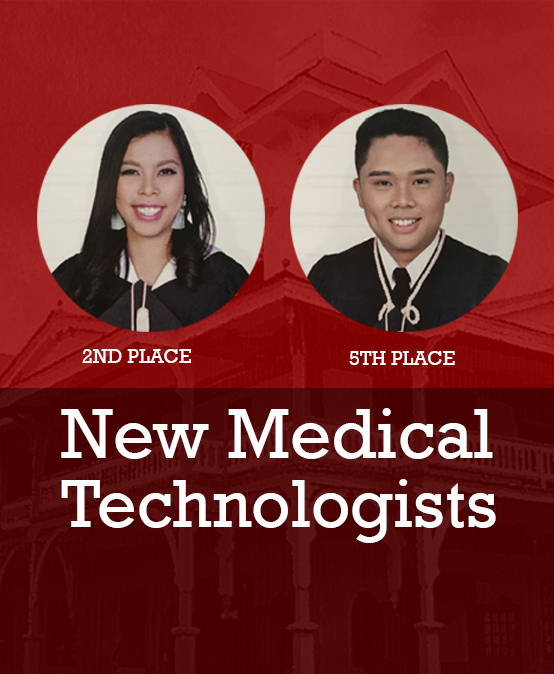 SU grads place 2nd, 5th in MT exam; 153 pass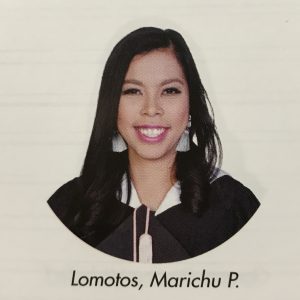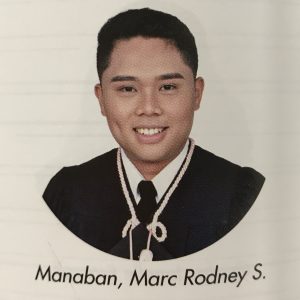 Marichu Panceras Lomotos and Marc Rodney Sarvida Manaban placed 2nd and 5th, respectively, in the top 10 examinees of the September 2019 Medical Technologist Licensure Examination.
Based on the results released by the Professional Regulation Commission, Lomotos got a score of 90.40, while Manaban got 89.70.
The Institute of Clinical Laboratory Sciences reported that a total of 153 examinees from Silliman University (SU) passed the said Licensure Examination.
SU garnered a passing rate of 90.53 percent. The national passing rate is 73.5 percent.
Congratulations to our new registered medical technologists:
MYKA ANGELA C. ABELLA
JOSERRY CHRISTMA G. ABUEVA
EDGAR C. ADLAON JR.
MICHAELLA DEL S. ADLAON
ALSHEI MIRA B. ALCUITAS
JHOANE ARVEE CLAIRE R. ALIGABO
KRISTEL EVE S. AMACANIN
THERESA ISABEL O. AMANTE
MILO D. AMBO
MARY REGINA O. APDO
FRETZIE JOY J. ARAÑAS
SHENA B. ARAÑO
GAMALIEL GLEE T. AUPE
MARIANNE CAMILLE O. AZCUNA
DEXTER PHILIP S. BACULNA
CLARE O. BAGAFORO
RITCHEL DYAN Z. BAGAYAS
TIFFANY T. BAJANA
REAH PEARL M. BALASABAS
PINKY FAYE D. BANCAIREN
MA. KATE S. BASTASA
KATHLEEN S. BATUIGAS
JEYA CLARIZE A. BAYLOSIS
ASTER ALFRED JOHN D. BITO-ON
CHRIST'L C. BOLONGAITA
MARY ANTONETTE B. BORROMEO
REEVA M. BUÑI
MARIELLE A. BURDEOS
DANIELLE JOYCE D. CABETINGAN
ATHENA MARJOLIE L. CABRERA
CARLA MONINA M. CABRERA
MARJORIE ANNE P. CABURIAN
RICHMOND JAMES Z. CAÑETE
CAMILLE KATE V. CATAYLO
ROHY B. CATIPAY
SHEKINAH Y. COFREROS
ERNS ELIZABETH R. CONCON
RALPH BENEDICT C. CUENCA
CRYSTAL CLAIRE M. CUNANAN
FILA R. DAGOMO
KATHRINA A. DAVALAN
MONICA FAYE T. DE GUIA
DONNALINE T. DE GUZMAN
CASELYN C. DE PADUA
CATHLEEN KAYLEY M. DEL CASTILLO
KELSEY DEQUE
JENNIFER LOI D. DINULOS
VERCHI KYRA M. DURAN
PATRICIA ALLANA C. EBAO
CYRAH DEANNE M. ELEUTERIO
LARA FE R. FERROLINO
SOPHIA ISABEL L. FLORES
SUZY MAE Y. FUERTES
MYLES PAULINE A. FUERZAS
KENNETH REEDY D. GALLAHER JR.
KESHEIA D. GANTALAO
SHAIRAH P. GARONG
JANELLE FRANZ T. GAUFO
CHRISTINE P. GOMEZ
DIANNE MICHELLE T. GOMEZ
CLAUDIA B. GORRE
REXUZETTE B. GUINIT
SHINGO B. HASEBE
NOURHAN C. HASSAN
CORINA JANE G. INFIESTO
DAVE CARLSON A. ISIDTO
KURT JOHN F. JALANDONI
DIONIFER ELLAINE M. JAMIL
JYAMP T. JULIAN
JAN EMMANUEL D. KADUSALE
SETH DOROTHY M. KINATAC-AN
GABRIELLE NIÑA D. KONAHAP
RAUL KRISTIAN B. LAGARE
ULYSSES JAMES M. LAGRIMAS
OMAR R. LAHAMAN
CLYDE ORVILLE I. LAZALA
GAYLE ROSE V. LEGARA
ELDON JAY A. LEMOSNERO
MARICHU P. LOMOTOS
LARA JOY P. MACARINE
MARC RODNEY S. MANABAN
MAJARLIKA T. MANALIGOD
MARIA ANTONIA ALYSSA R. MARTINEZ
LYKA LEI P. MENDEZ
MARIELL THERESE T. MONTEFRIO
JULIANNE GRACE G. MONTES
JOSHUA L. MONTESCLAROS
DANIELLE B. NERVEZ
KRIZZIA MAE P. NICOLAS
JEAUN ANTHONE C. NUIQUE
ROLLY KIRSTIN P. NUIQUE
ERIC IAN N. OCAY
MICAH LEY M. OLPOS
CHARISSA CLAIRE L. OMAMALIN
JENNY LYN S. ONGCOY
RUBYLYN K. OPINA
EZZRAH LEAH ROBBE D. ORO
NICOLE GABRIELLE J. PACALDO
VAN CHRISTIAN S. PACO
GIANNE MAFAYE A. PACULANANG
MARIAH SHAINA T. PADRE
RABY JOSHUA U. PALOMO
NEZE BENNETT N. PANGANIBAN
LUCILLE RUTH D. PEPICO
TANYA MIKHAELA D. PERATER
VANESSA PERATER
SAMANTHA DENISE S. PIAPE
JOANN A. PIÑERO
GIFTALIA EVANS F. PIZARRO
KAYE SAMANTHA T. PONTILLAS
THERESE D. PORCINA
KYLA ISABEL A. PRADO
ABIGAIL P. PROSPERO
WINSLIE T. QUE
CHEYEANNE P. RAMOS
JANNINA ISSAH THOMAS V V. REYES
SHAIA NICOLE C. REYES
LOLYN HOPE C. ROBIN
ELOISA A. ROSARIO
MARIANNE APRIL N. SAMBAS
MEG RENAN D. SAN JOSE
ATHEA CLOELLE E. SAYCON
JESHEIL ANGELICA V. SEARES
AILEEN M. SIA
MARY MINETTE A. SILVA
SHAWNTYL FAY SILVA
SHEILOU S. SOMOSA
ROPHI JOY T. SUMADIA
GEM THERESE C. TABIOS
NICOLE DAWN G. TALIP
JESHARA A. TAN
LICA DENISE R. TAN
WYNETH ANGEL O. TAPANG
MYRISH C. TEJANO
THEA FAYE CHERUVE TOMENTOS
JAHLEL D. TORNO
DAREECE JOAB B. TRASMONTE
NIKKI SYLVER LEE J. TUBOG
RHUJA GRACE P. TUBOG
RENEE JANE P. TUBOLA
JOANNA MARIE S. VALENCIA
LEILA ALYZZA DI C. VELASCO
ALLAN S. VILLANOBOS JR.
BRENDAN V. VILLANUEVA
FRANZ ANDREI U. VILLANUEVA
JOEY C. VILLARETE
LORELEE GEN B. VILLARMEA
RAEMON HANDEL B. VILLAROSA
JUSH MARTIN S. WAITHORANEE
RUSS ABIJAH R. WAYAN
FARIDA MAY B. WONG
AINARA G. YOLDI
JESSICA BARBRA R. YRAD