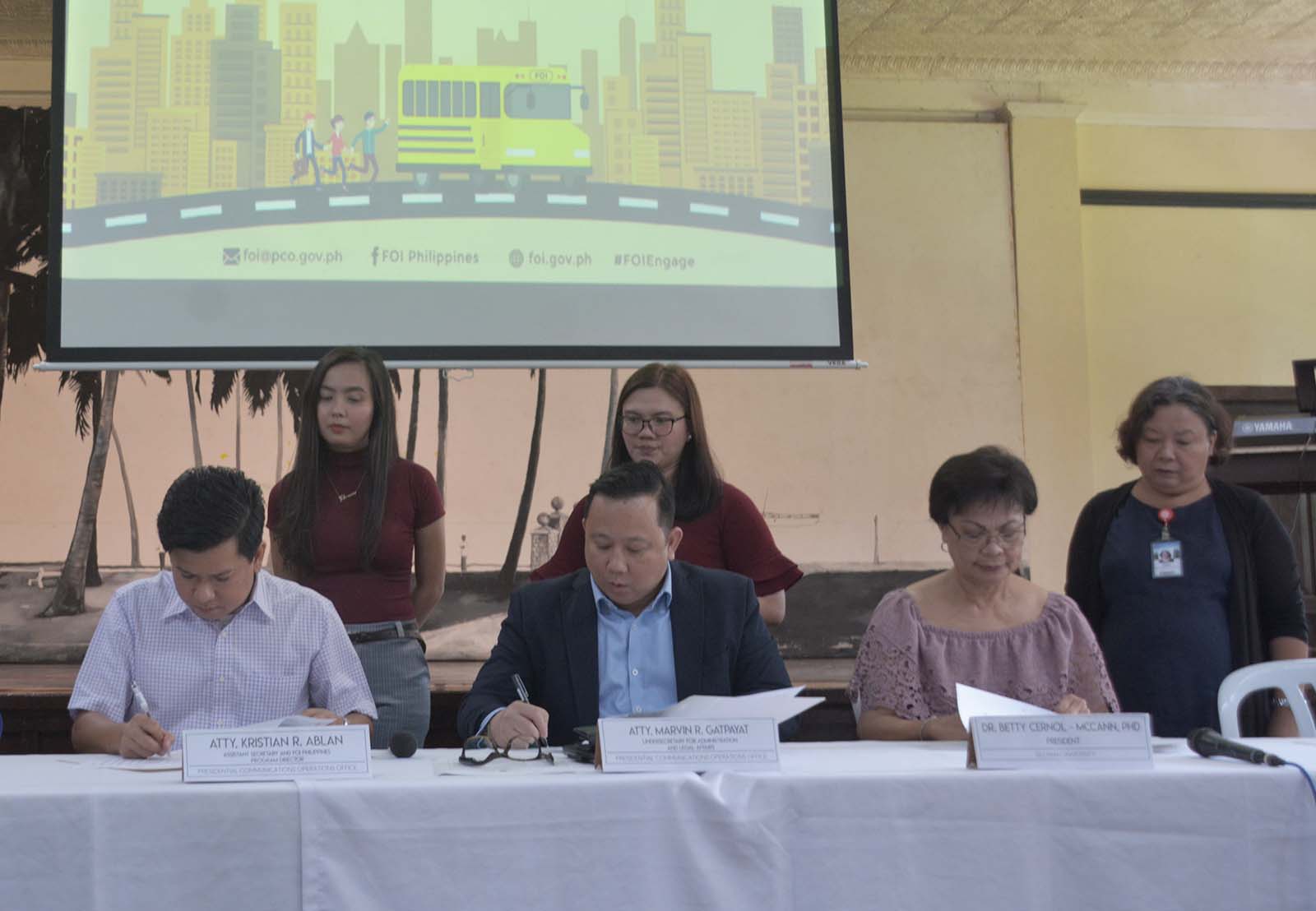 SU inks MOU with PCOO to utilize FOI Program
Silliman University (SU) signed a Memorandum of Understanding (MOU) with the Presidential Communications Operations Office (PCOO) and Freedom of Information-Project Management Office (FOI-PMO) to implement the FOI Program as an academic tool.
Dr. Betty Cernol-McCann, SU president, signed the MOU with Atty. Marvin R. Gatpayat, PCOO undersecretary for administration and legal affairs, and Atty. Kristian R. Ablan, PCOO assistant secretary and FOI Program director, during the Negros Oriental leg of PCOO's FOI Campus Caravan, Nov. 28 at SU Hall.
During the campus caravan, McCann who formally welcomed the guests and participants, urged the students to be responsible in sharing information by making sure that the information is real and factual.
"Information is nothing without action. Information must be acted upon, so that when we go out of these halls, we all become agents of change in the way information is disseminated and shared," said McCann.
For his part, Ablan said information from government offices can be useful for students doing research, such as statistical data from government agencies.
"FOI is the government's program to provide you with access to information," said Ablan, who encouraged students to use FOI as a tool for academic research.
Information obtained from the government through the FOI, he said, can also help students in making informed decisions in various situations, whether personal or professional.
According to its official website, the FOI Program is a government mechanism which allows Filipino citizens to "request any information about government transactions and operations" from all government offices under the Executive Branch, provided that it "shall not put into jeopardy privacy and matters of national security."
The FOI, established under Executive Order No. 2, series of 2016, was implemented in response to the call for transparency and full public disclosure of information.
Aside from being an anti-corruption and academic tool, Ablan said the FOI can be used for further knowledge, innovation and citizen empowerment.
"We have to develop critical thinking, and that's where FOI comes in. Is FOI the answer for all of the fake news? Of course not. It's just one tool in your citizen participation toolbox that we want you guys to use afterwards," said Ablan.
After the caravan, PCOO staff assisted several students in making their own electronic FOI (eFOI) account, which is an online portal where requests for information can be filed.
Almost 400 students from educational institutions in Negros Oriental attended the caravan.
PCOO oversees the implementation and operationalization of the FOI Program as the government's lead communications arm. The caravan was part of PCOO's national campaign to raise awareness and promote the utilization of the FOI.