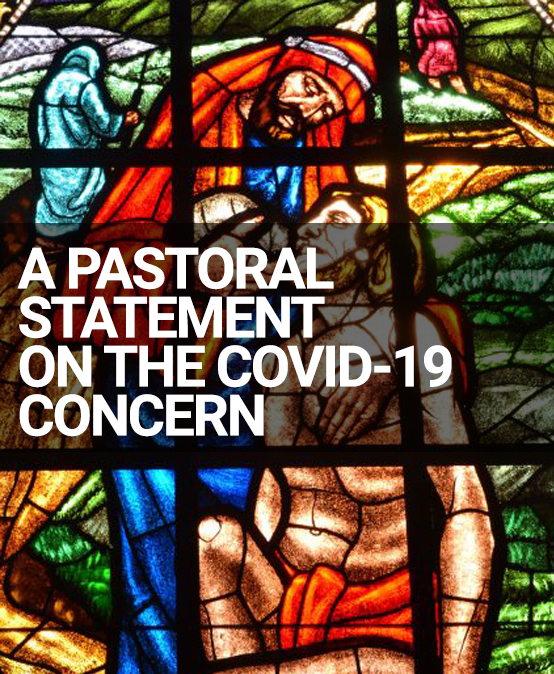 A Pastoral Statement on the COVID-19 Concern
We urge everyone, especially those who are members of the SU Church to remain calm and observant of all the prescribed protocols and guidelines issued by the Department of Health and by our university and as adopted by our church. Let us be conscious always of the need to protect ourselves as well as to remain concerned about protecting others also.
The Pastoral team and the officers of the church council are doing their best to ensure that everyone who comes to worship our Lord God in our church will remain safe and protected with their full cooperation.
We are confident that this health crisis gripping our world will soon pass. But we need to remain vigilant always and conscious of our Christian and civic duty to help protect each other by not hoarding protective items such as face masks, alcohol, sanitizers and even vitamins. In the meantime, we call on everyone to keep on praying to our God for His protection and mighty intervention so that this virus will no longer further spread.
We need to pray for those who have become infected for God to heal them as well as to protect their family. We need to pray for comfort for those who have already lost their loved ones because of this disease. We need to pray for all the health practitioners in all the hospitals and medical centers who are at the forefront of the mission to treat the infected patients as well as to contain the spread of the infection. We need to pray for divine wisdom and guidance for our government agencies that are involved in crafting ways and means to control, minimize and eventually stop the spread of the virus. We need to pray for each other as we continue to extend our concern and caring as one family in this community.
Lastly, we need to pray for discernment, to be still in the midst of all these tumult so that we can know that there is a God who is alive and at work in our world and whose will we need to obey and whose word we need to listen to always.
In all these things, we can affirm that our God in Jesus Christ remains in firm and full control of everything. We can only trust the truth that we have a God on whom we can always depend as one capable of healing and saving all those who come to him in humility and repentance.
The Pastoral Team | March 15, 2020