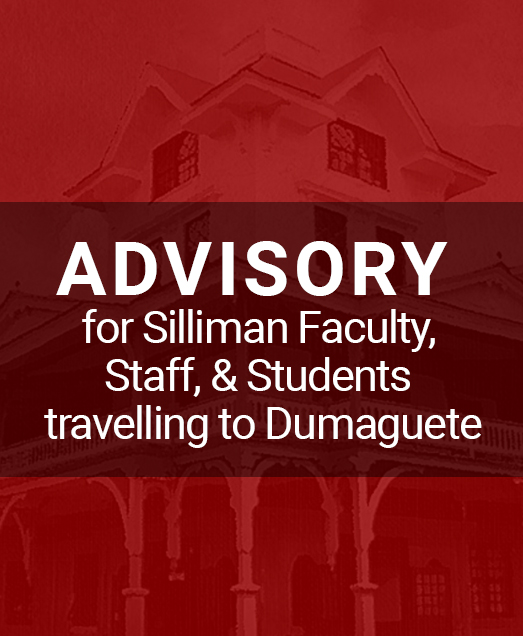 Advisory for Silliman Faculty, Staff, & Students Travelling to Dumaguete
In accordance with the respective memoranda of the NIATF, PIATC and CIATF, faculty, staff and students need not go through the previously-required 14-day quarantine period. However, incoming travelers are still mandated to comply with the following:
Negative RTPCR result; and
Certificate of Acceptance.
For those who exhibit symptoms at the port of entry, they will be brought to a government or accredited quarantine facility for proper assessment and intervention.
Submission of Requirements
Please refer to Dumaguete City's Facebook Page (facebook.com/LupadDumaguete2016) for the procedure.
Travel Time
Travel must be done within 72 hours from receipt of the RTPCR results. Hence, all are advised to immediately register and submit their RTPCR results to
www.registerdumaguete.com
as soon as the results are received in order to give the City a 24-hour window to process the Certificate of Acceptance.
Quarantine Facilities
At present, the University provides two quarantine facilities, Channon Hall and Davao Cottage. Channon Hall is designated for those without symptoms but who have 1st generation exposures to confirmed cases while Davao Cottage is for those with mild symptoms and who cannot be accommodated in a hospital or government facility for lack of space.
The rate is at Php 650 for faculty and staff and Php 550 for students per day (12NN to 1PM the following day) in order to cover for the cost of maintenance, electricity, water and security. Expenses for food will be shouldered by the occupant. It may be ordered through the SU Cafeteria or purchased from outside sources.
The use of the facilities is on a first-come-first-served basis. Faculty and staff are advised to contact the HRD Office through
[email protected]
or (035) 422.6002 loc. 227 in order to make a reservation.
Students on the other hand are advised to contact the Office for Student Services through
[email protected]
or (035) 422.6002 loc. 330.