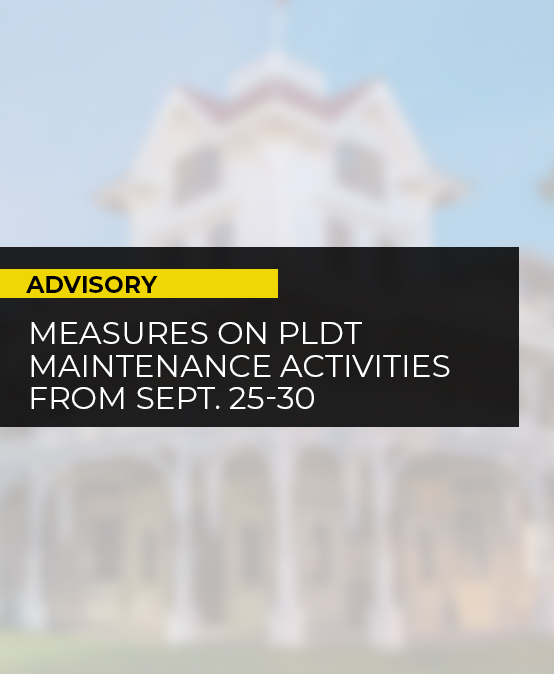 ADVISORY: MEASURES ON PLDT MAINTENANCE ACTIVITIES FROM SEPT. 25-30
To all faculty, students, and parents:
In view of the network advisory issued by PLDT dated 23 September 2020, that says,
"…the operator of the international trans-Pacific submarine cable system, Asia-America Gateway (AAG), has informed PLDT that emergency maintenance activities will be conducted on their submarine cables from Friday, 25 September 2020 8:00a.m. to Wednesday, 30 September 2020 5:00 a.m. (Philippine Standard Time)."
In this period, Silliman University undertakes the following measures to mitigate the situation:
No real-time checking of attendance
No synchronous activity like video conference and quiz
Longer submission period during asynchronous activities
Provide downloadable formats for reading exercises
Provide away from keyboard (AFK) activities
These measures will help all stakeholders cope with the situation as internet connection serviced by PLDT and Smart will be affected.
PLDT in its advisory explained that "the AAG is one of several international cable systems utilized by PLDT. Measures have been put in place to minimize this activity's impact and to ensure that services remain available to PLDT and Smart subscribers."
The university asks for understanding and requests for everyone's consideration.
The link below shows the full text of the advisory from the internet provider. When available, the university will post updates. https://www.facebook.com/PLDTpublicaffairs/posts/4441272759277761