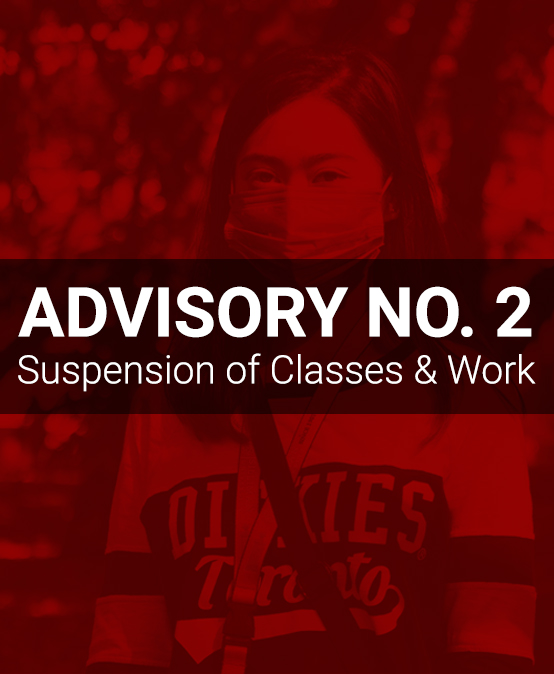 ADVISORY NO. 2: Suspension of Classes and Work
Executive Order No. 4-B, Series of 2020 signed by Gov. Roel Degamo states that "It is expected that the private schools may suspend classes in their respective schools at their discretion."
Out of prudence and concern for all members of the Silliman community, the University has decided to suspend classes in all levels from February 5 to 7, 2020.
In light of this, there shall be no work during this period unless otherwise directed by their respective heads.
Faculty members are required to work on alternative learning schemes to ensure completion of the requirements and competencies in their respective subjects. This includes making use of digital learning and other online platforms.
Essential personnel in the Buildings and Grounds, University Clinic, SU Marina Mission Clinic, Public Assistance and Security Office, farm personnel, CENTROP, and the Food Services Department who are involved in the delivery of food to dormitories shall continue to report for work as may be determined by their respective unit heads.
Depending on the progress of the situation, the University shall be issuing an advisory on or before February 7, 2020 whether to extend the suspension of classes and work.
Students are advised to stay indoors and avoid crowded places while the situation is being monitored.
The Silliman community is reminded of the following preventive measures:
Avoid shaking hands.
Regularly clean hands with soap and water or alcohol-based rub.
Cover nose and mouth when coughing and sneezing with tissue or flexed-elbow.
Avoid close contact with anyone having fever, cold or flu-like symptoms.
Thoroughly cook meat and other animal products.
Avoid unprotected contact with live wild or farm animals.
Eat food that are rich in vitamins and minerals such as fruits and vegetables. Drink lots of water.
Monitor regular updates from health authorities. Bulletins from the DOH may be accessed through this link: https://www.doh.gov.ph/2019-nCoV
Finally, students and University employees who develop cold or flu-like symptoms are advised to immediately see their doctor or the University Clinic.