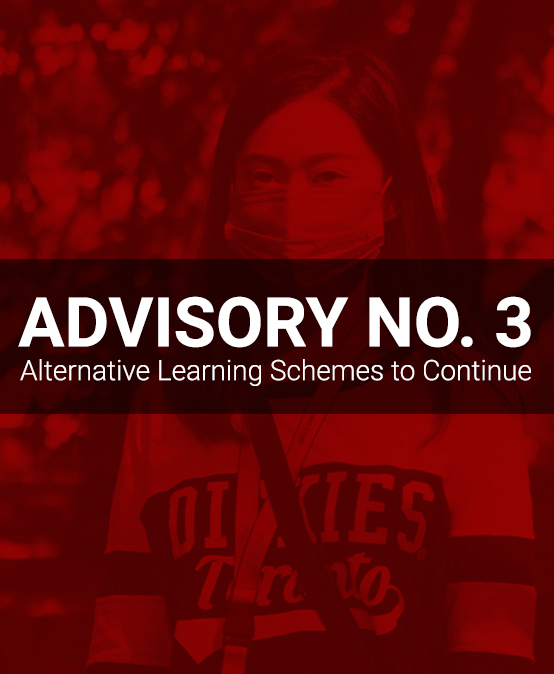 ADVISORY NO. 3: Alternative Learning Schemes to Continue
As a matter of precaution, instead of holding classroom activities, the utilization of alternative learning schemes shall continue in the SBE and tertiary levels until February 14, 2020. This is in light of the ongoing concern on the 2019 novel coronavirus health threat. The faculty are expected to continue engaging in non-face-to-face class activities through our Digital Learning Management System and other online platforms.
For professional and clinical courses that need to meet minimum requirements set by government regulatory agencies (i.e. PRC, LEB, etc.), the unit heads in coordination with the faculty are given discretion on how to comply with such requirements. A report on the modality adopted shall be made to the Vice President for Academic Affairs (VPAA).
All persons entering the campus shall be subjected to screening, assessment and clearance by medical personnel stationed at the main entrances of the University.
Faculty and staff shall observe respective work schedules beginning February 10, 2020. While on campus, faculty shall attend to the end-of-term academic requirements of students, address queries, and conduct assessment procedures in relation to the alternative learning scheme and other teaching modalities.
The scheduled Academic Council meeting on February 10, 2020 shall push through.
Students, including dormitory residents, are advised to continue staying indoors and/or avoid crowded places while the situation is being monitored.