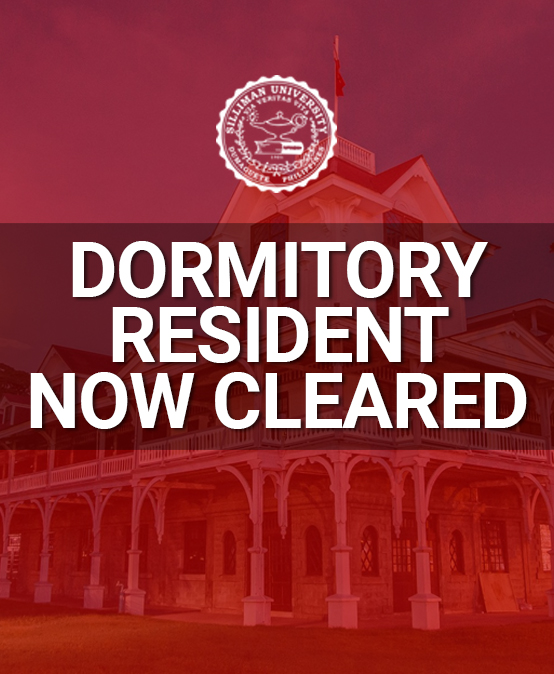 Dormitory resident now cleared
The dormitory resident and roommates are now CLEARED by the Department of Health/ Integrated Provincial Health Office (DOH/IPHO) of Negros Oriental.
This after the dormitory resident was examined by the DOH/IPHO and was placed in self-isolation within the University premises even as the dormitory resident never manifested symptoms of the 2019-nCoV.
The University received information on February 3, 2020 that one dormitory resident was on the same flight with the two confirmed cases of the 2019-nCoV last January 21, 2020.
University staff immediately brought the dormitory resident and the roommates to the hospital for medical assessment consistent with DOH protocol. Self-isolation with monitoring was observed for these students.
As this developed, the University president designated Dr. Walden R. Ursos, Dean of the SU Medical School and University Physician, as the liaison/coordinator to the nCoV task force organized by the Provincial Government of Negros Oriental to address the situation.
Among the actions to be implemented by the University is a screening and monitoring system at identified gates, namely: Cafeteria, Villareal Hall, Langheim, Laguna, Gate 7, elementary and high school main gates.
Dr. Walden R. Ursos urges everyone to continue to be cautious and be updated on the latest bulletins issued by the DOH to be guided on what to do.
As part of the University's precautionary measures already implemented, Dr. Ursos reiterated that all university employees and campus residents are required to wear their University IDs to identify those who are entitled to enter the campus based on a memorandum dated January 24, 2020.
"All campus tours will not be allowed until further notice. Only individuals with official business or appointments in University offices will be allowed entry provided they have not travelled to any of the places confirmed to have been affected by the Wuhan coronavirus. Those who have been to such places in the last thirty (30) days will not be allowed entry," the memo said.
"Visitors who have not been to any of the places confirmed to have been affected by the coronavirus must first be referred to the Public Assistance and Security Office (PASO) for documentation."
All offices and campus residents are to submit a list of names of expected visitors to the PASO. The list must include their complete names, purpose of visit, and their place(s) of origin and travel for the past thirty (30) days.
Lastly, University employees and students who manifest cold or flu-like symptoms to immediately see their doctor or the University Clinic.