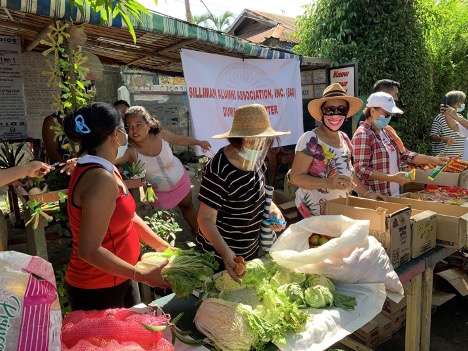 Alumni Update May 24 – 30, 2021
Silliman Alumni Dumaguete Chapter sets up Community Pantry in Barangay Calindagan
The Silliman Alumni Association, Inc. (SAAI) Dumaguete Chapter, reached out to the residents of Purok Gumamela of Barangay Calindagan, Dumaguete City, through a Community Pantry, May 13, 2021.
Distribution of assorted grocery items, canned goods, rice, eggs, green mangoes, and fresh vegetables sourced from the vegetable farmers of Canlaon were distributed to over 237 beneficiaries.
The Dumaguete Alumni Chapter Community Pantry Committee Chair, Rosewell R. Cataylo would like to thank all the donors and volunteers who worked hard to make this community pantry activity possible. A wholehearted thank you to our donors and volunteers: Oscar and Linda Monera, Sylvia Luz Camacho-Forbes, Jocelyn Somoza-Dela Cruz, Nancy Ugsad-Estolloso, Mae Magdamo, Moses Joshua Atega, Leo Mamicpic, Vivian Timtim, Circe Moso-Fernandez, Ruben N. Bokingo, Josy Sy-Limkaichong, Pristine Martinez-Raymund, Susan Ozoa-Denura, Rudy and Helga Magdamo.
The community pantry distribution of goods was facilitated by the Purok Gumamela officials and barangay tanods.
The SAAI Dumaguete Chapter would also like to thank Calindagan Barangay Captain Maisa L. Sagarbarria for her assistance in organizing the Purok Gumamela residents.