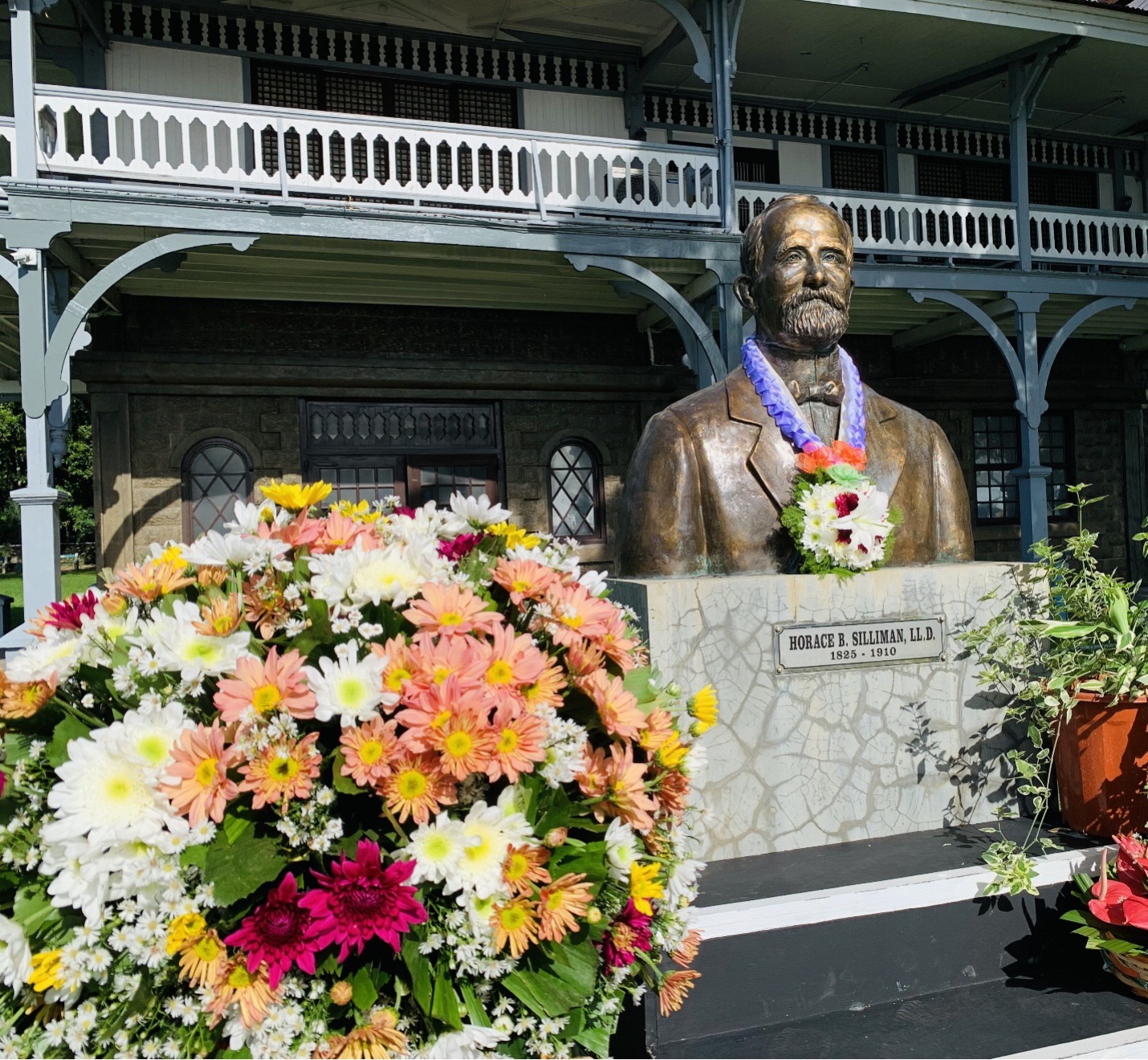 Alumni Update May 3 – 9, 2021
Remembering Dr. Horace Brinsmade Silliman on his 111th death anniversary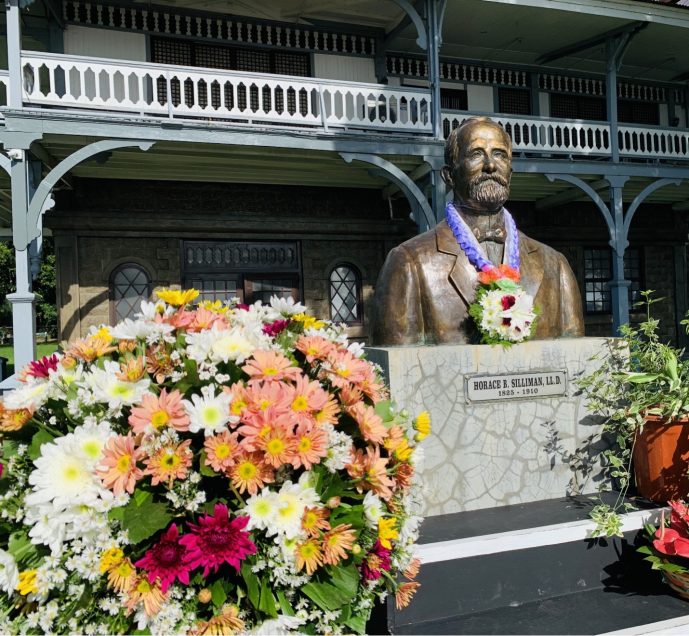 The Dumaguete Chapter of the Silliman Alumni Association, Inc. (SAAI), in partnership with Silliman University (SU), commemorated the 111th death anniversary of Dr. Horace Brinsmade Silliman through a memorial service and floral offering, May 4, 2021 at the Horace B. Silliman bust in front of the Silliman Hall grounds, right by the Silliman Gate of Opportunity. Dr. Horace Brinsmade Silliman, who died May 4, 1910, is an icon who epitomizes benevolence, generosity, and compassion. All Sillimanians will always be grateful to this man.
Present during the memorial service were officers of the Dumaguete alumni chapter led by their president, Prof. Gladys Rio-Malayang. The SU administration was led by President Betty Cernol-McCann, with Vice President for Finance and Administration Jenny L. Chiu, Vice President for Academic Affairs Earl Jude Paul L. Cleope, Vice President for Development Jane Annette L. Belarmino, and Alumni and External Affairs Director Ruben N. Bokingo.
This year's death anniversary commemoration had special participation from the students. A dialogue written by Moses Joshua B. Atega entitled "Looking Back at the Legacy of Dr. Horace Brinsmade Silliman" was read by Abishek Prince Joshua, a Medical School student from India, and Alexandra Tuale, a freshman Business student and reigning Miss Silliman.
We share with you here the said dialogue.
LOOKING BACK AT THE LEGACY OF DR. HORACE B. SILLIMAN
a dialogue
ALEX: Good Morning, ladies and gentlemen. I am Alexandra Tuale, your reigning Miss Silliman, and I would like to welcome all of you to this beautiful expression of gratitude to the one who had the vision which has become a big blessing to all of us. Today we are fellowshipping in memory of our founding father, Dr. Horace Brinsmade Silliman, who died on May 4, 1910, and was buried at the Albany Rural Cemetery, Menands Albany County, New York. Thank you for joining us in this annual floral offering to celebrate the life and legacy of Dr. Silliman. With me here is a fellow student who is currently enrolled here at Silliman University. Help me welcome Abishek Prince Joshua of the Silliman University Medical School.  Good Morning, Prince….
PRINCE: Good morning, Alex, and good morning everyone. I am so happy to be here with you again and celebrate the life of our founding father as Sillimanians. I am Abishek Prince Joshua from India. One sense of pride within me is the knowledge of the American heritage of our University. Dr. Horace B. Silliman, after whom our school was named, was a retired Christian businessman with a deep interest in the younger generation. It may be interesting to note that, though he was a wealthy man and successful in business, he died a comparatively poor man because he had given his fortune to the various schools and Christian activities in which he was interested.     Then, we realized that where we are now is actually a gift of sacrifice from the man who started it all.
ALEX: I am wondering why he never had the chance to come and visit the Philippines and be so proud of what he established? And am also asking why no relatives who were directly from his line came to find out what their grandfather had made?
PRINCE: There are two possible reasons for that, Alex.  When he started donating from 1901 to 1907 (YES! It was not just the $10,000 in 1901 there were other donations he made until 1907), he was actually too old to travel as he was already 82 in 1907. He died in 1910 without that opportunity to come and visit the Philippines. And there was no direct descendant from his line, Horace Silliman was the son of Levi and Clarissa Silliman and was born in 1825. He was their 6th and only child; all of his previous brothers and sisters had died shortly after birth.
ALEX: Oh Yes! I remember, Lolo Horace had a very sad family history. He was actually married twice. His first bride was Ellen Van Voast and they had a daughter, Clara Ellen.  The young wife of Horace died three years after giving birth to their daughter – it was her 26th birthday.  Then Lolo Horace married Mrs. Mary E. Benson, a widow and the cousin of his first wife. They had a daughter named Mary Laura.  The daughters of Lolo Horace all passed away in their young age.  Clara died at age of seventeen and eight years later, Mary died at the age of 15. With these deaths of her daughters, Dr. Silliman told Mrs. Laura Hibbard that the only children left for him are the institutions he established like our beloved Silliman University.
PRINCE: And so, Dr. Horace Silliman considered our beloved Silliman University as one of his daughters and with that, we are indeed his grandchildren. We can somehow look into the faith journey of our Lolo Horace by looking into the list of the sister institutions that he established aside from Silliman University: he gave much to Hamilton College in Northfield, Massachusetts. He was very much into Education.
ALEX: He built Silliman Lodge in New Jersey; this was a home for differently-abled girls. His own biological daughters would have been very proud to know that their father cared for young women who had disabilities. This was just one of the many expressions of Lolo Horace's good heart. I would like to believe that this kindness came with much influence from her mother, Clarissa Silliman. His parents, Levi and Clarissa Silliman were among the founders of the First Presbyterian Church of Cohoes.  The picture that hangs on the wall of the manse (which was the parsonage of the church) indicates that Mrs. Silliman must have been a woman of attractive personality and charm. Most of the people in their church were documented to have spoken of the Christmas programs that Mrs. Clarissa Silliman gave for the children's department of the church, which are now happy memories to generations of Presbyterian Church members in New York.  What made them unforgettable was that she always distributed oranges to the children, gifts that were very rare in those days since oranges were not as common then in that part of the country as they are today. So according to archived articles, the young always looked forward with a great deal of anticipation to Mrs. Silliman's Christmas parties. The house where the Silliman used to live on Saratoga Street must have been a beautiful landmark. For many, however, it was used by the Greek Orthodox Church as its social center and it carries the name of St. Nicholas Hall. When Dr. Silliman provided the sum of $200,000 for the construction of the First Presbyterian Church in Cohoes, he gave the donation in honor of his parents.
PRINCE:  Very impressive care for others. It's a LEGACY of A GENEROUS HEART that we are honoring today. Of selfless giving. I am so happy that we have made this tradition of honoring Dr. Silliman. For so long, we have been disconnected from our founder.  The last time there was an actual connection was during the time of President Arthur Carson. He had this encounter with Dr. Horace B. Silliman's relative. While on a speaking tour in the State of Florida, Dr. Carson met Mrs. Charles M. Robinson, a cousin by marriage of Dr. Horace B. Silliman, founder of Villamin Bares. Carson recalled that to his knowledge she was the only relative that anybody from Silliman University has ever met. He met her after a service in the Westminster Presbyterian Church in Lakeland, where he spoke on "Silliman University in the Philippines." According to Dr. Carson, she was "an active, charming lady of gray hair but would still drive her own car around town and does not mind the burden of the years." She shared that Dr. Silliman is an exceedingly kind man and has promised to write down some of her other memories for the University but probably no one wrote to her after Carson. President Carson actually made sure that her address would be published at the Weekly Sillimanian. Mrs. Robinson's address was 309 Lake Hollingsworth Drive, Lakeland, Florida.  But did someone, out of gratitude, took care of the established relationship with Mrs. Robinson? Apparently, no one did as there was nothing in the archives about the promised recollection. This kind of disconnection with our founders had been the product of carelessness and the lack of institutional gratitude.  We commend President Malayang for finally making the Sense of Gratitude an institution through the Order of Horace Brinsmade Silliman and a lot more ways to say THANK YOU were established.
ALEX: SENSE of GRATITUDE is actually a foundation [for] the future.  We can never look forward if we don't look back. That's old wisdom.  One of the best things about thankfulness is that the more you choose it, the easier it gets. The more you profess gratitude, the more you notice things to be grateful for.
PRINCE:  I totally agree.  The thankfulness muscles respond to exercise! Gratitude can actually also change our actions as every move would be grounded – it will stand with a greater foundation which the sense of history. The Bible if chosen as the point of departure for a Christian university like Silliman would lead us to the wisdom in the Book of Ezra… on Chapter 3: verse 11. It says: With praise and thanksgiving they sang to the Lord: "He is good; his love toward Israel endures forever." And all the people gave a great shout of praise to the Lord because the foundation of the house of the Lord was laid. We all know that Silliman University is a foundation of the House of the Lord. Dr. Hibbard, our President Emeritus, made this clear from the very beginning.
ALEX:   It is then vital for us to know what the expressions of gratitude were in the past.  An old issue of the Sillimanian, had this news from Manila on December 12. Eight hundred delegates from both public and private schools of the Philippines and from sister nations assembled to pay tribute to the pioneers of the school system, SILLIMAN received two gold medals: Among the gold medal awards bestowed by the President of the Republic of the Philippines at this event were: a recognition was given to Dr. David S. Hibbard for long, untiring and distinguished service to private education and, as president emeritus of Silliman University, for being the oldest living former private school head; and (posthumously) another medal was given to Dr. Horace B. Silliman for outstanding acts of educational philanthropy.
PRINCE:  That feels so good! SILLIMAN's OUTSTANDING ACTS of EDUCATIONAL PHILANTHROPY received a gold medal from the Philippine Government.  Gathering on this spot on May 4 every year is our gold medal for Lolo Horace.  He was the Silliman greatest loss in our history.  The death of the founder and benefactor, Dr. Horace B. Silliman, who died at his home in Cohoes, New York, at the age of eighty-five had to be remembered as this is an act of gratitude – a reminder of how we started.
ALEX:  The Cohoes Republican, a publication in New York, had this statement about our Founder in May 1910: "This venerable philanthropist and public-spirited citizen was one of the best-known men in the state.  "He dedicated his entire life to the performance of deeds of charity and benevolence, and his demise has ended a long and useful life. Always happiest when planning to devote a portion of his means to the relief of those in distress, or for the higher education of the growing child, he was a man whose every thought and deed were productive of good. His very countenance beamed benevolence and his presence was always an inspiration to those with whom he was associated for the benefitting of their less fortunate brothers and sisters." He gave to churches in the United States and colleges of all sizes. He was a strong supporter of the work for the education of the colored people in the south and reached out to the mission fields of the church. He was a man whose whole life was dedicated to Christian service and his influence will never die so long as the institution which he founded continues to function in the educational life of the Philippine Islands.
PRINCE: We cannot help turning back again and wondering what must have inspired the man, whose generosity thousands of Filipinos have been recipients of, to found a school in so far a place like the Philippines. Deep in his heart, we are, however, sure he knew that what made his own people great and himself generous was the feeling that only an enlightened mind and a God-fearing heart could make a man, any man, realize his own worth and dignity as well as that of his fellowmen. To this country, we need to deepen our faith in the eventual triumph of right over wrong; in unselfish service as a basis for peace and good-will among men; in high academic standards as a necessary preparation for more intelligent life; and in Christian character as an essential part of sound leadership. Our loyalty to Silliman and our abiding faith in these basic principles should be one and inseparable.
ALEX:  Lastly, allow us to share with you TIPS on HOW to LIVE A LIFE by DR. HORACE B. SILLIMAN. An issue of the old Cohoes News, which covered his memorial ceremony in detail, quoted this wise counsel by Lolo Horace to the citizens of Cohoes: Dr. Silliman asked them to "Cultivate a spirit of patriotism toward your city."
PRINCE:  He also reminded them to "Make sacrifices for patriotism."
And today as we get lost amid a global health crisis which we have every reason to do, let us pause for a while and remember that what our alma mater is now, we owe to the benevolence of its founder.
ALEX:  While we celebrate, let us then rededicate ourselves to the principles upon which he built our school. While we rejoice, let us resolve further to make Silliman better than when we found it, so that when the next generation comes to take our place, they shall likewise be inspired to carry on the task that we shall have left behind us.
Floral offering from Silliman University and the SAAI Dumaguete Chapter.