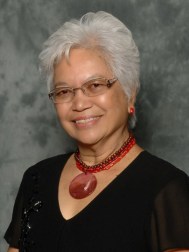 Alumni Updates August 14 – 20, 2017
This year, Silliman University honors on August 28, 2017 two of its alumni with the prestigious Outstanding Sillimanian Award. They are Ms. Cynthia Arnaldo-Bonta for Community Service and Dr. Myrna Sillero-Mahinay for Chemistry.
Cynthia Arnaldo-Bonta came to Silliman in the early 1950's when her father was invited to join the then Department of Agriculture and Business Administration. The whole family moved to Dumaguete City from Los Baños, Laguna. Her mother taught college-level Spanish and her older sister Biology and Filipino in the SU High School. Cynthia graduated from SU High School in 1953 and proceeded to Pre-Med at Silliman (1953-1955), but moved to UP Diliman and finished BS in Zoology in 1958. She earned her Master in Religious Education from the Pacific School of Religion, Berkeley, California in 1968 through a scholarship from the World Council of Churches. While in the seminary for her graduate studies, and influenced by Liberation Theology, Cynthia was active in the civil rights movement, the anti-Vietnam War, and in farmworker movements.  It was also during this time that she met and married Warren Henry Bonta with whom she has three children, now all married and have given her 5 grandchildren.
Cynthia's lifework encompasses the Christian ministry and community service. She served as Minister in the National Farm Worker Ministry in Cesar Chavez Camp at La Paz California, as missionary for several years in the United Methodist Church where she was involved in curriculum development, developing various forms of worship, and study materials for the youth. She also served as National Youth Director of the United Church of Christ in the Philippines for three years and Interim Youth Director for the Philippine Federation of Christian Churches.
When she migrated to the US, her social justice activism took on an even stronger purpose. She and her family settled in LA Paz California where she served in the National Farm Worker Ministry to help build the infrastructure of a union so that it could sustain itself. Her contribution included supporting the development of services for farmworker families such as childcare and health services to sustain families during those tumultuous times.
Between 1975 and 1977, Cynthia along with some Filipinos in America, worked on a campaign to offer an accurate history and more informed portrayal of Filipino-Americans in California textbooks in public schools. With a firm grasp of history, Cynthia helped develop a curriculum model for use in these public schools. Although it would take decades before their voices were heard, Cynthia was instrumental in the finished product, and she has instilled in her own children this activism and service. Her son, Robert, who is the first Filipino elected to the California State Assembly, introduced and passed legislation to include the contributions of Filipino labor leaders and WWII veterans in the high school curriculum.
While the campaign above was going on, Cynthia actively worked as the Chairperson of AMLA (Anti-Martial Law Alliance) in Sacramento, California. This was a long commitment that dominated her work for social justice for nearly ten years. During the same period, Cynthia was an activist championing campaigns in defense of Philippine-trained immigrant nurses who experienced discrimination in their work place. In particular she was a chairperson in the campaigns to Free Narciso and Perez, two Filipina nurses, who were unjustly blamed for multiple deaths at the Veteran Administration hospital in Ann Arbor, Michigan.  Because of this, she organized the National Filipino Immigrant Rights Organization (NAFIRO) to educate Filipinos about growing discrimination against the Filipino community in the late 1970s.
Cynthia's commitment to social justice would manifest in her volunteer work for My Sister's House, a shelter for victims of domestic violence and human trafficking; and support for domestic workers' rights. Recently, she is most engaged in addressing affordable housing crisis that plagues the San Francisco Bay area by helping pass an ordinance for rent control. She has provided support to Filipino tenants in an apartment complex where 33 families live under the threat of eviction.
Cynthia is not only true to her faith; she also stays true to her roots. As a Board Member of the Philippine National Day Association (PNDA) in California, she is tireless in her leadership efforts at promoting PNDA's educational, cultural and arts programs that help empower the Filipino-American community, reinforce positive perspective of the Filipino-American identity, foster a spirit of partnership among all groups within and outside the Filipino-American community, and empower especially the youth to support humanitarian causes. Cynthia helped to lead the PNDA Board in effectively identifying appropriate recipients and distributing to them a $60,000 donation from Thunder Valley Casino to support grass roots emergency disaster relief in the Philippines for the Victims of Super Typhoon Haiyan in 2013.
In spite of all these, Cynthia has still found time to effectively serve in key roles with other community organizations and projects for which she has received well-deserved recognition. Since 2010, she has served in a variety of positions on the Executive Committee of the Council of Asia Pacific Islanders Together for Advocacy and Leadership. She is also currently involved with the American Center for Philippine Arts in the East Bay, the Alameda Sister City Association and is on the Community Advisory Board of California State University-Sacramento's Full Circle Project. She co-founded the Asian Pacific Islander American Political Association of Greater Sacramento and was appointed chair for Sacramento County's National Federation of Filipino-American Associations in 2001. She has served on a number of Boards, including the California Multicultural Park Foundation, the California State University Multicultural Center and the California State University, Sacramento Advisory Council on Human Relations.
Cynthia's awards speak for this zest for community engagement, love for people, and commitment to social justice. Her many awards include Mayor Joe Serna's Unsung Hero Building Sacramento's Multicultural Community (1995), Outstanding Woman of Color Award from the California State University- Sacramento Multicultural Center (1996), KVIE Local Hero during the Asian Pacific American Heritage Month (2004), Community Legislative Hero Award presented by the California Asian Pacific Islander Legislative Caucus Institute. In 2012 she was selected by the Filipino Women's Network in San Francisco as one of the 100 Most Influential Filipino American Women in the US in the category of Builder and Emerging Leader. 
Myrna Sillero-Mahinay graduated from Silliman University High School in 1972 and finished BS in Chemistry in 1976.  She then earned a Master's Degree in Chemistry in 1985 from the University of the Philippines Diliman through a scholarship from the National Science Development Board— Institute Building Program (NSDB-IBP). A year after, she passed the Chemists Licensure Exam as 9th placer.
She has always seen her life's pursuit as that of an educator. After finishing her undergraduate degree, graduating from Silliman University, the young Myrna accepted a post in SU's Chemistry department as a Laboratory Instructor for the second semester of 1976, but later moved the following year to Xavier University where she taught for a year. She briefly served as a Chemical Analyst in Iligan Cement Corporation, but the call of the academe was strong and she chose to go back to teaching at Mindanao State University – Institute of Technology (MSU-IIT) where she rose from the position of instructor to her present position as Professor in the Chemistry Department of the College of Sciences and Mathematics.
Besides earning her PhD in Chemistry at James Cook University— Townsville Queensland Australia, she has held two postdoctoral fellowships: one at the University of Miami, Miami Florida under the Fulbright—US Department of State Bureau of Educational and Cultural Affairs, and another from the National Institute of Natural Science (NINS) in Okazaki Institute for Integration Bioscience, under a grant from Japan Society for the Promotion of Science (JSPS). In addition, Dr. Mahinay spent several months in Bangalore, India as a research fellow for the International Fellowship Program Jawaharlal Nehru Center for Advanced Scientific Research (JNCASR), Jakku Campus.
In 2000, the National institute for Health recognized Dr. Mahinay as one of the Top 100 Women in Health Science. She has written and co-authored research papers that have been presented in national and international conferences and published in highly reputable peer reviewed scientific publications in the U.S. and other countries. Among these journals is the "by invitation only" proceedings of the National Academy of Sciences USA, one of the world's most highly cited journal covering cutting-edge research reports in various fields of science. Most notable of her researches is the one on heavy metal analysis and how heavy metals affect living organisms.
Because of her commitment to advance the profession, the Philippine Senate Committee of Environment and Natural Resources commissioned Dr. Mahinay to assess the extent of mercury pollution in Mt. Diwalwal, Compostela Valley in 1999. Her research led to a stricter implementation in the confiscation of smuggled mercury in the area and the relocation of affected inhabitants out of the affected vicinity.
A mentor through and through, she has worked with students both in the undergraduate and graduate levels. She is one of the driving forces behind the rapid rise of MSU-IIT as a Center of Excellence in Chemistry and the best S&T institution in Mindanao. Dr. Mahinay's commitment to excellence and service extends beyond the walls of the academe. Since 2001, she has served as a mentor to the Bridging Leader Fellows of the Mindanao Bridging leadership Program where she aims to improve the capacity of her mentees to achieve their leadership goals within the context of the issues they seek to resolve. In turn, her mentees develop positive solutions for their respective organizations and communities.
Dr. Mahinay's love for Silliman would refigure in ways as she, along with another SU alumna, proposed to the then SU President Agustin A. Pulido  a study plan for the SU Chemistry Faculty. Through this partnership, all of them have acquired their Master's Degree.
In 2016, the Professional Regulation Commission, through the Integrated Chemists of the Philippines, honored Dr. Mahinay as Outstanding Chemistry Professional, the very first awardee from a non-NCR institution. The PRC took note of her excellent credentials and her "ability to build future leaders." It is significant to note that Dr. Mahinay has accomplished all these, in addition to her role as sole parent to her two children. She takes pride in them in what they have become.
Twelve names of long-serving faculty and staff of Silliman University who have passed on will be unveiled in a solemn ceremony on August 25, 2017, 2 PM, at the Silliman Hall. Their names are etched in plates and will be added to the list of personnel previously honored on the Heritage Builders Wall, located at the south lawn of the Silliman Hall.
This event honors and acknowledges Silliman missionaries, administrators, faculty, and staff members who have echoed the generous service of President Emeritus David Sutherland Hibbard and Professor Emeritus Laura Hibbard in leading pioneering missions within a length of service which paved the way to a glorious Silliman campus life and the endless pursuit of institutional excellence.  The Hibbard's gift of service and that of the 2017 HERITAGE BUILDERS have come together to form a common story:  the Classroom, the Court, the Community, and in Culture – basic building blocks for the Silliman brand of Character, Competence, and Faith.  One of the ultimate goals is to somehow link this story of glory and generosity to show the flow of valuable traditions of giving and gratitude – for all to be inspired, touched, and be moved to enrich their own immediate communities and beyond.  The HERITAGE BUILDERS has become a roll of honor, and it has been among the springboards for expressions of loyal service to the University.
This year's honorees are:

Venancio S. Bandoquillo
Secretary, Divinity School (31 years of service)

Encarnacion P. Banogon
Manager, Food Services (21 years of service)

Teodoro V. and Lina M. Cortes
Dean & Professor, College of Law; Dean & Associate Professor, College of Business Administration, (38 years of service)

Arsenio R. Cuevas
Head, Property Grounds & Security Section, Buildings and Grounds (23 years of service)

Alice J. Fullerton
Head Nurse, Mission Hospital (American Missionary)

Leon P. Lim
University Treasurer, Business and Finance Office (30 years of service)

Severino J. Ramirez
Staff, Buildings and Grounds (30 years of service)

Rosita R. Romero
Chairperson and Professor, Languages Department (38 years of service)

Mary Agnes Marquis Smith
Founder, College of Nursing (American Missionary)

Severino A. and Dolores V. Tabasuares
Chairman and Assistant Professor, Chemistry Department; Secretary, President's Office, (35 years of service)