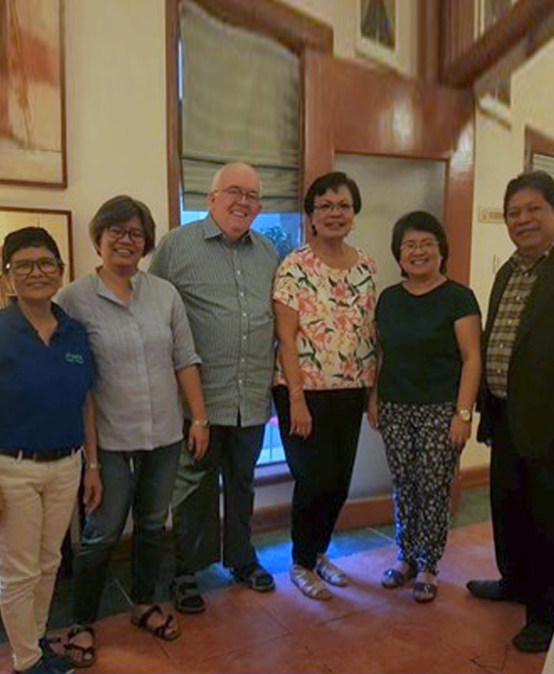 Alumni Updates March 18 – 24, 2019
Silliman University President Dr. Betty Cernol-McCann and her husband Dr. Dennis McCann were in Tacloban City and had a meet-and-greet with the Tacloban Alumni Chapter officers last March 16 at Hotel Alejandro.
Present during the breakfast meeting were Tacloban alumni chapter vice president Prof. Jusie Lydia Siega-Sur, Prof. Eden Jaboli Varela representing the Eastern Samar Alumni Chapter, Ms. Mae Ann Wenceslao, and alumni chapter president Dr. Mike T. Udtohan.
Dr. McCann was updated with the upcoming alumni summer event – Hugyaw Visayas – to be held in Tacloban City April this coming 27 – 29 with the Eastern Visayas Alumni Chapters as hosts.
Hugyaw Visayas promises to be an exciting, history-rich, three-day experience, as historian Rollie Borinaga will personally lead the Balangiga Bells tour. A tour of the MacArthur Park and the San Juanico Bridge as well as a visit to the mat weavers of Basey are also listed in the tour itinerary.
For more information on Hugyaw Visayas, please contact Chichi Siega-Sur at 09275293955 or Reynaldo T. Masamong at 09667339417.
IN MEMORIAM: Gino I. de la Cruz (BSME 1978) on January 22, 2019; Fernando M. Guatelara (ACS 1938, BBA 1940) on January 24, 2019; Barbie B. Go (BSMT 2015) on January 31, 2019; Solona T. Canoy (BSE 1950) on February 4, 2019; Lorenzo E. Bernardez, Jr. (Elem 1941, HS 1949, Engr 1951 FS) on February 8, 2019; Ramonette E. Lumayag (BTH 1989) on February 9, 2019; Tabitha D. Udarbe (BSN 1968) on February 10, 2019; Marceliano N. Hermosisima (AB Pol Sci 1975, LLB 1980) on February 11, 2019; Frederick E. Bustamante (AB 1973, LLB 1977) on March 3, 2019 and Rene A. Jorolan (Elem 1962 FS) on March 5, 2019.