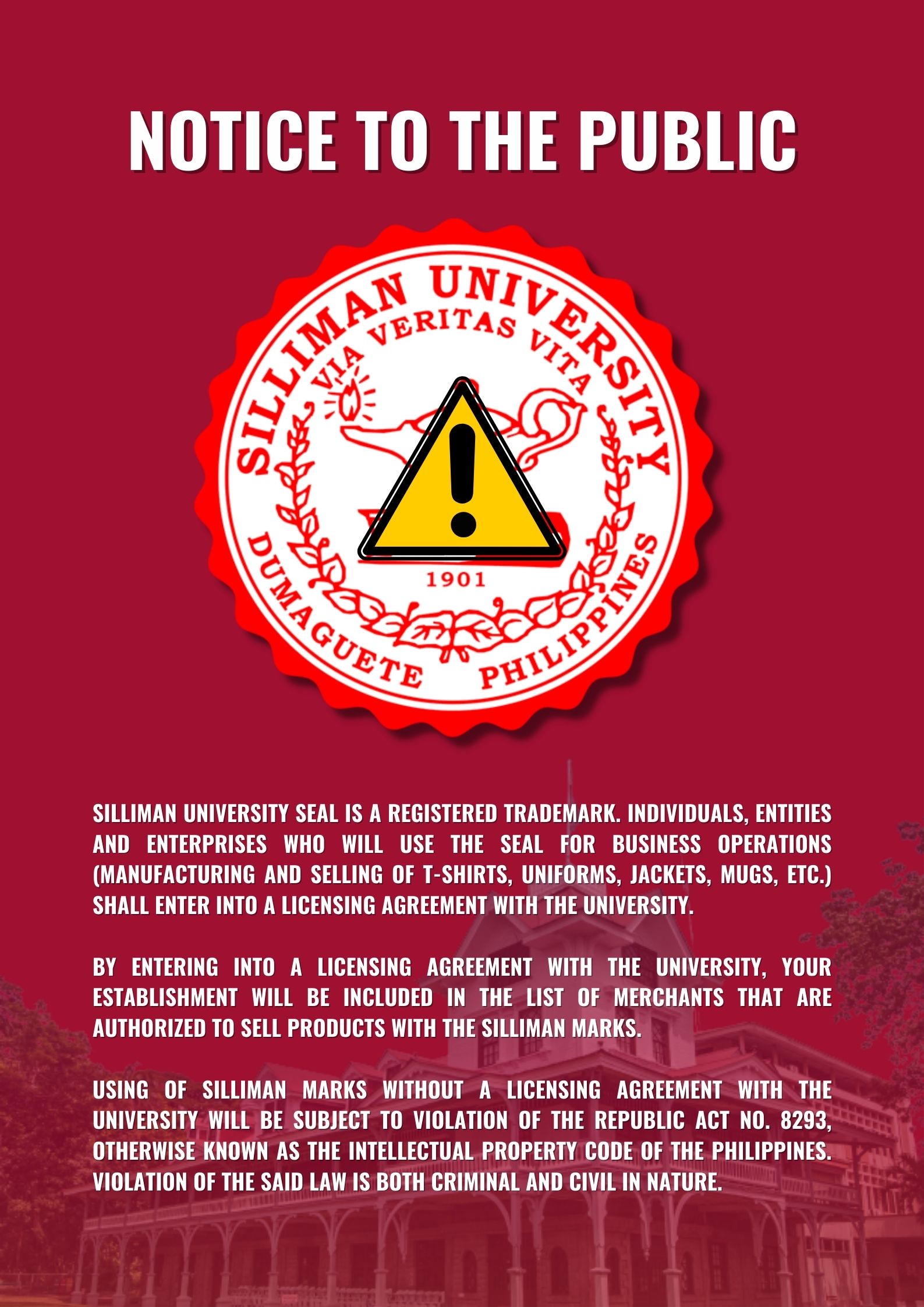 Announcement: Businesses must first get license agreement before using SU seal
The Silliman University (SU) Knowledge and Technology Transfer Office (KTTO) advises businesses who want to use the SU seal to enter into a licensing agreement with SU to avoid violating the Intellectual Property Code of the Philippines (RA 8293).
SU KTTO states in their announcement:
"SILLIMAN UNIVERSITY SEAL IS A REGISTERED TRADEMARK. INDIVIDUALS, ENTITIES AND ENTERPRISES WHO WILL USE THE SEAL FOR BUSINESS OPERATIONS (MANUFACTURING AND SELLING OF T-SHIRTS, UNIFORMS, JACKETS, MUGS, ETC.) SHALL ENTER INTO A LICENSING AGREEMENT WITH THE UNIVERSITY.
BY ENTERING INTO A LICENSING AGREEMENT WITH THE UNIVERSITY, YOUR ESTABLISHMENT WILL BE INCLUDED IN THE LIST OF MERCHANTS THAT ARE AUTHORIZED TO SELL PRODUCTS WITH THE SILLIMAN MARKS.
USING OF SILLIMAN MARKS WITHOUT LICENSING AGREEMENT WITH THE UNIVERSITY WILL BE SUBJECT TO VIOLATION OF THE REPUBLIC ACT NO. 8293, OTHERWISE KNOWN AS THE INTELLECTUAL PROPERTY CODE OF THE PHILIPPINES. VIOLATION OF THE SAID LAW IS BOTH CRIMINAL AND CIVIL IN NATURE."
For questions, concerns and those who plan to enter into an agreement with the university, contact the SU KTTO at ktto@su.edu.ph or call 035 422 6002 local (419).