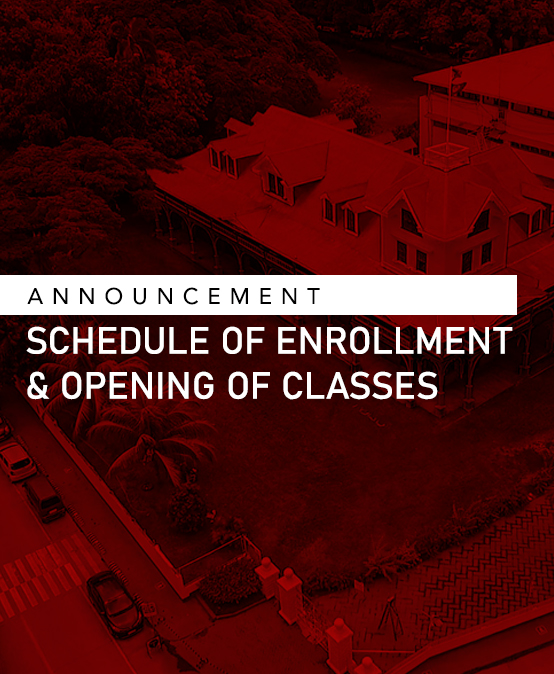 Announcement: Enrollment and Opening of Classes for Academic Year 2020-2021
For tertiary level and higher, 1st semester classes shall begin on August 17, 2020 in consonance with existing guidelines of the Commission on Higher Education (CHED) and the Legal Education Board (LEB).
For the School of Basic Education (pre-school to senior high school), classes shall commence on August 24, 2020 consistent with the pronouncement of the Department of Education (DepEd).
Classes across all levels are synchronized to open in the month of August to give parents, students and school personnel additional time to prepare for the new school year, and for the University to strengthen class management and delivery as well as enhance the capacity of its technologies and infrastructure related to alternative learning.
Schedule of Enrollment and Opening of Classes
Tertiary and higher
Online Submission of Admission Applications: June 1 to July 31, 2020
Online Registration for Incoming Freshmen: July 20 to 31, 2020
Online Registration for Continuing Students, Transferees and Returnees: August 3 to 14, 2020
Start of Classes: August 17, 2020
School of Basic Education
Online Registration for all levels: June 1 to August 7, 2020
Start of Classes: August 24, 2020 
For the interim period covering the months of June and July 2020, special e-learning classes will be offered for tertiary level students who need to take bridging and other courses so that they can conform with the curriculum of their degree program at the start of the academic year in August. The enrollment schedule for these special e-learning classes shall be the subject of a separate announcement.
Until physical on-campus classes are allowed by CHED, LEB, DepEd and the Inter-Agency Task Force for the Management of Emerging Infectious Diseases (IATF), delivery of education shall be through alternative learning methods in accordance with the guidelines issued by the aforementioned government agencies to prevent the spread of COVID-19.
Academic scholarships, grants in aid and tuition discounts are available for qualified students. Flexible tuition payment schemes to assist parents in planning based on their preference and individual financial capability are likewise available.
For further information, please contact the Office of the Registrar and Admissions at (35) 4226002 loc. 245 and 246 / [email protected] or the Office of Information and Publications at (35) 4226002 loc. 230 and 231 / [email protected] .