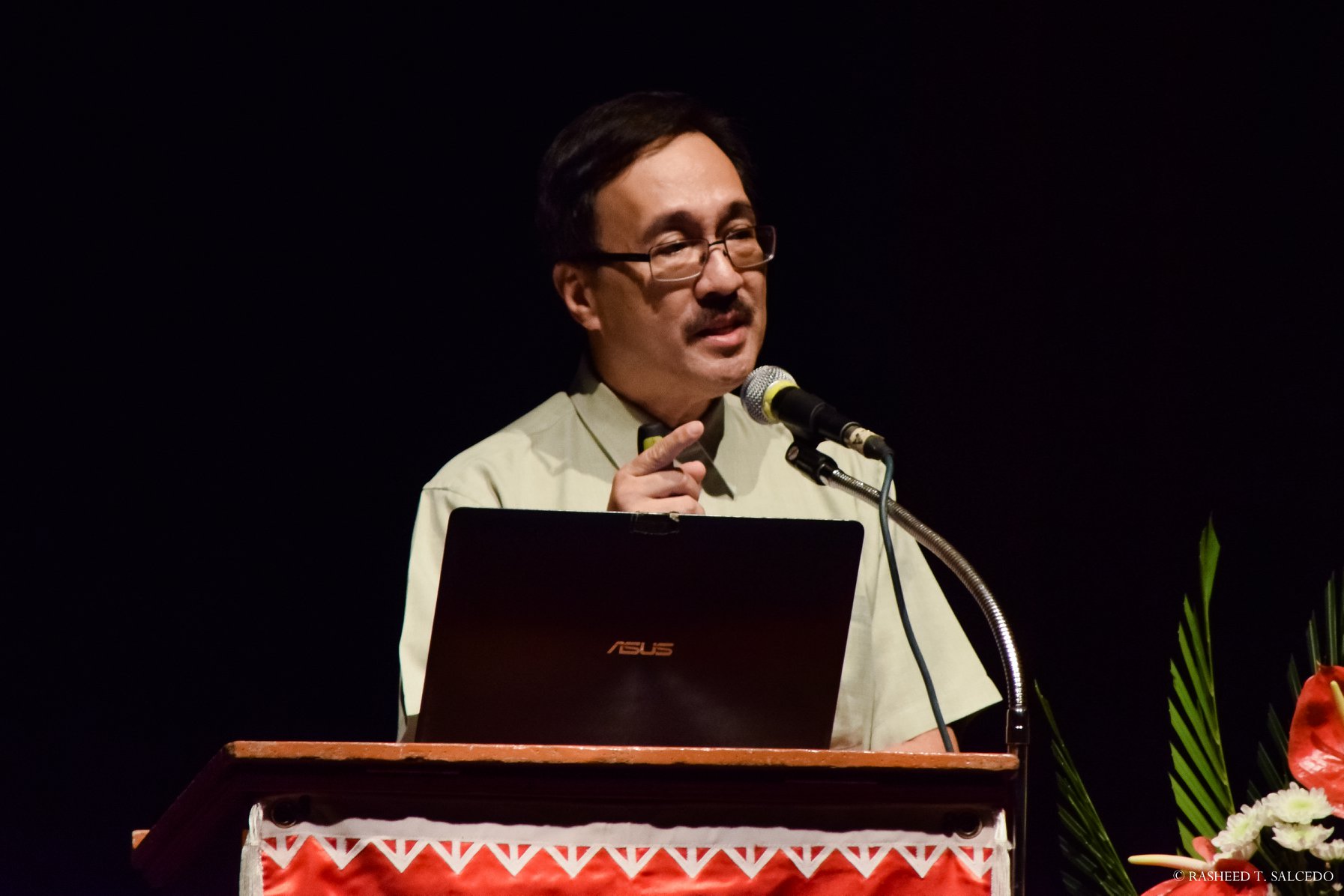 Campaign Underway to Make Silliman 'Zero Waste' University
Silliman University is aggressively pushing for a more systematic way of curbing the volume of garbage generated on campus and strictly regulating, if not eliminating, the use of plastics in the University.
This institutional advocacy, which will be carried out campus-wide within the school year, was formally disclosed during the All-University Academic Convocation held June 25 at the Claire Isabel McGill Luce Auditorium.
Attended by students and members of the faculty and staff from different academic units, the All-University Academic Convocation formally marks the opening of a new school year. It also introduces members of the Administration, and provides a perspective into the thrust of the new academic year as reflected in the message of the University President.
In this year's Convocation, visiting scholar and adjunct professor in the University Dr. Jorge Augustin Emmanuel (click: read more about Dr. Emmanuel), a Filipino-American scientist who played a key role in the battle against the Ebola outbreak in West Africa in 2014, was invited to give a brief lecture on "The Global Crisis of Plastic Pollution." This lecture segued into preparations of the University to address the mounting problem of plastics on campus. These include a research on the impact of plastics and an upcoming institutional campaign against the use of plastics that envisions Silliman as a "zero waste" university.
Formerly chief technical advisor for the United Nations Development Programme in New York from 2008 to 2015 and the incumbent president of the Environmental and Engineering Research Group since 1991, Dr. Emmanuel had a unique yet powerful start to his presentation:  "Let me take you on a tour around the world."
He invited the audience to imagine traveling to different countries for different activities – from breakfast on pancakes with honey in Italy and France to drinking water in 14 countries and beer in Germany to lunches on seafood in England and Japan to enjoying the fresh air in Paris.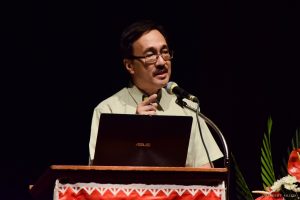 And just when curiosity of the tour's relevance to the topic kicked in, Dr. Emmanuel was quick to share findings in scientific reports published in 2013, 2014 and 2018. These complementary reports reveal what many lack knowledge of: the presence of plastics in food, water and even air.
"All 19 samples of honey from Germany, France, Italy, Spain and Mexico have plastics… 81% of 159 tap water samples from 14 countries are contaminated with plastics… All 24 brands of beer tested in Germany have plastics… 83% of lobsters in Norway contain plastics, while 77% of Japanese anchovy from Tokyo Bay have plastics," he shared.
In Paris, Dr. Emmanuel said studies point to outdoor air containing 29 to 280 microplastic particles per square meter per day. This amounts to between three to ten tons of plastics falling from the air on Paris every year. Indoor air in apartments and offices in Paris hold between three to 15 microplastic particles per cubic meter.
These microplastics are created when plastics break up into small pieces decades or centuries after they are disposed of, and they find their way in the environment – into food, water and air.
"The microplastics that we are eating and breathing today are because of the peopled who had dumped plastics 50 years ago," Dr. Emmanuel said. Without any intervention from the present generation, the problem gets worse and the impact of microplastics on the health and living conditions of future generations is greater.
"Today, we are producing about 400 million tons of plastics a day – much more than what was being produced 50 years ago. This means that the waste that we are producing today 50 years from now will be affecting our great, great, great grandchildren.  They will be eating this in their food and water and will be breathing it in their air at even larger concentrations than we do," he shared.
Based on studies, plastic bags take 20 years to fragment but longer, around 100 to 1,000 years, when contained in landfills. Plastic bottles pose more challenge as they take 400 to 1,000 years to "decompose fully".
But wait – there's more.
It does not help that on the list of Top 5 countries that contribute to half of the world's plastic waste in the oceans, Philippines ranks third. The country notoriously falls in the same cluster as China and Indonesia, at first and second, respectively, and is just ahead of Vietnam and Sri Lanka.
Plastic wastes that are carried into the ocean accumulate in several major gyres, what are systems of rotating ocean currents. The North Pacific gyre is the largest and holds the highest concentration of plastic waste. Not surprisingly, it is the North Pacific gyre that is closest to the Top 5 plastic waste-contributing countries in the ocean.
According to Dr. Emmanuel, by their very nature, plastics attract persistent organic pollutants found in air or water.  When broken up to microplastics, they do more harm.
"Toxic substances in the environment preferentially absorb on the surface of microplastics," he added, making it easily digestible by marine life, like fishes and crustaceans. And as they are invisible to the naked eyes, these microplastics, along with toxic substances, become part of the meal and are unconsciously ingested.
"We have treated this world that has been given to us for us to be good stewards of it with wanton disregard. We have trashed our planet. What Mother Earth is basically telling us now is because of how we treated the planet, the planet is now treating the trash back to us — literally, Dr. Emmanuel lamented.
As Silliman gears up to be a model university in its waste management, the adjunct professor who handles courses at the Institute of Environmental and Marine Sciences, College of Engineering and Design and Graduate Programs proposed three measures that Sillimanians can do on a personal level: (1) don't use plastic water bottles; (2) stop using straws; and (3) stop using plastic bags.
In her message, Silliman President Dr. Betty Cernol-McCann reinforced the rationale behind the presentation of Dr. Emmanuel and asked the audience: "What has the advocacy for breaking free with plastics got to do with all of us?" (Click to listen to the message of Dr. McCann: "Valuing our Silliman Commitment".)
"Everything. This is happening. It is largely because of us, and it is getting worst. At this point, we are into damage control but our damage control will only be as strong as the weakest link in our University," she said.
Dr. McCann confirmed plans "to bring about changes in the way we deal with plastics and other wastes that we now use and dispose in our campus." She urged everyone: "let us all cooperate in this endeavor."