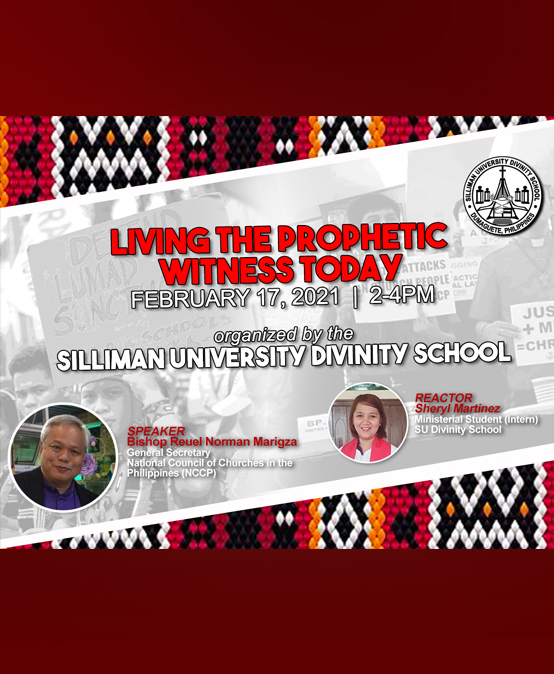 Divinity School to hold webinar on 'prophetic witness' of churches
As churches today are faced with challenges due to its pursuit of prophetic witness, the Silliman University (SU) Divinity School is set to hold a webinar on this topic by Wednesday, February 17 from 2:00 to 4:00 in the afternoon via ZOOM and Facebook Live (https://www.facebook.com/sudscentennial2021).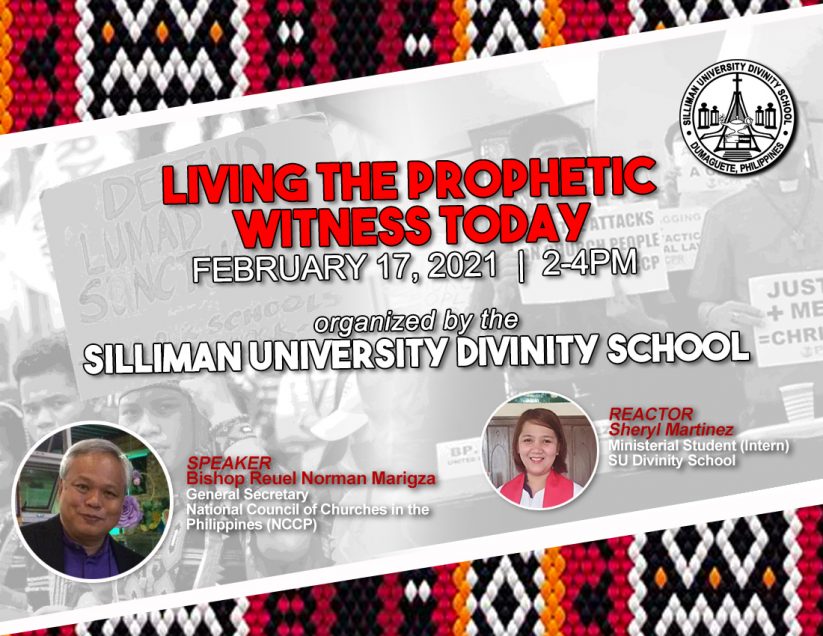 Themed "Living the Prophetic Witness Today," the said webinar intends to inform and educate members and church workers on the challenge and courage that churches face in serving the people prophetically in these times.
Bishop Reuel Norman Marigza, the current general secretary of the National Council of Churches in the Philippines (NCCP) will share his reading of the times for churches and in a way, challenge our students and churches to take up the prophetic witness. Bishop Marigza was former general secretary of the United Church of Christ in the Philippines (UCCP).
Bishop Marigza will expound on the stand of 10 churches comprising NCCP, being the largest ecumenical aggrupation in the country composed of mainline Protestant and non-Roman Catholic churches.
On the other hand, a Lumad youth leader based at the UCCP Haran House (Davao City) will also share about their life situation at the sanctuary today. The speaker will help us understand the indigenous peoples' plight for self-determination, their courageous defense of the ancestral domain and rich cultural identity. He will also narrate his experience related to the churches' ministry to the Lumads.
Pastor Sheryl R. Martinez, a ministerial student (intern) from the SU Divinity School will take the role as reactor for the webinar. She hails from the Agusan District Conference. Martinez will share her reflections and perspectives, as a new pastor, regarding the challenges of speaking up for justice and peace during these challenging times.
Meanwhile, Rev. Reeceven Bico, an alumnus of the SU Divinity School, will act as the webinar's moderator. Rev. Bico is currently the program coordinator of the Southern Tagalog Conference aside from serving as president (conference level) of the United Church Workers Organization.
As part of the series of webinars to mark the centenary of the Divinity School, this month's online discourse on prophetic witness is aligned with the UCCP's celebration of the Membership Renewal Month.
Organized by the Justice and Peace Center, a unit of the SU Divinity School mandated to bring into the learning experience and awareness of the student body critical social issues affecting the Filipino people, the series of monthly webinars spread throughout the academic year is geared to highlight the urgency of the agenda of just and lasting peace in our country.