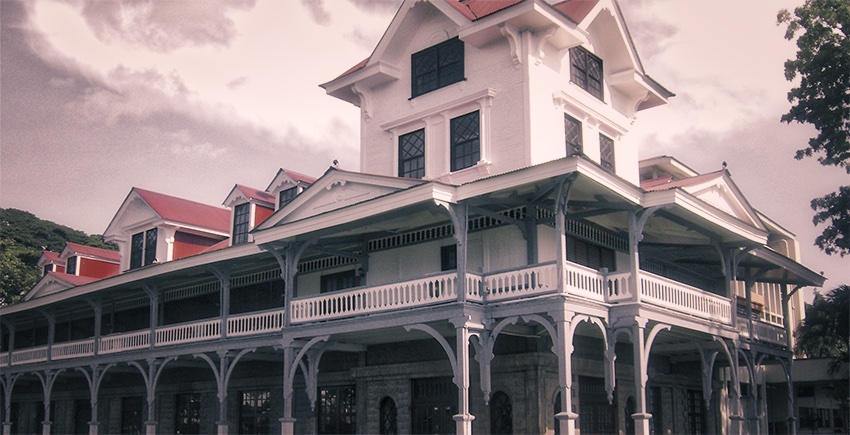 Martial Law Amnesia
We (the older generation among us in the Philippines) just celebrated the 30th anniversary of the February 22-25, 1986 People Power Revolution, sometimes called the EDSA Revolution, from the main highway cutting across Metro Manila, where the Revolution happened.
But while our first EDSA Revolution inspired other peoples, we have suddenly realized that our own under-30 college generation today does not have an inkling of what the EDSA revolt was all about. They were not yet born at the time! And neither do they know about Martial Law which was imposed 44 years ago.
Somehow, today's under-30 youth are not to blame for this Martial Law amnesia. We the older folks are to blame. We did not teach them history properly—and I mean by we, mainly the Philippine government and the mass media who suffered the most under the Martial Law regime of the late, unlamented, Filipino tyrant Ferdinand Marcos. Now that the surviving members of the Marcos family are active in politics again and pushing a revisionist version of Martial Law history, we are worried, to say the least.
So when I talked to a group of college students at Silliman University's College of Mass Communication on the occasion of their celebration of Mass Com Week last February 23, 2016, they were aghast, bothered and bewildered by that they heard. I told them about Martial Law proclaimed by Marcos in 1972 and the People Power Revolution that ended it in 1986.
Marcos abuses under Martial Law
I told the group that before Martial Law was proclaimed in 1972, the Philippines went through hard times under Marcos' two four-year terms from 1965 to 1973—the years of discontent.  There was a dramatic increase in poverty during Marcos' two elective terms, resulting in social unrest.
The youth were taking to the streets to rally against military abuses and government corruption. The government clamped down on the mass media. The Philippine Communist Party was getting mass support. Marcos cracked down on his political enemies and the mass media, blaming the Communists for the crisis. The Communist New People's Army was getting stronger. Besides, Marcos also wanted to extend his term, which he could not do legally because he was limited by the Constitution to two presidential terms ending in 1972. So Marcos decided to suspend the Constitution and declare Martial Law on September 21, 1972.
In the first few days of Martial Law, Marcos jailed his critics, led by then Senators and arch critics Benigno Aquino Jr. and Ramon Diokno, and the top Manila journalists—Manila Times publisher Joaquin "Chino" Roces and his top columnist, Max Soliven; Manila Chronicle publisher Eugenio "Geny" Lopez and his editor Amando Doronila; Philippines Free publisher-editor Teodoro M. Locsin and his top staff writer, Napoleon Rama; and Press Foundation of Asia joint executive Juan L. Mercado.
The first few years under Martial Law were peaceful and orderly.  The average person liked that people were disciplined. But people were disciplined because they were afraid.  And soon after 1972, Marcos and his family became more corrupt because no one,  especially the mass media, was free to criticize them. Power corrupts and absolute power corrupts absolutely. The next 14 years witnessed corruption unparalleled in Philippine history.
Crony capitalism plundered economy
Instead of improving, the Philippine economy took a nosedive during the 14 years of Martial Law because of cronyism and economic plunder. What was cronyism? It was an "economic system" where every major economic activity was controlled by the First Family, their relatives, or cronies. The major cronies were:
Roberto Benedicto who controlled the sugar industry
Danding Cojuanco who monopolized the coconut industry
Antonio Floreindo who cornered the banana industry
Hans Menzi who lorded over the mining and paper industries
These cronies and Marcos relatives acted either as Marcos nominees or on their own behalf in key corporations and drew money from government, private, and international sources. It was systematic plunder of the Philippine economy. Until today we are still paying for these loans squandered by the Marcos regime.
Human rights violations under Martial Law
As the abuses became more flagrant people protested. Many activists were apprehended and tortured by the Marcos military. The quest for justice of the Martial Law victims 44 years later is not over yet.  Last December 2015, the Philippine Senate passed a bill extending the life of the Human Rights Victims Claims Board (HRVCB) for two more years so it could process 75,730 claims of human rights victims during the martial law.
The HRVCB records show that 50,000 people were arrested in the first three years of Martial Law. There were 3,257 murders, 35,000 torture cases; and 70,000 incarcerations. The new claims are in addition to the 2,000 claims that were already awarded a P90 billion judgment in 1994 by a Hawaiian court .
The final straw that led to People Power was the assassination of Senator Benigno Aquino Jr. as he came down from the plane at the Manila International Airport on August 21, 1983. He was allowed to go to the U.S. a few years earlier to have a heart bypass operation. After the operation he decided to come back against the wishes of Marcos–and was killed.
An estimated three to four million Filipinos joined his 11-hour funeral procession. Shortly after that the street protests accelerated. Massive demonstrations forced Marcos to call for a general election to prove that the people were still behind him.
People Power narrative
Benigno "Ninoy" Aquino's widow, Corazon C. Aquino, ran (stood) for election as President against Marcos. She won overwhelmingly but the Marcos-controlled Congress proclaimed Marcos the winner. This led to massive protests until Armed Forces Chief Fidel V. Ramos and Defense Minister Juan Ponce Enrile resigned from the Marcos Cabinet–and the rest is history, as they say.
People rallied at EDSA to show their support for Ramos, Enrile and Corazon Aquino as new President, and then Marcos fled the country.
This in gist is the blind spot in the mind of the Filipino millenials today.   It worries me and my generation no end, especially because the son of the man who declared Martial Law is now running for Vice President of the Philippines! Heaven forbid, but if he wins because of his youthful charisma, he will be only a heartbeat away from the Presidency of the Philippines.
If that happens, philosopher George Santayana may again be proven right when he said long ago that a people who do not remember their past are condemned to repeat it. ###
References
1.  Ma. Ceres P. Doyo, Inquirer.net, Sept. 29, 2015, "75,730 claims of rights violations under Marcos are being processed"
2.  Ricardo Manapat, Some are Smarter than Others: A History of Marcos' Crony Capitalism. New York: Aletheia Publications, 1991.
3. Crispin C. Maslog, Mass Media and People Power: A Brief History of Philippine Mass Communication (2015). Quezon City: New Day Publishers.
---
ABOUT THE AUTHOR :
Dr. Crispin C. Maslog
Former journalist with Agence France-Presse, was director, Silliman School of Journalism and Communication when Martial Law was proclaimed in 1972. He was professor of development communication at UP Los Banos when the People Power Revolution broke out in 1986. He is now senior consultant, Asian Institute of Journalism and Communication and Chair of the Board, Asian Media Information and Communication Center (AMIC) based in Manila