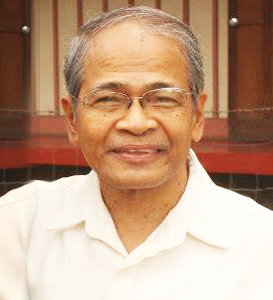 A Pastoral Message to the Class of 2020
By:
Rev. Noriel C. Capulong
---
by Rev. Noriel C. Capulong
Today would have been your Graduation Day. Our worship this morning would have been your Baccalaureate worship service. I could only imagine you happily marching and excitedly entering the church in your respective college togas as a series of processional hymns is played repeatedly at the pipe organ by Prof. Isabel "Bobbie" Vista. In the presence of our university officials, I would have so gladly welcomed you along with your parents, family and loved ones in this possibly last worship service you would be attending in our church for a long while.
I would have stood again before you to deliver the baccalaureate message congratulating you for this great achievement you have accomplished after four or five years of hard work and much sacrifice just to obtain the diploma that you were supposed to receive this afternoon.  But as events began to unfold in the days leading to this moment, we learned that this very special day for you would no longer take place. It would have to be canceled as a precaution, a safety measure that we all have to observe to protect ourselves from the fast spreading Covid 19 virus. We have to face the sad reality that we are in a pandemic situation. We are in extraordinary times that require extraordinary measures.
I can only imagine how you felt the moment you received the very sad news. Not a few of you shed tears of great disappointment and frustration. For this is one school year that has been full of frustrating moments for you. For the first time, you are the batch that missed having a Founders Day parade because of rains. Your are the batch that experienced a number of lockdowns in the campus, either due to bomb threats or because of this Covid 19 threat. You are the batch that missed having your respective college week celebrations and most especially, you are the batch that failed to have your own graduation day.
Even then, together with my co-pastors here at SU Church I can offer to you a few things to ponder about as you leave the halls and the campus of Silliman University.
First, please be assured nothing was ever taken away from you. From now on, minus the ceremony and the rituals, you are a bonafide Silliman graduate who can stand proudly among and with others with your well earned diploma. Nothing can take that away from you.
Second, even with what happened, be assured that our God has a plan for you greater that your own plan for your future. Our life, our future are all in His hands. He is the one in control of every event happening in our life and in our world today. Do not feel so depressed at this moment. There are far greater and exciting things in this life that await your attention. Great opportunities will soon open up to you mainly because you are now a Silliman graduate.
Third, keep the faith and keep on trusting in Him who is the only one who can provide the kind of guidance you need in your journey towards the future you dream of. God is the only One whom you can consider as the true source of enlightenment and wisdom in moments when you are confused or overwhelmed by challenges coming your way.
Fourth, always find ways to connect with Jesus as your Lord, Savior and Friend, through regular prayers and meditation, but most of all, being part of a church fellowship where you can regularly experience having a community that worships and serves God together. It is there where your faith will be nurtured and strengthened together through regular Bible studies and worship and fellowship experiences. This is what will  make you grow in your life of spirituality and relationship with God.
Finally, together with my fellow pastors here in SU Church, I say, go with our blessings, with our love and best wishes. Wherever fortune would lead you, "may the faith and truth she gave us, be our guiding star." Keep safe and always find ways and means where you can serve and witness to God's love especially in times like these. For this is what will distinguish you as a true Sillimanian worthy of the name.  God bless you.