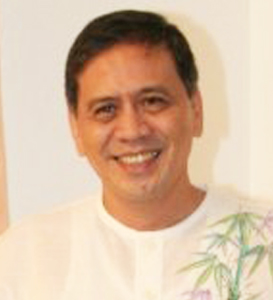 Frederick The Dreamer
By:
Atty. Jose Riodil D. Montebon
|
Former University Legal Counsel
---
FREDERICK THE DREAMER
By Atty. Riodil D. Montebon

(Eulogy delivered in memory of Mr. Frederick S. Dael who served the Board of Trustees of Silliman University as Member from June 1, 1996 to May 31, 1998 and as Chairperson from June 1, 1998 to May 31, 2001. Mr. Dael an Outstanding Sillimanian in the field of Business Management.) 
 Luke 29: 42-43
42 Then he said, "Jesus, remember me when you come into your kingdom.[a]"
43 Jesus answered him, "Truly I tell you, today you will be with me in paradise."
Genesis 37: 5-11
"5 Then Joseph had a dream, and when he told it to his brothers, they hated him even more. 6 He said to them, "Please listen to this dream which I have]had; 7 for behold, we were binding sheaves in the field, and lo, my sheaf rose up and also stood erect; and behold, your sheaves gathered around and bowed down to my sheaf." 8 Then his brothers said to him, "Are you actually going to reign over us? Or are you really going to rule over us?" So they hated him even more for his dreams and for his words." "9 Now he had still another dream, and related it to his brothers, and said, "Lo, I have]had still another dream; and behold, the sun and the moon and eleven stars were bowing down to me." 10 He related it to his father and to his brothers; and his father rebuked him and said to him, "What is this dream that you have had? Shall I and your mother and your brothers actually come to bow ourselves down before you to the ground?" 11 His brothers were jealous of him, but his father kept the saying in mind."
Our Scriptural text tonight brings to us the well-known story of Joseph, son of Jacob, who, because of his absurd and fantastic dreams, alienated himself from his siblings. Absurd and fantastic, at least to the disbelieving members of his family, especially his older brothers. As we might describe Joseph of the Old Testament today, he was a man way ahead of his time. And as we often predictably do, even up to this very day and age, we reject, malign and ostracize the man with a vision, the man with dreams of what challenges and opportunities may lie ahead. This is the consequence of visionary ignorance; of human nature to close its mind to new ideas and to adhere instead to what is familiar, to stick to tradition and the old way of doing things. And in rejecting the Dreamer, the promise of his Dreams become unappreciated and ignored. Of course, in the case of Joseph, his dreams and visions were messages from God to his beloved people. Such is man's common experience. We ignore God's call and go through pain and hardship before we are ready to listen. Such was the case of the famine that scourged the land in the days of Joseph the Dreamer. The Scripture says that Jacob kept the sayings of Joseph in mind. And yet, he lacked the conviction to let his other sons toe the line and take heed to what Joseph was sharing with them.
Throughout the generations, we have dealt with Dreamers. Perhaps, not with Joseph's Divine inspirations, but movers and shakers, none the less, who play a vital role in shaping our present world.
Frederick Silliman Dael, was one such consummate Dreamer. When he came back to the Philippines to assume the Presidency of Pepsi Cola Far East, he took no time in sharing his visions for the Philippines, Negros, Dumaguete, and yes, Silliman University, to whomsoever cared to listen. Fred was not shy about his views and ideas. Given his stature as an international business executive, he invariably commanded attention and respect.  And because he projected the personality of a confident and forceful leader, many did not quite know how to react to his overpowering presence. Many were intimidated by his command of facts and situations, that certain sectors in our community just completely blocked him off in their thinking. Perhaps, this was reflective of a dislike for Fred – his person, or ideas, or both; or it simply betrayed an envy for his intellect and the power of his ideas.  "Too americano" was how our Asian culture and orientation caused many to view Fred Dael, the Dreamer. Like Joseph in our Scriptural text, he, too, was a man ahead of our time. And many of Fred's dreams and visions were largely ignored or rejected. And sometimes, his ideas never had a day in court, because of his overpowering personality. This is a tragedy, because Fred truly and sincerely loved his country, his home and his alma mater. He shared his ideas, because he sincerely believed they would bring about positive changes to our place. And he shared his ideas unselfishly.  He never cared about claiming authorship over his ideas or getting credit for them. So, he must have been frustrated no end when people he cared for didn't catch on to his visions.
Thankfully for Silliman, Dumaguete and Negros, not everyone had blind eyes or deaf ears to his dreams and visions. Silliman University, for one, appreciated his value for our times and elected him as Chairman of its Board of Trustees. Under his stewardship and leadership, he steered the University to a sound fiscal and financial condition ready to meet the challenges of the new millennium. With the Board of Trustees, Fred guided Silliman University to a coherent and comprehensive program of transforming its perennially liability-prone cost centers into productive income centers. He also pioneered the transformation of idle assets in the University into business development centers. Through Fred's many connections and friendships in the corporate world, he strengthened the University's scholarship fund for poor but deserving students. The Portal Scholarships initiated during his term have borne much fruit and Silliman has contributed a wealth of professionals into our national economy from this Program.
It was also under Fred's leadership when the Board spun-off the old Silliman University Medical Center into a separate and independent Silliman University Medical Center Foundation, Inc. Today, Dumaguete, Negros, and even our outlying neighbors are better served with quality health care. What the medical center has become today is a testimony to the foresight, leadership and moral strength of Frederick the Dreamer.
Best of all, Fred didn't just promote his dreams, he especially walked his talk. Among the largest givers to Silliman University are members of his immediate and extended families and his corporate and alumni ties. The generosity of these progressive persons and institutions who believed, as Fred did, helped sustain the University particularly during the financial crisis of the 1990s.
But Fred didn't limit his dreams for Silliman University. Working with enlightened key local government and business leaders in the community. Because these leaders believed in Fred's dreams, today we are a beneficiary of a burgeoning and employment catchment in the Business Process Outsourcing industry. Everywhere you go in Metro Dumaguete and the rest of the cities of Negros Oriental, you experience the legacy of Fred Dael in all the call centers, transcription centers, and graphics centers that dot our landscape.
And at Foundation University, where Fred served as a Trustee recently, we find his fingerprints as he enthusiastically supported Foundation's national pioneering initiative in the use of I-Pads for classroom interactive learning in Basic Education.
Fred also initiated programs with the Department of Education for developing wifi access to remote public elementary schools. Way ahead of K-12, Fred also promoted distance learning for teachers and learners in Basic Education to the unreached corners of our public-school Divisions.
To be sure, many more of Fred's visions never got off the ground. Perhaps we weren't ready and he was too far ahead of us. Thankfully, though, enough of his dreams have seen the light of day and we have become better for it. To be sure, the fruition of his dreams has contributed to a change in the way we look at things, and the way we live today. Now, we gather at this place to celebrate the life of Frederick the Dreamer.
We are here to celebrate his courage in standing by his principles, regardless of the opposition or even if he stood alone in his ideas. We are here to celebrate his compassion and his friendship. Brought up in the missionary tradition of service and caring, he was fiercely loyal to friends, family and to the institutions which he served. And we are here to celebrate his kindness and generosity. I have already mentioned how he belonged to a circle of very generous donors for Silliman University. He gave all of himself to Silliman, Dumaguete, Negros in whatever undertaking or endeavor he got himself involved in. Whether in business or civic ventures, Fred gave a hundred percent of himself to them.
And yet, for all his goodness as a person, and all his accomplishments in life, Frederick Silliman Dael was no Saint. He had his shortcomings and imperfections just like you and me.
In Romans 3:23-24, the Apostle Paul declared, 23 "for all have sinned and fall short of the glory of God, 24 and all are justified freely by his grace through the redemption that came by Christ Jesus."
None among us are perfect, not a single person. Not Fred Dael, not I, and not you either. And because we are all sinners, we are destined to die the eternal death. "For the wages of sin is death, but the gift of God is eternal life in Christ Jesus our Lord". (Romans 6:23). But in Christ we have assurance of eternal life in heaven. "For God so loved the world, that He gave his only Son that whosoever believes in Him shall not perish but have eternal life." (John 3:16). All that we are asked to do is to believe. This is the power of salvation.
Indeed, Fred was like one of the robbers crucified with Jesus on Calvary.  One believed, while the other continued in his unbelief. When the believing robber said, "Jesus, remember me when you come into your kingdom.]" Jesus answered him, "Truly I tell you, today you will be with me in paradise." Declared even before His resurrection, Jesus affirmed to this believing sinner that He is indeed God, and that there was truly a heaven.
This is our promise, this is our hope, that when we call upon Him in faith, we shall have eternal life.
On April 1, 2018, Easter Sunday, Frederick Silliman Dael, a fellow-Dreamer, received his invitation to be with Jesus in Paradise. Tonight, we celebrate a God who redeems.
How about us? We are all Dreamers in our pilgrimage through this life, seeking to make sense of our dreams, and hoping to leave a footprint beside those of our Lord Jesus. I ask myself, have I dreamed enough, and have those dreams been after the Heart of Jesus?
And finally, we celebrate the certainty, that, tonight, our dear Fred is with Jesus in paradise.  As he leaves behind the dreams of his passion and dedication, let us encourage each other to dream on that our lives may be pleasing and acceptable in God's sight. Amen.