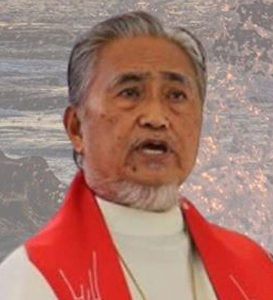 "God of our Life, We trust in Thee" A Testimonial Reflection on COVID-19
|
Professor, Divinity School
---
The Pandemic Coronavirus is here among us. Yet many people still cannot accept it. The Enhanced Community Quarantine (ECQ) is far away in Metro Manila. Many are still looking at the situation from a distance and watching from the sideline. The strict implementation of Quarantine rules is "for them" and "not for us." But whether we accept it or not COVID-19 is here and it is affecting all of us. The writer of Ecclesiastes can help us realize the realities of life.
To everything there is a season,
A time for every purpose under heaven;
A time to be born, a time to die;
A time to plant, and a time to pluck up what is planted;
A time to weep and a time to laugh;
A time to mourn and a time to dance; a time to embrace, and a time to refrain from embracing; a time to seek, and a time to lose;A time to keep and a time to cast away. (Ecclesiastes 1:1-6)
The writer adds:
"[God} has made everything suitable for its time; moreover he has put a sense of past and future into [people's] minds, yet they cannot find out what God has done from the beginning to the end. I know that whatever God does endures forever."
(vs.11,12a,14)
Such attitude of non-acceptance is shattered when members of the family become victims. My daughter Menie, being a doctor at the Negros Oriental Provincial Hospital, was and until now listed as PUM (under monitoring). She could not anymore visit us. Just like all front-liners, Menie continues on duty in the hospital. We have accepted the fact that we cannot come together for our regular weekend supper together. So we decided to have family prayer service with and for her and other front-liners three nights a week by cellphone calling.
That is a mild experience. But April and May was a shattering experience where Corona virus became a reality to our family and the clan. A nephew of my late wife, Henie, died in a hospital in Cebu. Not even the son or brother who were in Cebu were allowed to visit. As a suspected victim of COVID-19, he was immediately cremated as recommended by the hospital.
But the greater shock was the death of Henie's sister. She was brought to a hospital in Cebu, diagnosed of severe pneumonia and died three days later. Only the person who accompanied her to the hospital was allowed with her. The daughter and grandchildren living in Cebu could not see her. The other two daughters and families abroad could not come home. Suspected of COVID-19, she was immediately cremated. Only the urn was received by the family.
How does one give comfort to a clan accustomed to come together when someone dies? There was no wake, no necrological service, no funeral. I was asked by the daughters to lead a nine days wake for the mother. Thank God for the new communications technology. We were able to hold nine days of virtual prayer vigils to bring comfort to the whole clan. And to top it all, we were able to reach even those who are abroad and this brought about closer relations among the members of the clan. There were crying during the tributes but there were also joy and laughter as the relatives continued talking by Zoom every night after the vigil.
I think the clan has accepted what Ecclesiastes said:
To everything there is a season, A time for every purpose under heaven;
A time to be born, a time to die; A time to weep and a time to laugh;
A time to mourn and a time to dance…whatever God does endures forever…
From the bitter experience of losing a mother, "tiya" (aunt) and grandmother in the Corona virus, the clan became closer as they even continue conversation through the internet. I personally learned so much in preparing for the virtual prayer vigils: searching for Scripture passages, hymns, poetry, and meditations of comfort which we used in the prayer vigil. Let me close with an anonymous poem on the death of a loved one and a hymn of faith and assurance:
The poem
"When We Lose a Loved One"
"When we lose a loved one Our world just falls apart
We think that we can't carry on With this broken heart
Everything is different now You're upset and you're annoyed
Your world it seems is shattered There's such an awful void
There's got to be a reason And we have to understand
God made us and at any time He'll reach down for our hand
There might not be a warning We won't know where or when
The only thing were certain of Is well meet them once again." (
Anonymous)
The hymn:
"God of Our Life"
God of our life, through all the circling years; We trust in Thee.
In all the past, through all our hopes and fears, Thy hand we see.
With each new day, when morning lifts the veil
We own thy mercies, Lord, which never fails.
God of the past, our times are in thy hand; With us, abide.
Lead us by faith to hope's true promised land; Be thou our guide.
With thee to bless, the darkness shines as light
And faith's fair vision changes into sight.
God of our coming years, through paths unknown; We follow thee.
When we are strong, Lord, leave us not alone; Our refuge be.
Be thou for us in life our daily bread,
Our heart's true home when all our years have sped.
Concluding Words
The poem speaks of a shattered world of losing a loved one. But since God has created us, God will also take back. We don't know when and where. Our prayer vigil one became a means of remembering all who in the recent past have gone ahead. The assurance is we will meet again.
The hymn shows a strong faith in God. Amid the Corona virus Pandemic, we can only trust in God for God is with us and among us "through all circling years." We acknowledge that we are in God's hand all through our life. We trust God in our coming future which is still unknown to us as we continue to face the Corona virus Pandemic.
In this situation, let us pray for God's continuing care for the infected, for the health care workers who are attending the sick and are endanger of infection, as well as all the front liners, for leaders of all nations that they seek good for all people and quell divisions, for the families of those who have died. In all these situations let us remain firm in faith and trust in the "God of our Life."