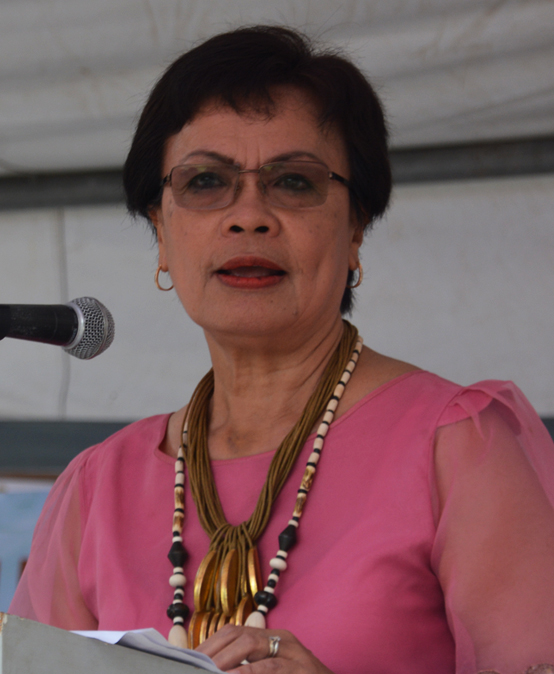 Independence in an Era of Interdependence
By:
Dr. Betty Cernol McCann
---
Delivered during the Independence Day celebration at the Dumaguete Presidencia Ground | 12 June 2019 
The City Mayor, Hon. Felipe Antonio Remollo
The City Vice Mayor, Honorable Members of the City Council
Support Services Officers and Staff
Those entrusted with the Justice, Peace and Order of this locality
Fellow Educators, Freedom-loving Citizens,
A blessed 121st anniversary of the proclamation of Philippine Independence!
The Mayor called at the end of the last working day last week to ask me to take on a charge, an assignment, he said. A thought bubble formed "Am I free to say No?" Here, my own freedom or independence in taking action was immediately influenced by a sense of interdependence, where I knew that it takes various sectors to celebrate a national event. So here I am Mayor, to freely take the assignment, deep in the belief cherishing the value and significance of this event.
By a presidential proclamation, we Filipinos mark June 12, 1898 as our day of declaration of independence from Spanish rule. The theme offered by the DepEd this year is 'Kalayaan 2019: Pagbabagong Ipinaglaban, Alay sa Masaganang Kinabukasan.' The reforms we fought for, our offer for a productive/bountiful future. This year's national theme "Tapang ng Bayan, Malasakit sa Mamamayan" speaks of the country's resolve and courage to demonstrate compassion towards its people.
The first three paragraphs of Proclamation No. 28, S. 1962 declaring June 12 as Philippine Independence Day states:
"WHEREAS, the establishment of the Philippine Republic by the Revolutionary Government under General Emilio Aguinaldo on June 12, 1898, marked our people's declaration and exercise of their right to self-determination, liberty and independence;
WHEREAS, such a historic and inspiring action was a legitimate assertion by the Filipino nation of their natural and inalienable claim to freedom and independence, which is an inherent right of every people not dependent upon the will and discretion of another; and
WHEREAS, the transcendental importance of the event demands that it be observed throughout the land with fitting ceremonies to the end that it will be cherished forever in the hearts of the Filipino people and inspire them and posterity to greater dedication and endeavor for the welfare of the country and the well-being of mankind;…"
As a dutiful citizen of this city and our country, and as an educator, I am on the watch for the teaching/learning moments, implicit in our national commemorations:
A historic and inspiring action by Emilio Aguinaldo and compatriots demonstrate our legitimate assertion of our natural and inalienable claim to freedom and independence; Our right to self-determination, liberty and independence;
The event is observed throughout the land with fitting ceremonies so that it will be cherished forever in the hearts of the Filipino people and inspire them and posterity to greater dedication and endeavor for the welfare of the country and the well-being of mankind (which I understand as 'everyone')
Our commemoration of Philippine Independence Day, therefore, challenges me as an educator:
How do we make the commemoration fitting enough to inspire positive commitments to stewardship and responsibility over our claim to freedom? One hundred and twenty-one years after the event, we must ask ourselves, Are we really free?  Do we in Dumaguete today really share a common bond with the patriots of Cavite who began our struggle for freedom?
Think how much the country, and each barangay in it, has changed over this period.  Each of us remembers in our own families those whose lives were sacrificed to secure our independence against colonizers who would try to take these islands and exploit them for their own narrow purposes.  My father and mother, I'm proud to say, were part of the Filipino resistance in Leyte, and helped clear the way for the return of President Osmena after the Battle of Leyte Gulf.  I'm sure each of you has your own remembrances.  But do our lives today actually honor the sacrifices they made for us?
The conditions are different, and our responses may vary.  We may not face the threat of an invasion by an expanding Empire seeking to impose its rule through military occupation.  The challenges we face are far more subtle and harder to deal with.  In an era of globalization, in which the whole world not only beckons us, but comes to us through social media and the internet, we live at a time when we are almost instantaneously aware of things happening all around the world, and know that our lives, for good or for ill, are shaped by these forces.  Think of catastrophic climate change; think of shifting political alliances in which we may no longer be able to rely on our friends; think of the rise of populisms so eerily reminiscent of past dictatorships; think of the pervasive corruption that plays into the hands of the populists: a crisis in illegal drug trafficking masterminded by foreign networks of organized criminals, and unresolved questions regarding the role of religions in our society, just to name a few.
Thinking of these challenges, we must ask:
WHAT IS INDEPENDENCE IN AN ERA OF INTERDEPENDENCE?
In our frustrations with so many challenges, will we reduce independence to playing with the symbols of national chauvinism?  Will we succumb to the temptation to fear all foreigners, and try to purify the country by sending them home?  On the other hand, will we simply ignore the problems, and leave the public square open only to the strutting of demagogues all too ready to profit from our fears?
Maintaining Philippine independence, as Jose Rizal surely would counsel us, requires boundaries and adherence to values and the rule of law.  Survival in an interdependent world requires patience, and intellectual honesty, as well as a sense of history and confidence in the basic goodness and resourcefulness of the Filipino peoples.  It requires a sense of realism about what is possible in public life.
On this day, it is easy to chant the slogans of self-determination.  But we must also ask ourselves, Are there limits to self-determination?  In asserting the claims of independence, we must avoid the jingoistic chauvinism—in thought, word, and deed—that actually weakens our security instead of promoting our own self-interests as a nation. Calls for independence, oblivious to the realities of interdependence, can actually undermine our freedom and security.
Our University, and ultimately all universities, are institutions that thrive on interdependence, while seeking to insure that it can be nurtured for the common good of all, by increasing our capacities for cooperation, partnership, mutual respect and working together for shared goals.  In our commitment to securing the benefits of interdependence for all, we join our partners in the City Hall, the business sector, the police and military, as well as nongovernmental and people organizations, whose independence also depends on building our capacities for interdependence.
We at Silliman University are proud to share a common fate with the people of Dumaguete, the Province of Negros Oriental, and the nation of the Philippines.  May we thank God for the blessings of freedom and security and remember those who have worked so hard to secure them.  Happy Independence Day!