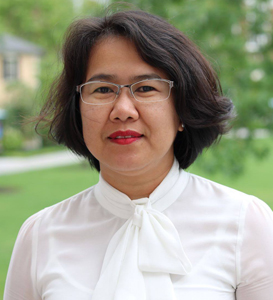 Reminiscing Silliman University
By:
Dr. Mae Brigitt Bernadel L. Villordon
|
Associate Dean, College of Arts and Sciences 
---
It's another Founders Day Celebration of Silliman University. It is our 116th Founders Day Celebration! And this year, we are "Celebrating God's Faithfulness" in our university's mission, vision, and goals. But also, that we are celebrating God's faithfulness in our lives.
Today we are very privileged to have this lecture series on "Reminiscing Silliman University and the Ill Effects of Drugs and New Psychoactive Drugs," as one of our College Founders Day activities.
Every year, we always anticipate the return of our beloved alumni and their successful and inspiring life stories is our source of motivation and of aiming high. And everyone has their own story. Their way of giving back to Silliman University and their own communities is very heartwarming and very inspiring – and that is the beauty of Silliman Spirit. We are family. Wherever you are in the world or in the Philippines, when you meet a fellow Sillimanian, you always feel that sense of belongingness and of family.
I am amazed and touched by how passionate, how generous, warm and thoughtful our Silliman alumni are. When I was in Boston last month for my United Board fellowship experience in Harvard University, I had the opportunity to meet five of our alumni who are members of the Silliman Association of New England (SANE), particularly, Prof. Priscilla Lasmarias-Kelso. Their love for Silliman is immense.
I also had the chance to talk over the phone when I was there with two of our former American professors in the 1960's, Dr. George and Janice Beran, the founder of the Van Houweling Laboratory for Microbiological Research at the Silliman University Medical Center. They are in their late 80's now. And when they recalled their days in Silliman University, it was filled with joy and good memories. There was laughter over the phone, they were so happy remembering their time at Silliman University.
Silliman University is providing you the environment and opportunities for you to have a meaningful and productive stay here at Silliman, use it and take advantage of it so that one day, you too will have your own version of your story!