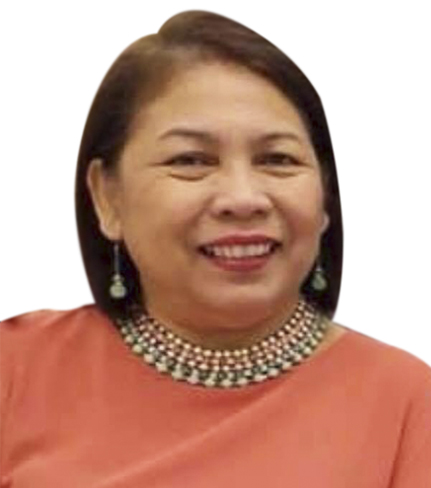 "Restoring Ourselves for Christ"
|
Adjunct Professor and Former Dean, College of Nursing
---
Friends, my dear colleagues, good afternoon . . .
Happy New Year!!!  All the best for 2020!
I wish  all of us every  success  in our  many and varied New Year's resolutions: losing weight; having a regular exercise program; programming ourselves with a healthy diet; sleeping early; becoming a better person;  or accomplishing our 2020 goals – which we had already set in 2019 . . . but which should have been done in 2018 based on the promises we vowed to ourselves in 2017 – and which we also planned years earlier . . .  in 2015 as yet! The US News and World Report reminds us once again that the failure rate for New Year's resolutions is just about 80% and . . . where most lose their resolve by mid-February.
I then wish all of us  every success in the goals we have set for ourselves this New Year 2020, confident in the knowledge that any failure is the road to feeling bad about ourselves. At the same time, I also hope that this year, we can forgive ourselves; give ourselves another chance –  if we have not been able to stick to our goals for the nth time in our lifetime! Honestly, I have had enough failures myself controlling my blood sugar for the past many years! But I have given myself another chance year after year after year.
On a serious note, Today's reading, John 21: 15-17 gives us poignant reminders about ourselves . . . for ourselves . . . and those beyond ourselves:
The verses tell us  this story: When  they had finished  eating,  Jesus said to Simon Peter, "Simon son of John, do you love me more than these?"
"Yes, Lord," he said , "you know that I love you."
Jesus said to him, "feed my lambs." But  gain Jesus said, "Simon son of John, do you love me?"
Peter answered ,"Yes, Lord, you  know that I love you."
Jesus said to him, "Take care of my sheep." For the third time Jesus said to Peter, "Simon son of John, do you love me?"
Peter  was  hurt because Jesus asked him the third time, "Do you love me?" He said, "Lord, you know all things; you know that I love you!"
Jesus said, "Feed my sheep."
The reading tells us of a touching story of a second chance given to Simon Peter.
As we recall, Peter, who declared his unwavering love for Jesus (John 13:37) said "I will lay down my life for you "and claimed to love Jesus more than the other disciples, (Matthew 26:33), but denied Jesus three times (John 18:13-27 ) , when he was faced with difficulty  . After what Peter did, Jesus could also have told him, "What a bad person you are, Peter, for failing to stand by me when I was about to be crucified!" Jesus could also have rejected  Peter –  just as he  denied knowing  Jesus  when he was facing death.  And yet, Jesus still showed an unfailing love for Peter.
Friends, the story of Peter is also our story of RESTORATION .
How then do we restore ourselves for Christ? How do we redeem ourselves away from the love of ourselves?
As we know, when Jesus died, Peter went back to fishing; When Jesus resurrected, Jesus met him at the sea of  Galilee, at a time when he and the other disciples  did not have any catch. And so after their breakfast, Jesus started  Peter's restoration by addressing him as Simon, son of John – the name that Jesus  had previously used – a reminder too, to Peter of who he had been when Jesus first met him.
Crucial too, is the sequence of such restoration when Jesus relayed to him for three times: "Simon, son of John, do you love me?" This was the time too, when Peter became hurt by such repetitions; and yet, this gave Peter the strength to assert such love in his reply: "Lord, You know all things; You know that I love You. Jesus then said to him, "Feed My sheep."
It must therefore have been  an enormous feeling of relief  for Peter – knowing that  Jesus had forgiven him. Consequently, Peter was a fisherman no longer. He followed the Lord to become a fisher of men.
Today, the all-loving Lord is then asking us the same question: Do we love Him more than anything else? Or are there instances in our lives that hinder our service to Him? Are we serving Him for the right reasons? Do we give glory to the Lord; instead of glorifying ourselves?
What then is the road towards restoring ourselves for Christ?
Loving the Lord, who has forgiven all our sins, should be our sole motivation  in serving Him instead of ourselves. But the purpose of our life in Jesus  is not easy – for the feeding and taking care of the lambs and the sheep do not only entail great responsibility; but also great humility and dependence on the provisions and graces from God.
In the process of restoring ourselves for Christ, there would also be many times when we may find it very difficult to love others – especially those we have perceived to have wronged us, irritated us, or disappointed us. We note then that many times in our life, Jesus asks us again and again and again, "Do you love me? Did you feed my lambs? Did you take care and feed my sheep?"
With such constant reminders, how then do we restore ourselves for Christ?
Have we already cultivated and attained the self-sacrificial love for our brethren? Those whom we perceive as having wronged us, have we forgiven them? In language and tone of voice, have we repented the hurting words we have uttered to others, the unclean thoughts we have  harbored about them, and the evil intents for them that we have kept in our hearts?
As we find a way to restore ourselves for Christ, we note that Jesus is also asking us: Can you follow me? Strip away your pride, set aside your own priorities, and think less of  ourselves?
Indeed, only a genuine love for  Jesus can be the focus in our hearts – to love Him more than anything else.  It is also always with a certain degree of certainty that God knows our sincerity  – even if at times we falter when temptation overtakes us!
Thus, as we restore ourselves for Christ, it is inspiring to keep in mind that Peter – a chosen apostle once confident and self-assured –  failed Jesus miserably.  And this is a situation shared by all of us . . . for our failures do not change God's love for us. His compassion for and continued confidence in Peter is also true to us where . . .  even if we have failed the Lord in the past, we have another chance  to prove to Him that we can do the  mission He has set for us.  Just as He restored Peter to his apostolic ministry, we too, are restored to have a spiritual impact  on  other people.  Like Paul, we grieve when the Lord asks us repeatedly if we love Him. And such  repetitions are only reminders  about our own self- examination . . .  as we welcome and embrace  this New Year, 2020.
As we restore ourselves for Christ, we also explore how we are living out God's purpose in our lives – and just like Peter who did not stay as a fisherman, we too can be like Peter – a fisher of men, working in  God's vineyard . . . as feeding the sheep means leading people  to the green pasture  that gives eternal life.
Furthermore, we too have lambs and sheep in our midst to  nurture and feed  with the word of God. This message is very clear when three times Jesus instructs Peter, "Care for my flock."
A love for Christ  and absolute surrender to Him is then the surest motivation and the only road towards our own ministry of faith.
Brothers and sisters, may  our service and love for our fellowmen be a reflection of our forgiveness and restoration in God's grace. May His birth that we have just commemorated, constantly remind us  that the real meaning of His coming is that He died on the cross for our salvation. May this be our constant challenge not only to love  Him; but above all, to always walk with him. May we then celebrate the joys of this New Year filled with love for one another – encouraging ourselves and inspiring each other  – to achieve the purpose for which God has called us to do as a people. . . forgiven and restored  in Christ. Above all, may 2020 be a time of affirmation for our love to our Creator, moving on towards the divine task ahead of us.
As we discover and restore ourselves for Christ, let us also recall this prayerful perspective from the Book of Common Prayer: "Almighty God, who seest that we have no power of ourselves to help ourselves, keep us both outwardly in our bodies, and inwardly in our souls; that we may be defended from all adversities which may happen to the body, and from all evil thoughts which may assault and hurt the soul."
Dear Colleagues, today and for always, let us also remember Jesus who exemplified the true meaning of love, grace and selflessness to the whole world  and emulate  his love and kindness by opening our hearts and extending  our hands to everyone, sharing with them our bounty and blessings, strengthening  our bonds  and deepening  our relationships  with one another. May this be our constant reminder from His word "… love one another as I have loved you" (NIV John 15:12 ). Amen.