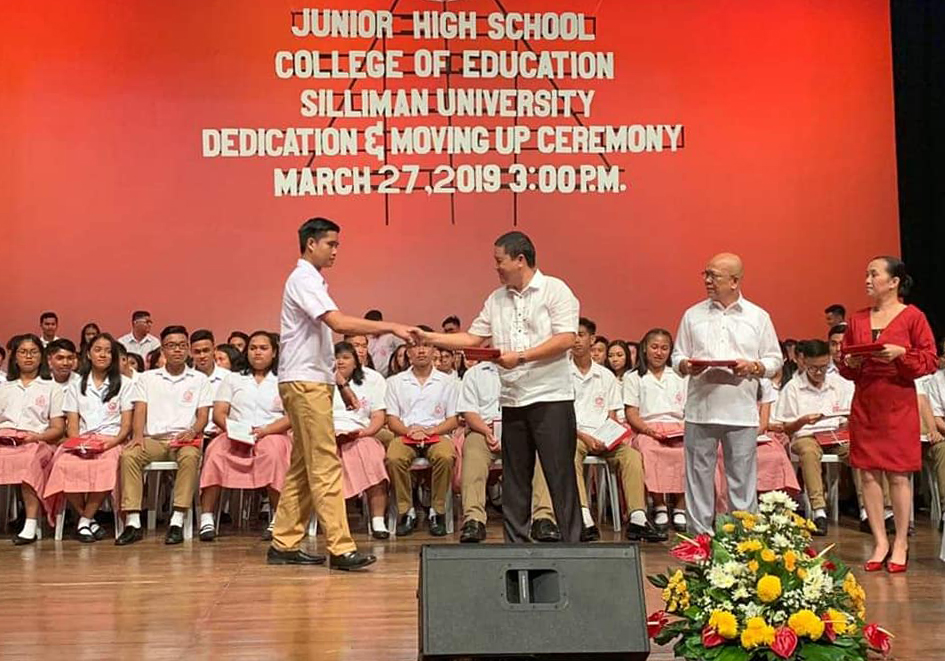 SU Junior High School names 271 completers, awardees
Dr. Betty Cernol-McCann, Silliman University (SU) president, congratulates the 271 SU Junior High School (SUJHS) completers for the SY 2019-2020.
McCann wishes the completers happiness and success in their next endeavors. She looks forward to seeing the completers again next school year as students of the SU Senior High School enjoying the whole-person education the University is espousing for all its students.
Asst. Prof. Aidelyn A. Balingit, OIC Principal of SUJHS, expressed how she and the SUJHS faculty are proud of the completers, even without the formal moving-up ceremony that was supposed to be held March 26, 2020 but was cancelled due to the COVID-19 outbreak.
"You have worked hard to achieve your goals and now you are fully equipped and ready to venture another step of your life. Aim for it! As you reap the fruits of your hard work, I wish that success keeps following you in everything that you do. Keep the spirit and practice the values that Silliman University instills in each one of you. Find the way that leads you to the path where God wants you to be. Seek for the truth and live the life that is pleasing in the eyes of God. Truly, your teachers are proud of what you have become," said Balingit in her congratulatory message.
Balingit also reminded the completers to trust that God has a plan even in unexpected circumstances.
Congratulations to the SUJHS completers:
EINSON FITZGERALD G. ACAS
 KIRK JEREMIAH P. ACUESTA
 KEVIN CRIS G. ACUPANDA
 IVAN ANTHONY A. ADARO
 GIANCARLO P. AGSAM
 SEONJAE AHN
 MARYLUZ  ANTOINETTE B. ALALONG
 GODWIN T. ALCANCIA
 SAMANTHA MARGO T. ALFANTA
 ARMAND ANGELO E. AMARANTE
 MARCO ANTONIO C. AMISTOSO
 MARIA VICTORIA A. AMOR
 JEZA JENIELOU L. AMORES
 JOHN FRANCIS A. ANDRES
 DARYL REYMON S. APLA-ON
 LADY LYNN W. APLICANO,
 EVRIEL PRINCE F. APURA
 TRISHA KATE MONIQUE F. ARAGONES
 ANGELICA JOY M. ARIAS
 CLIANTHA MARIELLE S. ASONAN
 KIRK MICHAEL V. ASUELO
 KASSANDRA ANGELA L. AURELIA
 ROSEANN CLAIRE E. BAGUIO
 NINNAH FAYE A. BALANSAG
 DANICA P. BALDOZA
 KEZIAH E. BALDOZA
 CARLA ANTONETTE R. BALIOLA
 RYAN CHRISTIAN B. BALUCAN
 MARIA THERESE LOUR R. BANDELING
 TRISHA NICOLE D. BANDELING
 ROZEL DOMINIQUE S. BANGALANDO
 DANIELLE MARIE A. BANOGON
JOHN DAVE C. BANOSING
 JAED EMANUEL V. BAO
 JYLLANAH FRANCINE A. BAO
 MARIZ NICOLE G. BARCHERS
 ANDREA RICAH B. BARILLO
 RYON D. BAUTISTA
 JIBRAILLE Y. BAWASANTA
 NAZYL MAE S. BAYA
 ROSS KENDALL C. BAYA
 JHIM CARLSON A. BAYLOSIS
 BREANAH HEATHER F. BELANDRES
 HANS BLIX C. BELCIÑA
 MARIE JUBELLE R. BELTRAN
GEONE MARSILL H. BENLOT
 SAMANTHA J. BERNADAS
 AMBERLIE GAEL A. BILLEDO
 DAN CLAUDE A. BONIFACIO
 CAMILLE D. BUTLER
 KLEIN FITZGERALD K. CABALLO
 RHENA DELL P. CABRISTANTE
 GABRIEL CHRISTIAN R. CADUHADA
 ALDEN JR. A. CALAMBRO
 RYLA MYRH M. CALDA
 ELLEN NICOLE D. CALUNSAG
 LADY SHELL S. CAMERO
 LOUIZA BELLE A. CAÑAVERAL
 VENISE MARIE E. CAÑETE
 ANTONETTE MARIE A. CAPILLA
 MEYA PAULINE A. CARLOS
 FRANCINE MARIANNE A. CASERES
 CRYSTAL R. CASSIDY
 XARLES C. CATARATA
 KYLE IVAN D. CATAYLO
 JESSA E. CATIPAY
 CHESKA YSABEL M. CHENG
 EDYLC B. CHIU
 ANTHONY MICHAEL B. CIMAFRANCA
 SOFIA LORRAINE T. CIMAFRANCA
 CARLYLE ANNE L. CLAROS
 NICHOLE C. CORNELIO
 NICOLE STEPHANIE L. CORNELIO
 CASSANDRA R. CORPUS
 CHENZY MYLES CORTES
 NICAH CRIS A. COTEJAR
 KYLA IZABELA T. CUAL
 ROBERTO LOUIS T. DE GUIA
 KIMBERLY CRIS L. DE JESUS
 ZIDANE A. DE LA TORRE
 LADY CELINE ALYSSA V. DELA CERNA
 DAYNE KAYE D. DELFIN
 AHVA MURIELE G. DEVIVAR
 KIER C. DIOCOS
 ROJ ADRIAN A. DIOGENES
 KATRINA CASSANDRA D. DIONALDO
 MATHEW GABRIEL Q. DIVINO
 ALESSANDRA ISABELLE A. DONESA
 JOEVEE MAE C. DONIO
 YSABEL ALESSANDRA D. DU
 JOIE CARLA C. DUMADAG
 JIM ARNOLD A. DUMAGUING
 NAKEISHA GABRIELLE V. DUPIO
 GENE III E. DURAN
 NIKA IZABELLE L. DURAN
DAVE ROLAND A. DY
 JANSENN JOYCE M. DY
 KRISTOFFER DAVID G. DY
 ALESSANDRO DOMINIC R. EGE
 EMMILCHE RHICEDTH  ELSBERRY
 BDELLE FLEV S. FAJARDO
 YSABELLE S. FAMORCAN
 MARC DANIEL A. FERNANDEZ
 JHYZERBELLE ALEXANDRA FERRAREN
 JEZYL CLAIRE V. FERRER
 JARON COHEN C. FINNEY
 GABRIEL V. FLORES
 GIN PAUL A. FLORES
 MATT BRYANN M. FOLGO
 JAMES M. GAGNON
 LOU BERNADETTE T. GAITERA
 ANJO THADDEU P. GIRASOL
 CHELSEY L. GONZALES
 CHEREZA L. GONZALES
 IANNA MIKEILA L. GRAPA
 CEAN GEORIZ S. GUMALO
 MERAH FRANZ D. GUTIB
 ROBBIE JASON O. GUTIB,
 JHANA AUGUSTINE S. GUTIERREZ
 MARIA KAYE A. HATHAWAY
 JOSH G. HERMOSA
 LU MIN . HII
 JAMES BASTI S. IGCALINOS
 JOSH REJ P. IGNACIO
 HANNAH ARIANNE GIE E. INGAN
 JUSPHER B. JOCSON
 ALVIN ANTOINE ANGELICUS J. JUCOM
 LEEJU . JUNG
 KEN EMMANUEL G. KADILE
 KATE VALERIE S. KATADA
 ANNIKA KRISTINE M. KHO
 ANGELICA MARI B. KIROQUERO
 JETHER ANDREI Y. LABI
 MAIKA . LANO
 MICO JOAQUIN V. LAVADIA
 JHAYLEN XANTY S. LICLICAN
 JUSTINE ROSE D. LIMGUIS
 PRIMALYNN U. LIRAZAN
 NEZZA MHEA P. LISONDRA
CHANTY DOMINIQUE F. LOPEZ
 SAMANTHA MELISHKA O. LOPEZ
 JOHANNAH KAYE O. LOS BAÑOS
 GLEIZYL A. LUMINGKIT
 ELLE MIKAELA C. MACIAS
 RAFAEL F. MAGHINAY
 HANNAH MARI P. MALINAO
 UZIEL DAWN N. MARCHAN
 MARIE  CLAIRE P. MARIANO
 LEANNE ISABEL D. MARTINEZ
 SEVERINE LUICA GERARD M. MARTINEZ
 CAITLIN G. MEEKS
 GEOFFREY DANIEL MELAÑO
 CRISCEL ANNE G. MELON
 KATRINE MARY FELICE M. MENDEZ
 JOSEPH MARI R. MENDOZA
 RALPH POLO BENEDICT C. MIRAFLOR
 MARIA JUSTINE V. MOLAS
 JENICKA LYRA M. MONARES
 KAREN MARIE G. MONTEALTO
 MICHAEL MATTHEW . MONTESA
 HOURIA  MOSQUEDA
 VINZ EDUARD A. NACAR
 LEONARD RAY D. NASATAYA
 JOHANNES ERIK KLEIN O. NASVIK
 MARC JAN ANTHONY A. NILLAS
 BENJ SPENCER M. NUIQUE
 AIDAN A. NYQVIST
 CLARK CHANDLER JUSTIN S. OAMINAL
 PATRICK P. OBATE
 EDEL MAR JULS E. OBEDENCIO
 FITZ JAHAN C. OPPUS
 GLORY GRACE Y. OPSIMA
 JOSIAH IMMANUEL B. ORBETA
 JACINTA RUTH E. O'REGAN
 MARIAN ARIELLE P. ORTEGA
 LEAH ALEXANDRA  OSEROD
 JOANNA MARIE A. OZOA
 MARK ANTHONY DAN II N. OZOA
 STEVEN PATRICK D. PAJARES
 KIEVIN JOHN T. PAJUNAR
 ANNA ANGELA M. PALACIOS
 JUDE PATRICK B. PATROCINIO
 NICOLE YVONNE A. PAULO
 JEWEL HEART L. PEDROS
 ARMAN M. PERATER
 ROMEO JULIO IV R. PETILOS
 HOWARD IVAN M. PETILUNA
 EUGENIA LAKEISHA-MAE MARIA D. PETTERSSON
 JUSTIN ROY E. PIÑERO
 KEISHA RAE T. PIÑERO
 CHARINA MAE V. PINILI
 KARYLLE GEORGETTE CHRISTIANNE S. PINILI
 RYAN JOHNSON Y. PINTOR
 TRIZA ANABELLE S. PUYOD
 RIKA A. QUIAMBAO
 ARIANNE FRANCES D. RAMIREZ
 ZIDANE  REGIS
 RAMONAH JACINTH Q. RETADA
 ANREABETH GHULLIANI G. REYES
 RAIZEL MAE G. REYES
 RHAZCELLE ZOIE B. REYES
 ROV ADONIS R. RICARTE
 MA. LAURICE AESABELLE M. RODRIGUEZ
 IVY GAIL I. ROJAS
 MARY MICHELLE R. ROSALES
 KAWTHER ASENATH M. RUBIN
 DAN URLEE D. RUBIO
 SHANINE MAY T. RUBIO
 MIRIAM A. RWEYEMAMU
 YESU CEDRIC  SALARES
 MARY ANGELY T. SALCEDO
 RIEGEE NOVA U. SANTOS
 ALMERA CLAIRE E. SAROMINES
 SHIFRA ANDREA IRESSE C. SERMAGNO
 CHENA SHIN
 EDUARDO II B. SIBALA
 ELIZABETH M. SIBALA
 LEO JAZZ R. SINDA
 GODWIN S. SINGCO
 IVANNA MEG M. SOLIS
 JUSTINE J. SUELA
 NIÑO JOSEPH A. SUMAMPONG
 VEL EUNICE Y. SUMONDONG
 ALLYSSA PAULAH Q. SUN
 KIMBERLY ROSE E. SUPIL
 ALEXIS TERESA MARIE C. TAM
 BEA MARIE ISABEL O. TAN
 JAMES XAVIER L. TAN
 MATTHEW LEANDRE M. TAN
 DENISE M. TANGUILIG
 MARIA ALEXANDRA C. TENORIO
 RON ENRIQUE SEBASTIAN T. TENORIO
 AIA JHANINE C. TEVES
 ASHLEY SIMONE R. TEVES
 MATTHEW IVAN ARISTON III R. TEVES
 SHADRACH T. TEVES
 ANGELLE MARC C. TILOS
 JOSEPH ANDREW U. TIMBAS
 NATHANIEL R. TINGZON
 MATT SIMON Y. TINIO
 ZJ KADMIEL R.  TOBONGBANUA
 RHAILA DES N. TOMAKIN
 VHON BRENT S. TORO
 ANGELICA  TORREON
CARLEN FAITH C. TORRES
 LANIE LYN G. TORRES
 ZOE M. TORRES
 ISABEL NICOLE C. TUGADE
 MA. KATRINA ANDREA S. TUPAS
 KLAIRE LOUISSE V. TURTAL
 ANDREW IAN A. UY
 FRANSEL NEYE K. UY
 JANELLE LOUISE N. VALENTE
 JOSHUA PAUL T. VERDILLO
 FRANCZESKA ZOSELLE T. VILAN
 GWYNETH S. VILLAFLORES
 VON KENNETH G. VILLAMIL
 HANS JIREH U. VILLANA
 CARMYL SOFIA E. VILLANUEVA
 ATHENA ASHLEY  VILLARDE
 JEAN ANGELU MIKHAELA L. VILLAROSA
 ALEXEI RAPHAEL U. VILLEGAS
 JEILLA PAULINE A. VILLEGAS
 ALYXA ROSE Y. VINLUAN
 WYANNA FIEL F. WENCESLAO
 ALYSSA M. WONG
 VLARIKA B. YAP
 JED C. YARED
 DOMINIQUE D. YEE
 DORENE FELIZCETI D. YEE
 MILVEROSE V. YRAD
List of Honors and Awardees
ACADEMIC EXCELLENCE AWARD

WITH HIGHEST HONORS
Marco Antonio C. Amistoso
Alessandra Isabelle L. Donesa
Cliantha Marielle S. Asonan
Ianna Mikeila L. Grapa
Meya Pauline A. Carlos
Ryan Johnson Y. Pintor
Dayne Kaye D. Delfin
Ashley Simone R. Teves
WITH HIGH HONORS
Ivan Anthony A. Adaro
Lady Lynn W. Aplicano
Evriel Prince F. Apura
Angelica Joy M. Arias
Danielle Marie A. Banogon
Jyllanah Francine A. Bao
Jhim Carlson A. Baylosis
Samantha J. Bernadas
Ellen Nicole D. Calunsag
Louiza Belle A. Cañaveral
Francine Marianne A. Caseres
Nicole Stephanie L. Cornelio
Kyla Izabela T. Cual
Nika Izabelle L. Duran
Kristoffer David G. Dy
Chereza L. Gonzales
Jhana Augustine S. Gutierrez
Alvin Antoine Angelicus J. Jucom
Leeju Jung
Nezza Mhea P. Lisondra
Hannah Mari P. Malinao
Ivy Gail I. Rojas
Eduardo II B. Sibala
Vel Eunice Y. Sumondong
Alexis Teresa Marie C. Tam
James Xavier L. Tan
Maria Alexandra C. Tenorio
Fransel Neye K. Uy
Joshua Paul T. Verdillo
Gwyneth S. Villaflores
Jed C. Yared
Dorene Felizceti D. Yee
Milverose V. Yrad
WITH HONORS
Godwin T. Alcancia
John Francis A. Andres
Keziah E. Baldoza
Carlyle Anne L. Claros
Jansenn Joyce M. Dy
Ysabelle S. Famorcan
Uziel Dawn N. Marchan
Joanna Marie A. Ozoa
Bea Marie Isabel O. Tan
Denise M. Tanguilig
OTHER AWARDS
Gopichand MathExcellence Award
Ashley Simone R. Teves
Gopichand Science Excellence Award
Alexis Teresa Marie C. Tam
Outstanding Performance in Mathematics
Ashley Simone R. Teves
Outstanding Performance in English
Meya Pauline A. Carlos
Proficiency in English
Meya Pauline A. Carlos
Proficiency in Mathematics
Ashley Simone R. Teves
Proficiency in Science
Alexis Teresa Marie C. Tam
Proficiency in Filipino
Jyllanah Francine A. Bao
Nezza Mhea P. Lisondra
Senior Scouts of the Year

Einson Fitzgerald G. Acas
Jhim Carlson A. Baylosis
Dan Claude A. Bonfacio
Anthony Michael B. Cimafranca
Kristoffer David G. Dy
Joseph Mari R. Mendoza
Clark Chandler Justin S. Oaminal
Mark Anthony Dan N. Ozoa II
Andrew Ian A. Uy
Girl Scouts of the Year
Jhana Augustine S. Gutierrez
Maria Kaye A. Hathaway
Elle Mikaela C. Macias
Boy Athlete of the Year
Klein Fitzgerald K. Caballo
Girl Athlete of the Year

Carlyle Anne L. Claros
SU AYER Service Award

Dorene Felizceti D. Yee
Batang Expressions Medal for Best in Science

Alexis Teresa Marie C. Tam
Batang Expressions Medal for Best in Math

Ashley Simone R. Teves
Batang Expressions Medals for Best in Filipino

Jyllanah Francine A. Bao
Nezza Mhea P. Lisondra