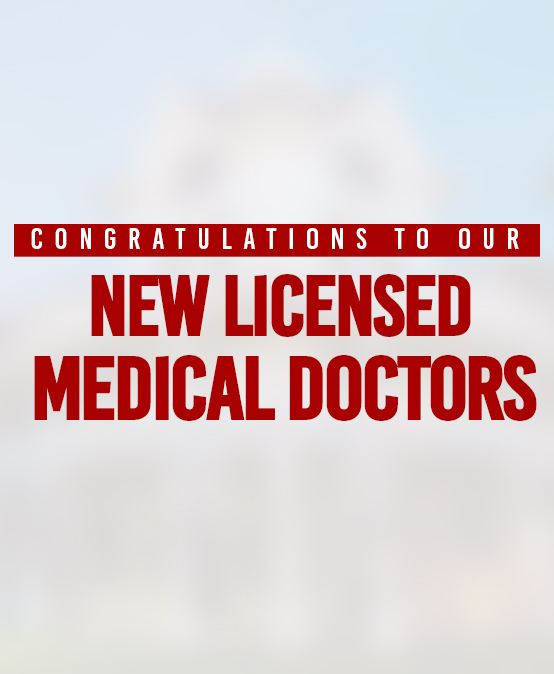 SU Medical School produces 54 new doctors
Silliman University (SU) produced 54 licensed physicians, garnering a 91.53 percent passing rate in the November 2020 Physician Licensure Examination of the Professional Regulation Commission.
Congratulations to our new medical doctors:
ABAQUITA, MARIEL B.
ADAO, JODIE E.
AKUT, NOELAH MARIE L.
ALCALA, STANLEY B.
 ALINGCOMOT, KIM LAUREL T.
ASENTISTA, ERLO JOHN H.
BARING, MALCOLM GWYNN F.
BATERNA, JOHANNA FRANCES G.
BAUTISTA, CHARLAINE M.
BAUTISTA, CHARMAINE M.
BELGA, KENNETH JAMES C.
BERNALDEZ, DANIELLE MYR B.
CARO, VINCENT SAMUEL B.
CATACUTAN, CARMEL MAE T.
CATUBIG, DONNA CLAIRE M.
CEBRERO, PATRIZZIA MARIE R.
CHIPOCO, MEIL M.
CRUZADO, KAREN GRACE A.
DEL ROSARIO, CZARIE ANNE V.
DIONES, MITCHELLE NOELLE Q.
DITONA, RAY CHRISTIAN P.
DOLLETON, ELISSE ANNE C.
DY TEVES, PATRICK M.
ENGUITO, FRETZIE O.
ESPAŇOLA, DANIEL TRISTAN B.
ESPINO, ROMINA JEANINE G.
ESTOLLOSO, CELINE C.
FANTONE, MITHRICA MAE D.
GESTOPA, ROAN-MAE C.
GOMEZ, RYAN VICTOR R.
GONZALEZ, MILA ROSE T.
IBALE, CHARLES CALVIN Z.
LAGUERDER, ERCIE B.
LAZALITA, SYLVIE L.
LOMONGO, STEVANNEY GRACE T.
VERANO-MALLORCA, GIFT JOY M.
MCQUEEN, TAMEERA ANGELETTE M.
MUGAS, APRIL ANNE JOYCE F.
NAMOCATCAT, RONA MARIE S.
OLEGARIO, PIA PATRICIA L.
PACARRO, KEITH ROLAND C.
PARREŇO, AUDREY MAE S.
PATULA, RIMEL VON B.
RUIZ, JOY GRACE A.
RUSSEL, HANNA LIZA C.
SAGUBAN, KENNETH ELWYN P.
SILOT, JON UAN VAN G.
SIMOGAN, MAE ABIGAIL Z.
SISONA, GIAN PAOLO P.
TAGO, EMERALD HOLLY B.
TAM, JAN JERSON L.
TEVES, ABIGAIL F.
YURONG, CAESEY MAE A.
ZAMORA, KENNY JAY F.
SU alumnus Adrian Emmanuel D. Teves, who graduated magna cum laude in 2014 after taking up BS Physical Therapy, ranked second in the list of top 10 examinees for the said exam. He completed his Doctor of Medicine degree at the University of Santo Tomas in 2019, summa cum laude. In 2014, he also ranked second in the top 10 examinees list of the Physical Therapist Licensure Examination.