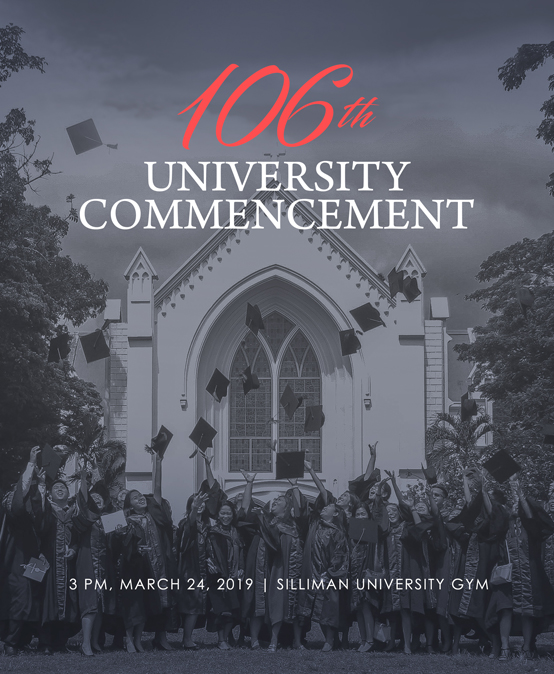 SU to hold 106th commencement rites for 1,300 graduating students
Silliman University will hold its 106th commencement exercises on Sunday, March 24 at 3 pm at the SU gymnasium. This year's graduating class consists of 1,300 students who have completed various programs at the university's colleges, schools, and institutes. Leading the batch are 115 students who will graduate with honors: 25 of them graduating magna cum laude and another 90 cum laude.
This year's university commencement speaker is Hon. Amina Rasul-Bernardo, president of the Philippine Center for Islam and Democracy (PCID), member of the board of the Magbassa Kita Foundation, Inc. (MKFI), and member of the board of regents of Mindanao State University (MSU), among others. A meaningful message to the young graduates is anticipated from the former presidential adviser on Youth Affairs and first chair of the National Youth Commission whose advocacies include peace and ending the conflict in Mindanao, role of Filipino women, and democracy.
The graduation rites on Sunday will be preceded by a baccalaureate service at the SU Church at 8 am with guest speaker Dr. Epifania D. Anfone, member of the SU board of trustees and educator with socio-civic involvements in protecting the rights of teachers, cooperative financial and entrepreneurial education, and micro finance.
A yearly event that has become a century-old tradition, the university commencement is attended by the graduating students' families and friends, together with Silliman faculty, staff, administrators, and guests.
Click the following links to view corresponding Calendar of Activities: