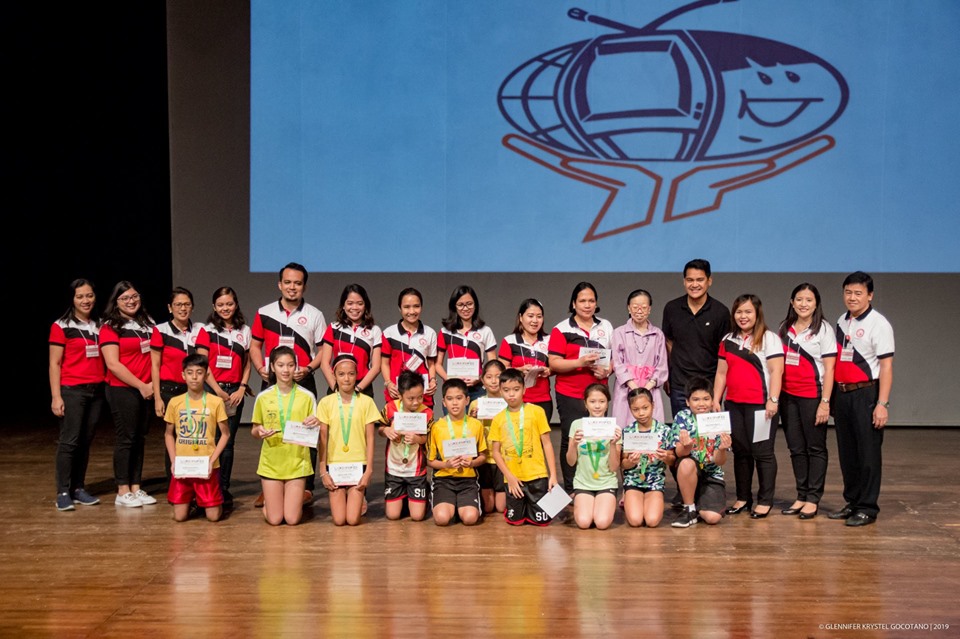 SUES-Anak TV Forum bats for  monitoring of kids' TV Exposure
by Royanni Miel M. Hontucan
Parents should have increased awareness of the influence of television programs on children. TV programs play a vital role in developing a child's mind that could either enrich their knowledge or confuse them.
Silliman University Elementary School (SUES) and Anak TV Inc. jointly held "Aksyon: Bakit Dapat Mag-Patrol 24 Oras: An Anak TV Forum on Television Literacy and Child Sensitive Viewing" at the Silliman University (SU) Claire McGill Luce Auditorium last July 29. The daylong forum presented and discussed the significance of monitoring TV programs viewed by children to a gathering of parents of SUES children, SUES faculty members, Dumaguete private and public school teachers and administrators, members of various religious organizations, media, as well as representatives of non-government and socio-civic organizations.
Anak TV is an advocacy organization that promotes media literacy, particularly television literacy, and pushes the agenda for child-sensitive, family-friendly television in the Philippines. At the SUES-Anak TV forum, veteran journalist and Anak TV Seal Awardee Rodrigo "Jiggy" D. Manicad, Jr. discussed media ethics and media literacy through a parent's point of view.
Manicad was the former news anchor and host for 24 Oras Weekend, Reporter's Notebook, and GMA News TV's Quick Response Team (QRT). He obtained his bachelor's degree in Communication Arts at the University of the Philippines-Los Baños. The awards he has received include The Outstanding Young Men (TOYM) award for broadcast journalism in 2012 and Metrobank Foundation's Journalist of the Year in 2014.
According to Jane Bokingkito, SUES Anak TV Organizing Committee overall chair, parents have the power to choose which TV personalities and TV programs are good for their children. "Every child is important. They have the right to be provided with a safe and healthy learning environment," she said.
Monitoring TV exposure is a parent's responsibility
Manicad emphasized the direct and crucial role of parents in determining the extent of their children's media exposure. He said that asserting authority is not loving the children less but rather guiding them better.
He said his three daughters, namely Sam, Sabina, and Max, inspire him to take responsibility in forming them as good mothers in the future by guiding them on the right path away from drugs, crimes, and other unproductive things.
"You have to be the first to decide. Do not be bullied by their demands. You have to control what they're watching, what they're playing, and what they're downloading. Dictate what they should watch and what they should not," he said.
Manicad states that leaving the children alone would confuse their mind with the sensitive issues that they are exposed to. He said that the ideal shows for children should be "educational, one that stimulates the mind."
He admitted that some Philippine TV programs are "unacceptable" because of the confusing adult themes such as "forbidden love," a euphemism to cheating in relationships or between married couples; violence, and sensitive crimes such as rape.
"At an early age, they should have the capacity to decipher messages. This is possible through our guidance. As parents, we should at least answer or explain every child's question regarding the topics of the shows they are watching. Give time in answering the child's questions in the most mature way, so that they can gain better consciousness of their surroundings," he added.
The truth about TV programs
Manicad admitted that TV programs produce and continuously air programs as long as their TV ratings are high. Just because the ratings are high, it doesn't mean that it adheres to community guidelines.
"Most of these programs aren't aware of who are the people viewing them, that children are also watching. What we can do as parents is to formulate our feedback. We should directly comment on their media Facebook pages that what they are doing is offensive and isn't safe for viewing. If they haven't received any complaints or feedback on what they just aired then they would just continue doing it," he encouraged the SUES parents.
Explaining the context of the TV programs is very important in TV program literacy. "Most TV shows are fictional. As parents, we should explain that some stories or shows aren't real because role-playing could be confusing for children to understand. Do not expose your children to violent shows, but encourage them to watch news and documentaries with strict guidance especially during their formative years," explained.
He also recognized the power of social media in "magnifying stories. "Social media [are] an accessible tool, and most children are already gathering their news and information from social media. As parents, we should also be attentive to what our children are reading online and we, too, should be literate when it comes to sharing posts. Social media shouldn't be abused. We should avoid magnifying the triviality of the issue if it doesn't enrich knowledge," he said.
Consistent parental supervision
"TV should not be merely treated as an appliance because its content can influence people's minds," Manicad emphasized.
Manicad recognized the negative effects of being exposed to dangerous material on television. "Some crimes committed by children were imitated from frequent viewing of fictional shows. TV could influence consciousness that would influence behavior as well. It is very tempting, as a news reporter, to take gory footage from crime scenes, but I still uphold ethics and sensitivities in considering my viewers," he said.
The ideal dynamics of healthy and safe TV viewing is "when children step back and ask parents who could process the information for them. The choice is yours, to be an educated or a passive viewer," he advised.
Despite being a TV personality, Manicad stands firm that children's lives and learning shouldn't be dependent on TV alone. In closing, he said, "Suggest alternatives for your children such as reading, playing outdoors, or taking musical lessons that could harness their skills."
Apart from the talk of Mr. Manicad, the other highlight was the nomination of TV programs and personalities for the Anak TV Seal award by the audience, which was held at the  the Robert B. & Metta J. Silliman Library as well as at the Audio Visual Theater. At the same time a "Larolympics" was held at the SU Gymnasium, where selected SUES athletes played Pinoy games such as Tumbang Preso, Piko, and Patintero.