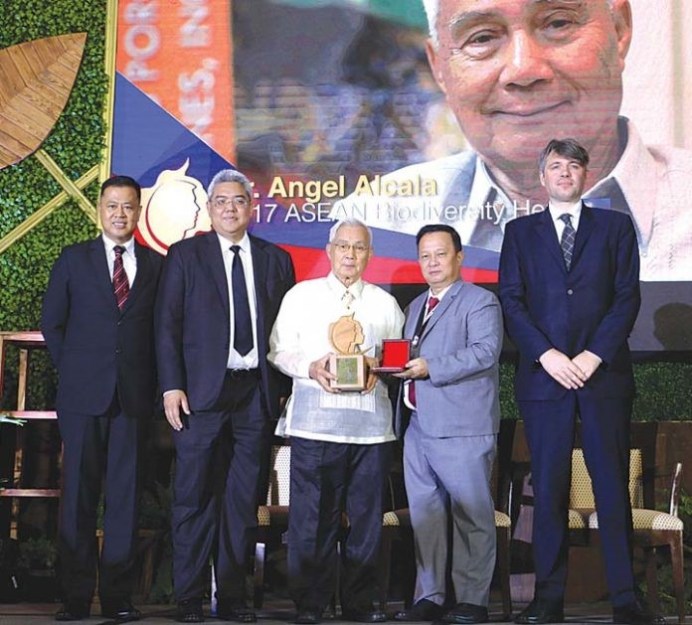 Alumni Updates August 7 – 13, 2017
---
Outstanding Sillimanian Awardee and Philippine National Scientist Dr. Angel C. Alcala (center), receives the Asean Biodiversity Heroes award, the first such recognition given by the Asean Centre of Biodiversity (ACB) to 10 Asean winners at ceremonies held at the New World Manila Bay hotel in Manila on August 7, 2017.
With Dr. Alcala are Philippine Environment Undersecretary Jonas Leones (from left); Vongthep Arthakaivalvatee, deputy secretary-general of Asean Socio-Cultural Community; ACB Executive Director Roberto Oliva; and Michael Bucki, Climate Change and Environment counsellor for Asean of the European Union.
Dr. Alcala's initiatives have become a model of coastal resource development and conservation adopted by many countries. It was under his leadership that the Philippines' Department of Environment and Natural Resources created the Coastal Environmental Program. Dr. Alcala advocated the Protected Area concept for the conservation of the marine ecosystem.
The Biodiversity Heroes Awards recognizes outstanding individuals from the ASEAN Member States who have contributed significantly to biodiversity conservation and advocacy efforts in their respective countries and the region.
The others awarded together with Alcala, a former environment secretary, are Eyad Samhan of Brunei Darussalam, Sophea Chhin of Cambodia, Alex Waisimon of Indonesia, Nitsavanh Louangkhot Pravongviengkam of Lao PDR, Prof. Zakri Abdul Hamid of Malaysia, Dr. Maung Maung Kyi of Myanmar, Prof. Leo Tan Wee Hin of Singapore, Dr. Nonn Panitvong of Thailand and Dr. Dang Huy Huynh of Vietnam.
A former Silliman University President, Dr. Alcala continues to serve the University as member of the Board of Trustees and Chairs the Board of Advisers of the Silliman University-Angelo King Center for Research and Environmental Management. Dr. Alcala is an active member of the Silliman Park-Bantayan Bible Study Cluster, the longest running Bible study group initiated by Silliman faculty in 1957 and continues to meet every Saturday.
The Silliman Alumni Dumaguete Chapter's August get-together held at the Mamicpic's residence last August 6, 2017 had guest speaker Mrs. Gladys R. Malayang share her reflections on this year's 116th Silliman University Founders Day theme, Celebrating God's Faithfulness. It was also an opportunity for Silliman President Dr. Ben S. Malayang III to give updates from the University. The afternoon gathering was also attended by Jose Mari Jonathan T. Antonio, vice president of the Silliman Association of New England (SANE), Boston-based Myrish Cadapan-Antonio, Yasmin M. Alih, president of the Davao alumni chapter, and Mrs. Gaudelia Zamora-Wilson, a past president of the Florida alumni chapter.