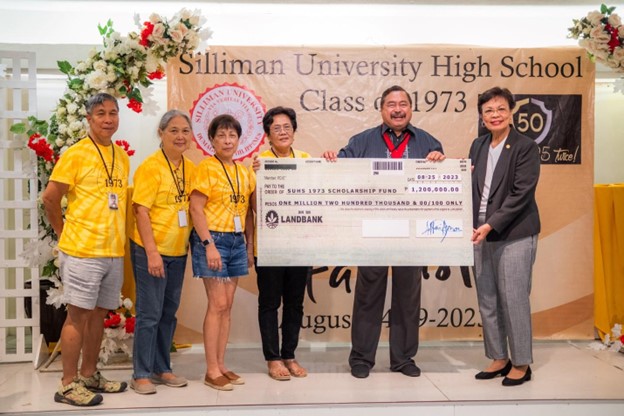 Alumni Update September 4 – 10, 2023
The Silliman Spirit of Generosity: SU alumni continue to give back
SUHS 1973 Turns Over 1.2 Million Pesos for Junior High School Scholarships
To mark its 50th year, the Silliman University High School (SUHS) Class of 1973 turned over a check of P1.2 million as an endowment for the SUHS 1973 Junior High School Scholarship Fund. A symbolic check was turned over to Dr. Betty Cernol McCann, SU president, during a thanksgiving and recognition lunch on August 25, 2023.
The scholarship endowment, which is administered by SU, was pledged in 2018 when the class celebrated its 45th reunion. The initial pledge of P500,000 was quickly exceeded and so SUHS 1973 increased their pledge to a total of P1 million.
Income from the scholarship endowment has already benefitted three junior high school students. More are expected to benefit from this scholarship as more students know about this financial resource. The SUHS 1973 fund is believed to be the largest endowment for a junior high school scholarship.
SUHS 1973 has two other funds: Faith Fund and Hinabang Fund, which are focused on helping Philippine-based members of the class. The Faith Fund, created in 2005, has quietly given nearly P2 million to help SUHS 1973 members and their families. The Hinabang Fund, created during their 50th reunion, is currently valued at P150,000.
The scholarship turnover event, Pasidungog ug Pasalamat, was one of the major events hosted by SUHS 1973 to mark their golden reunion last August 25-29, 2023. More than 80 members of the class attended the reunion. Many brought their families.
Former Working Student Gives a Total of $120,000 US Dollars as Grants-In-Aid to Working Students
SU received an additional USD50,000 last August 14, 2023 from Mrs. Elizabeth Sy-Michael for the Robert James Michael and Elizabeth Sy-Michael Grant for working students. Sy-Michael, a Texas-based Sillimanian, has been very generous specially to working students.
Sy-Michael, a working student in her college days at Silliman, established last year with SU the Robert James Michael and Elizabeth Sy-Michael Grant for working students. An initial donation was received last August 22, 2022 in the amount of USD50,000 as Grants-In-Aid and another USD20,000 was received by the University last May 10, 2023. To date, Sy-Michael has donated a total of USD120,000.
Sy-Michael finished High School at Silliman in 1967 and her Bachelor of Business Administration in 1971. She hopes to inspire Sillimanians to also give back and be grateful to their alma mater.
SUCN Class of 1980 donates a complete life/form auscultation training station
The SU College of Nursing Class of 1980, led by Grace Pal-Carpio, recently donated a Complete Life/Form Auscultation Training Station to the College of Nursing last August 28, 2023. The turnover ceremony was held at the Willian Barry Thompson Hall with SU College of Nursing Dean, Dr. Theresa A. Guino-o, receiving the donation.
The donation was a consolidated effort of SUCN Class of 1980 to give back to Silliman. Grace Pal-Carpio expressed that their donation "will serve as a teaching tool, where nursing students will be able to hear the different breath and lung sounds." She also added: "We were the last five-year class that graduated in 1980, together with the first four-year class. That's why we would like to specify that we belong to SUCN 1980, under the five-year curriculum."