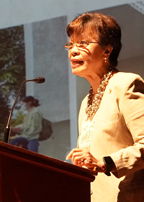 "Moving Forward to the New Landscape of Education"
By:
Dr. Betty Cernol McCann
|
President, Silliman University
---
Have you ever wondered that the way we describe changes in the landscape of education includes descriptions such as "rapidly changing," "sea-change," "headwinds"? All these denote that the situation is upon us, encroaching on us, suggesting speedy appropriate response, or else we will be gobbled up, immobilized and we will face catastrophic consequences. They remind us that something must be done.
As we navigated the currents of a health pandemic and as we face the headwinds of a rapidly changing educational landscape, these developments made me review our ways of thinking and doing in our dearly beloved Silliman University. Have we put to use our digital resources and advanced technologies in our teaching, research, and community engagement? Has our educational perspective changed from a mere local view to a global perspective? Are our students equipped with the knowledge, skills, and attitudes needed to thrive in a rapidly changing world and contribute positively to society? Does our values set include adaptability, critical thinking, and lifelong learning as essentials in our whole person education (WPE)?
At the university level, there are ongoing initiatives to make our institution responsive, nimble, and agile in our delivery of services related to teaching and learning in the current times. Some of these are:
*Retooling/upskilling for 21st century education including AI literacy
*Use of digital resources
*Review of our table of organization and its reorganization
*Vision, Mission, Goals, Values for SU 2023-2028
*Strategic Planning for 2023- 2028 with the Board of Trustees and Administration
*Operations Planning with Key Performance Indicators to be defined by units
*Providing Senior High a home
*Modernization of SU Library
*Sustained focus on the environment – e.g., environmental policies and guidelines for the entire university operations; wildlife sanctuary; NetZero campus; declaration of state of climate emergency; and several environmental projects
*Integration of IRE thru service-learning
Let me then bring your attention to what may appear to be two opposing poles in our current educational context: one is on a community-grounded integrative approach to learning; and the other on a borderless, open sourcing approach to learning.
Integrative Approach to Teaching
An academic institution worthy of its name subsists on the quantity and quality of its RICe (research, instruction, and community engagement) or the pillars of higher educational institutions. For far too long, these areas have been separate entities of endeavors and have not been fully harnessed and integrated in our university functions. We must then adopt a paradigm shift by adopting a 3-in-one strategy in our teaching and learning. Let us say, a Political Science class touches on the principle of separation of power and the system of check and balance. In classroom teaching, the class may discuss about the duties and responsibilities of the executive department vs the legislative department vs the judicial system. Knowledge about the three branches of government and their corresponding duties and responsibilities will allow for an appreciation of the rationale behind the principle of checks and balances. At the level of the city council, for instance, the council promulgates laws and the mayor sees to the execution of ordinances – and not the mayor setting the laws and the council to implement them. Or in cases of violations, the city courts conduct the trials and not for the executive officers to take the law upon their hands and execute punishments. If that's the discussion in the classroom, how about conducting a qualitative research in a particular barangay on the community outcomes when there is observance of the principles that contribute to peace, order, and justice? Or how violations of the principles affect community outcomes? Given the results of the qualitative research, what forms of community engagement or service can be initiated? By following this learning process, the class is able to carry out the teaching component, generate knowledge thru Focus Group Discussion, and have a need-based identification of an outreach activity.
Two calls then need to be made:
Engage Students in Research: Encourage research engagement at the undergraduate level. This bridges the gap between teaching and research, allowing students to actively participate in the creation of knowledge.
Highlight Service-Learning Programs: Incorporate service into the curriculum through service-learning programs. These initiatives allow students to apply classroom knowledge to real-world problems, emphasizing the practical application of what they learn. The research component can also be at the intersection of teaching and service in the form of baseline studies, documentation of community engagement as to its planning, implementation and evaluation, and publication of research and teaching outcomes.
Adoption of Generative AI
On the other hand, we need to consider the global, borderless sources of learning for our university education. And most recently I refer to the advent of AI technology. There is growing use of generative artificial intelligence. An education correspondent of the Guardian, Sally Weale, reported in July 2023 that while once there was talk of banning software like ChatGPT within education to prevent cheating, now the guidelines suggest that students be taught to use AI appropriately in their studies, while also making them aware of the risks of plagiarism, bias, and inaccuracy in generative AI. Further, it pointed out that faculty and staff will also have to be trained, so they are equipped to help students, many of whom are already using ChatGPT in their assignments. New ways of assessing students need to emerge to reduce the risk of cheating. Policies need to be drawn in support of making informed decisions and to empower them to use these tools appropriately and acknowledge their use where necessary. Admittedly, this is a challenging period of change in higher education as the world is increasingly transformed by AI.
Prof. Andrew Brass, head of the School of Health Sciences at the University of Manchester, said: "We know that students are already utilising this technology, so the question for us as educators is how do you best prepare them for this, and what are the skills they need to have to know how to engage with generative AI sensibly? From our perspective, it's clear that this can't be imposed from the top down, but by working really closely with our students to co-create the guidance we provide in this regard.
There is therefore a call for a university framework on the use of AI technology that reflects such key principles:
Embark on a program that will help both students and teaching staff to become AI literate
Equip faculty and staff to help students to use generative AI tools appropriately
Adapt teaching and assessment to incorporate the "ethical" use of AI and ensure equal access to it
Ensure academic integrity is upheld
Share best practice as the technology evolves.
In the face of an evolving educational landscape, with its concomitant call for a paradigm shift in order to navigate the transitions, it is imperative to:
have a solid foundation in and an integrative approach to WPE in our teaching and nonteaching programs, particularly in bringing together the functions of teaching, research, and service at the level of the classroom.
be in sync with the technologies and advancements in this era of transformative education, such as the use of generative AI tools, to enhance student learning and help students maximize their own educational gain
At this stage of our educational journey, detours may still happen. But we know that our destination is a moving one. "Nothing is forever," especially as we confront the ever changing landscape of higher education.
So, the journey continues on.