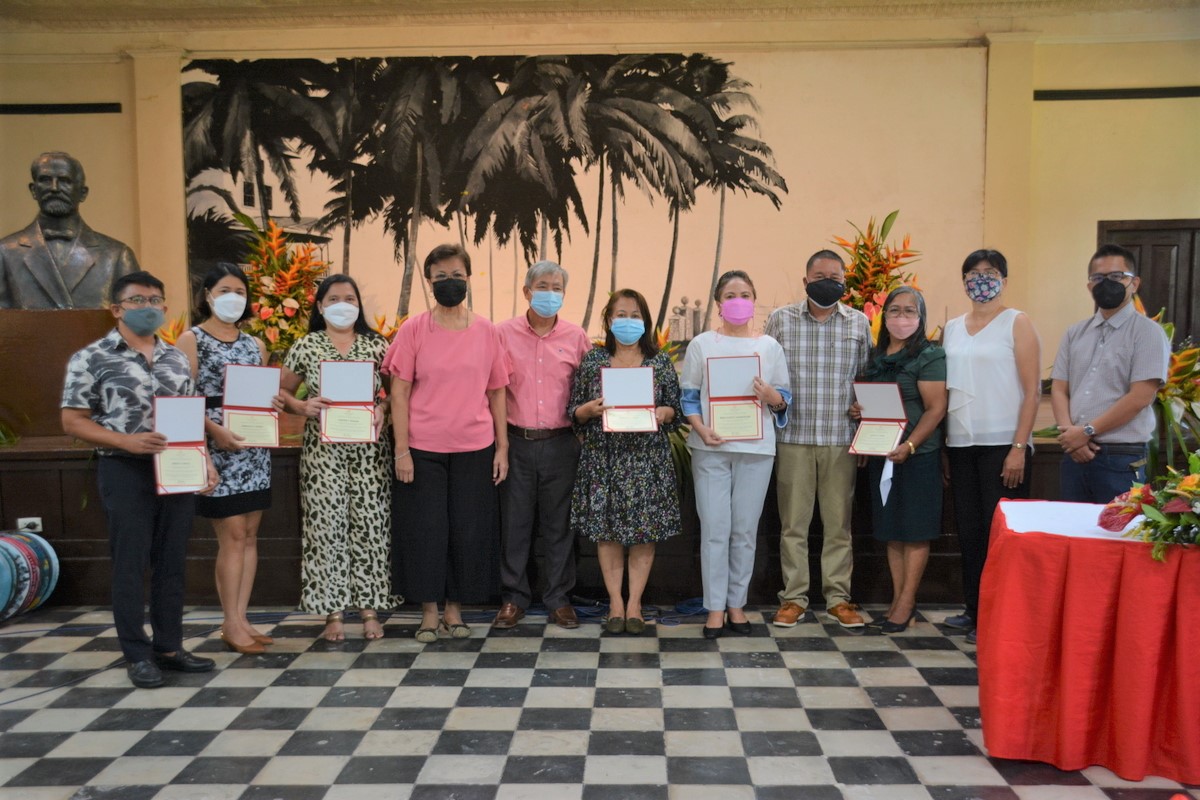 SU awards 38 faculty, staff for service
Silliman University (SU) awarded 38 faculty and staff for rendering 20 years of loyal service and contributions to advance the vision, mission, and goals of SU, during the Faculty and Staff Recognition Day 2022, May 4 at the SU Hall.
The event recognized awardees from school years 2019-2020, 2020-2021, and 2021-2022.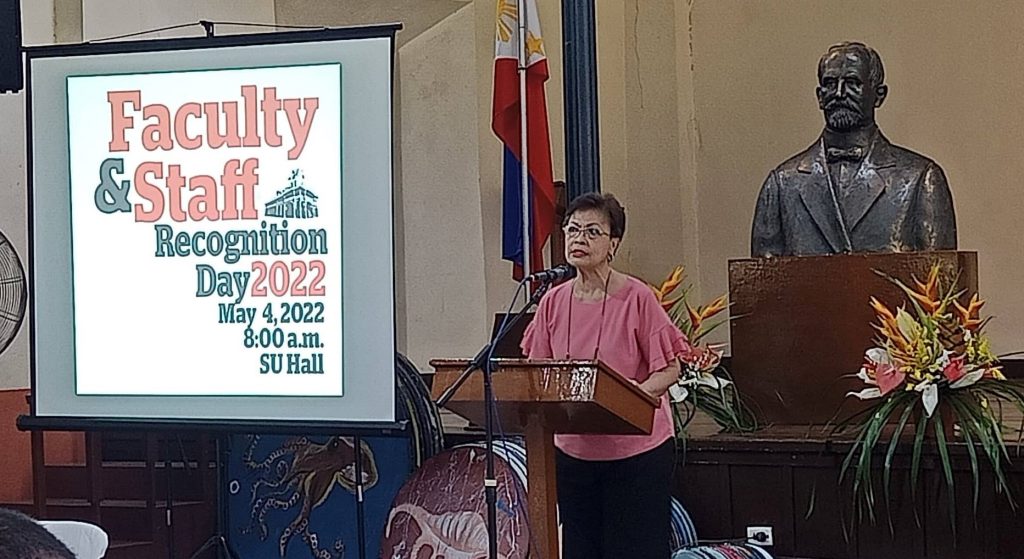 "In good times, such as reaping honors for good performance in licensure exams such as the recent Bar exams of the College of Law, or in bad times, such as the impact of [COVID] on those who got sick, or those who suffered due to the supertyphoon Odette, we all find ourselves continuing to render service to our dear institution because 'life must go on.' For our individual lives to continue and be sustained, we must ensure that our university continues to exist and be viable because its life and our lives are intertwined," said SU President Betty Cernol McCann in her message to the awardees.
In his message as a faculty awardee, Dionesio V. Piñero II emphasized the importance of "relentless discipline" in the teaching profession.
"The results that motivated many of us on teaching…comes from the industrious pursuit of excellence, which is day in and day out, and of course our big heart to serve our students, the community, and the University as well. Discipline and passion isn't about everything, but it is definitely a foundational pillar of every great teacher," he said.
Maria Lani E. Barrera, who gave a message as a staff awardee, encouraged staff members to continue doing their best in the workplace.
"To my fellow awardees, may we continue to shine our light for God's glory wherever we are, what status we belong to, what position we have, may it be a menial task or a huge task we have, let us bloom and grow where we are planted," she said.
Dr. Edna Gladys T. Calingacion, dean of students and Layague/Johnson Professional Excellence awardee, acknowledged in her message the passion, dedication and care of the Guidance and Testing Division to provide "serious and intentional" guidance services for students in the current global health crisis.
The Layague/Johnson Professional Excellence Award is a two-fold grant enrichment and merit in recognition of long-time dedication and loyal service. It aims to boost the morale of the employees who have been dedicated to their responsibility as guidance counselors, librarians, and personnel at the Registrar's Office.
The Award was established in the school year 2002-2003 to honor the memories of Carolina Layague, who served as a Librarian, and Aquilino Layague, who served as a History Professor at SU. Qualified candidates for the enrichment award are to be given to guidance counselors, librarians, and senior personnel at the Registrar's Office based on merit and in recognition of long-time dedication and loyal service as the criteria.
The awardees who were recognized during the event were:
Faculty Service Awardees
SY 2019-2020
Gay A. Balanay
Brenda R. Boladola
Maria Amelia P. Calumpang
McDiery A. Concepcion
Rina F. Hill
Kemmons S. Kilat
Dionesio V. Piñero II
Stephen T. Ragpa
Trecita S. Reambonanza
Michele Joan D. Valbuena
Staff Service Awardees
SY 2019-2020
Catherine C. Amistoso
Jore G. Amistoso
Belendro J. Flores
Jose Marie G. Panes
Restituto D. Perez
Jonathan C. Villo
Ludivico G. Villo
Faculty Service Awardees
SY 2020-2021
Jenny L. Chiu
Jose Marlon E. Cornelio
Arnel Z. Faller
Jean Theresa O. Go
Jonathan Mark N. Te
Marife K. Villareal
Staff Service Awardees
SY 2020-2021
Ramonito C. Amada
Maria Lani E. Barrera
Faculty Service Awardees
SY 2021-2022
Ian Fermin R. Casocot
Jeaneth H. Faller
Lope B. Robin
Belben A. Sumagaysay
Staff Service Awardees
SY 2021-2022
Marilou G. Liman
Aurelio S. Lopez
Blanchie M. Utzurrum
Layague/Johnson Professional Excellence Awardees
Edna Gladys T. Calingacion
Jaruvic C. Rafols
Rosalina G. Dinoy
Lolita N. Paeste
Annaliza O. Duran
Josefina P. Rusiana