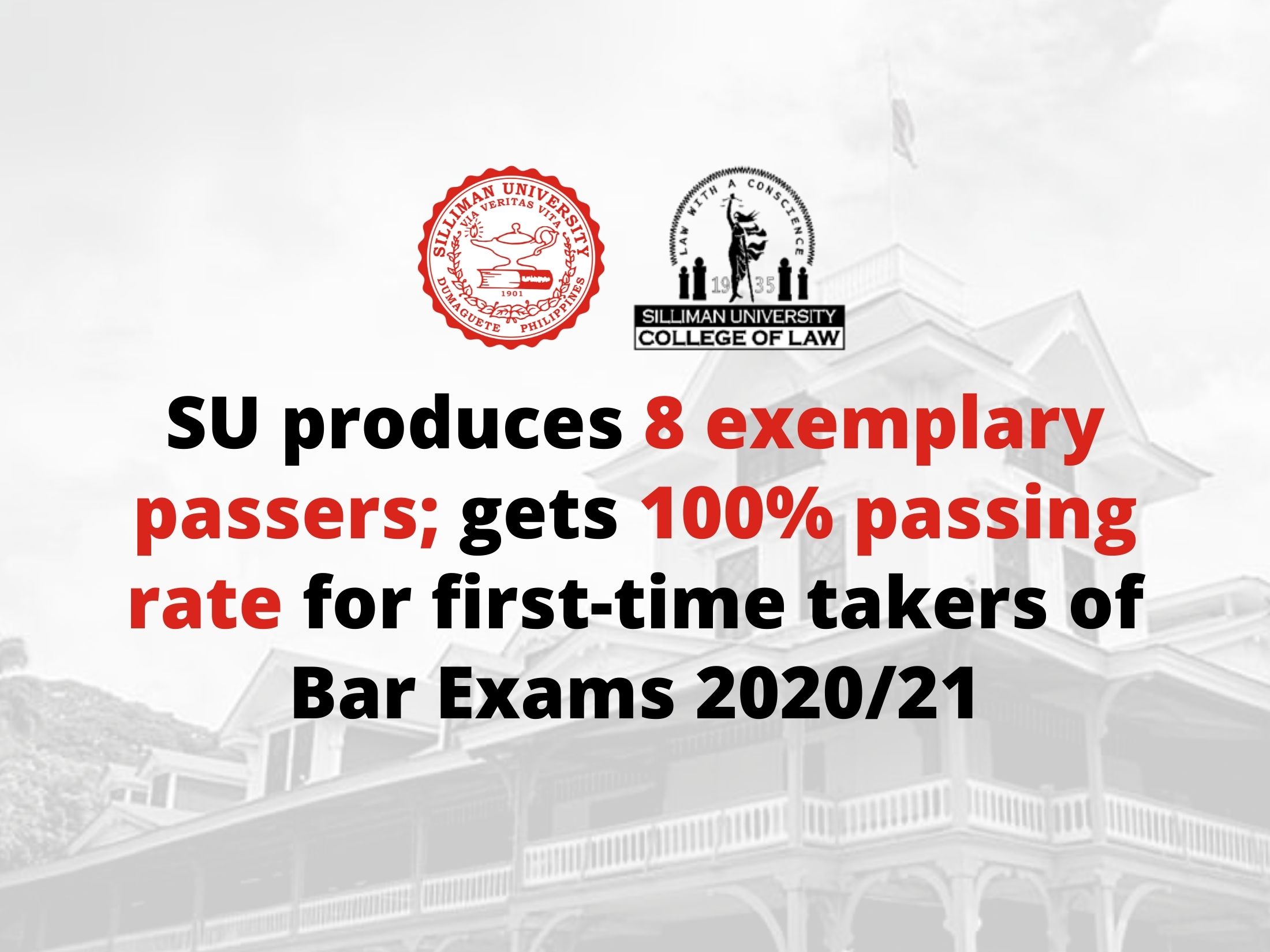 SU produces 8 exemplary passers; gets 100% passing rate for first-time takers of Bar Exams 2020/21
The Silliman University (SU) College of Law produced 39 new lawyers, including eight exemplary bar passers, ranking No. 1 in the 2020/21 Bar Examinations under the 11 to 50 Bar Candidates category.
At the same time, the College of Law obtained a 100% passing rate for first-time takers.
In an announcement made this morning by the Office of the Bar Chairperson headed by Supreme Court Associate Justice Marvic Mario Victor F. Leonen, SU ranked No. 1 in the category of 11 to 50 bar candidates with a total of eight exemplary passers.
It was also announced that SU obtained a 100% passing rate for first-time takers under the same category. SU had a total of 29 first-time takers.
A total of 39 SU College of Law graduates passed the bar exams out of 44 candidates.
For the 2020-2021 bar examinations, the Supreme Court departed from tradition by not announcing the top 10 passers. Instead, an examinee who obtained an 85% or higher weighted score was recognized for exemplary performance.
The SU administration headed by President Betty Cernol McCann congratulates its graduates who successfully hurdled the 2020/2021 Bar Examinations that were held last February 4 and 6, 2022.
Below is the partial list of successful Silliman bar examinees:
LIST OF SUCCESSFUL BAR EXAMINEES
2020/21 BAR EXAMINATIONS
1. Aguilar, Dyann Isabel M.
2. Arañez, Amiel Andrew A.
3. Azuelo, Josiebeth B.
4. Babaylan, Albert Jerome F.
5. Baseleres, Diorson M.
6. Borromeo, Bonna Lisa O.
7. Bulgado, Dybie L.
8. Capundag, Jayson M.
9. Ceniza, Thea Anne Marie M.
10. Cepeda, Elaine Gerald C.
11. Corro, James Shemron C.
12. Dela Cruz, Mikko Jan E.
13. Flores, Kimberly Mil T. — Exemplary passer
14. Gaitera, Hannah Jhania M.
15. Gallardo, Tiffany Justine D.
16. Gara, Josef James T. — Exemplary passer
17. Garrucha, Mary Georgel L.
18. Herrero, Joseph Eliezer D.
19. Jaro, Luigi Jess O. — Exemplary passer
20. Javier, Christal Faith F.
21. Laraño, Jose Louigi G.
22. Lee, Carlisle P. — Exemplary passer
23. Lopez, Emmanuel C. — Exemplary passer
24. Mangibin, Ceres Margaret C.
25. Masangkay, Alexis Dawn L. — Exemplary passer
26. Melocoton, Rena Mae D.
27. Omoso, Donna Marie B.
28. Ortiz, Junmer Z. — Exemplary passer
29. Porcina, Marjorie D.
30. Ramacho, Dyannah Alexa Marie R.
31. Recto, Monique A.
32. Rosales, Gerard Anthony T.
33. Sibala, Rhea Mae A.
34. Siplon, Charmila R.
35. Suamen, Celeste D.
36. Teves, Jhon Paul Q.
37. Tupas, Jehanne O. — Exemplary passer
38. Vidal, Adrian Ruz C.
39. Yonting, Mark Joseph A.