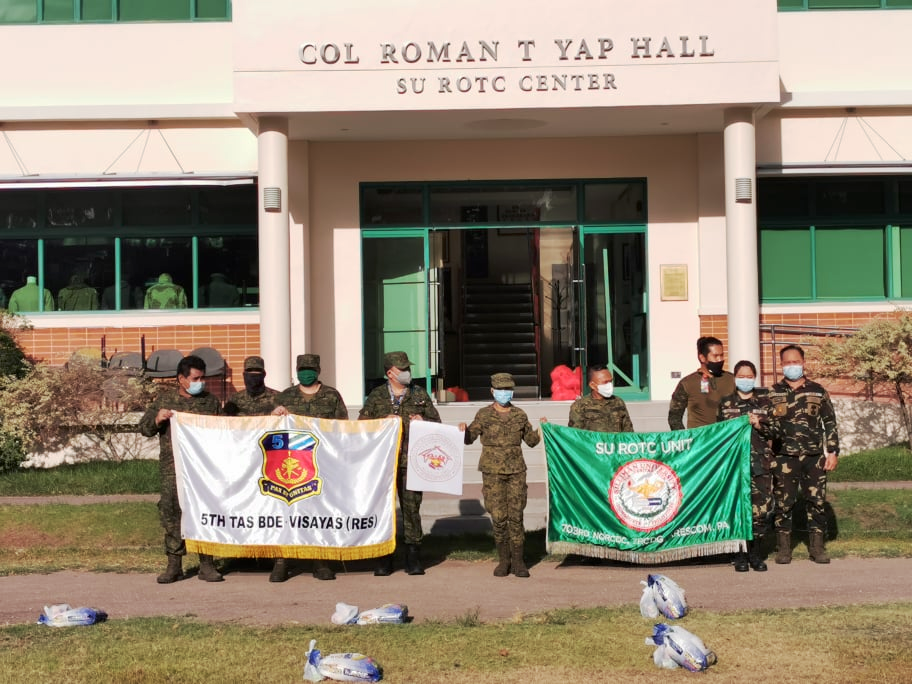 SUROTC Unit receives Military Commendation Medals from AFP
The Silliman University Reserve Officers Training Corps (SUROTC) Unit received Military Commendation Medals from the Armed Forces of the Philippines (AFP) for initiating relief operations for displaced outsourced SU personnel and fire victims in Brgy. Junob, Dumaguete City.
The AFP acknowledged the SUROTC training staff, who are enlisted Reservist Officers, and advance cadet officers for demonstrating "exemplary efficiency, loyalty, and devotion to duty as Reservist-Officers and Cadet Officers of Silliman University ROTC Unit representing the 703rd (NOR) Community Defense Center, 7th Regional Community Defense Group, Army Reserve Command."
The Medals were awarded last April 1, 2022.
The SUROTC Unit initiated the relief distribution in April 2020 for 50 outsourced personnel who were displaced because of the COVID-19 pandemic. Each personnel received 5kg of rice and 10 cans of sardines.
The Unit also conducted a donation drive and relief distribution for fire victims in Brgy. Junob in November 2020. They distributed hygiene kits and food packs to 50 families.
AFP awarded each of the following SUROTC training staff and advance cadet officers with the Military Commendation Medal:
(For the April 2020 relief distribution for SU's displaced outsourced personnel)
LIEUTENANT COLONEL RAFAEL CRESCENCIO C TAN JR 0-124931 JUDGE ADVOCATE GENERAL SERVICE (RESERVE)
LIEUTENANT COLONEL BETSY JOY B TAN 0-149264 PHILIPPINE ARMY (RESERVE)
CAPTAIN MARIA ELLAINE A ADARNA O-14747 NURSE CORPS (RESERVE)
FIRST LIEUTENANT RICARIDO C NANGGAN JR O-148242 MEDICAL ADMINISTRATIVE CORPS (RESERVE)
SECOND LIEUTENANT RODOLFO JULL B LOCSIN JR 0-150447 MEDICAL ADMINISTRATIVE CORPS (RESERVE)
SECOND LIEUTENANT GHIFT BEL-AN P SUMAGAYSAY O-150448 MEDICAL ADMINISTRATIVE CORPS (RESERVE)
SECOND LIEUTENANT CLOYD C CATAN O-153071 MEDICAL ADMINISTRATIVE CORPS (RESERVE)
Master Sergeant Reu D Ismil NR-A000002 Philippine Army (Reserve)
Staff Sergeant Carlito L Villanueva Jr 828575 Philippine Army (Reserve)
Sergeant Lindy A Catan NR-RO4-000115 Philippine Army (Reserve)
Sergeant Angelyn Lea Custodia NR-R'14-000290 Philippine Army (Reserve)
Sergeant Jen Corrine C Reyes NR-R14-000558 Philippine Army (Reserve)
Sergeant Julia Therese Q Cambongga NR-R15-002175 Philippine Army (Reserve)
Sergeant Rachel A Veran NR-R15-002182 Philippine Army (Reserve)
Sergeant Al-khaizer B Warad ZN-R15-000014 Philippine Army (Reserve)
Sergeant Leo Ross B Dionaldo NR-R16-001417 Philippine Army (Reserve)
(For the November 2020 relief distribution for SU's displaced outsourced personnel)
LIEUTENANT COLONEL RAFAEL CRESCENCIO C TAN JR O-124931 JUGE ADVOCATE GENERAL SERVICE (RESERVE)
LIEUTENANT COLONEL BETSY JOY B TAN O-149264 PHILIPPINE ARMY (RESERVE)
CAPTAIN MARIA ELLAINE A ADARNA O-147475 NURSE CORPS (RESERVE)
1ST LIEUTENANT RICARIDO C NANGGAN JR O-148242 MEDICAL ADMINISTRATIVE CORPS (RESERVE)
2ND LIEUTENANT RODOLFO JULL B LOCSIN JR O-150447 MEDICAL ADMINISTRATIVE CORPS (RESERVE)
2ND LIEUTENANT GHIFT BEL-IAN P SUMAGAYSAY O-150448 MEDICAL ADMINISTRATIVE CORPS (RESERVE)
2ND LIEUTENANT CLOYD C CATAN O-153071 MEDICAL ADMINISTRATIVE CORPS (RESERVE)
Master Sergeant Reu D Ismil NR-A000002 Philippine Army (Reserve)
Sergeant Lindy A Catan NR-RO4-000115 Philippine Army (Reserve)
Cadet Major El Diether Adje J Concepcion
Cadet Captain Ejian A Uy
Cadet Captain John Mc Klein D De Guzman
Cadet Captain Jurjann Gabrielle Y Damalerio
Cadet Captain Sophie F Rodrigazo
Cadet Captain Angela Lanyohan
Cadet Captain Von Alexa Tagsip
Cadet Captain Andrea Gerangaya
Cadet Captain Kyle Nicole M Presnedez
Cadet 1st Lieutenant Aijiel Lysent D Talisik
Cadet 1st Lieutenant Gea Cyrobelie A Diputado
Cadet 1st Lieutenant Christer Beel C Dolor
(With report from the SUROTC Unit)